Last year I visited a monastery about an hour away from my city. I was there for a few nights for a staff retreat.
It's one of those thin places, where you feel yourself go from outside into an unseen womb, a haven of silent meals and monk's prayers. While the rest of the staff continued conversations in the "talking room" through mealtime, I sat with my friend Dilshad in the silent room and we ate in complete quiet. At one point, we looked at each other with tears in our eyes, and she grabbed my hand. It was all we needed to know that we'd found a sacred space in the quiet. We'd found a place that was going to show us something of God and bond us to one another.
That evening our group attended prayers and worship, a service in which the monks sang Psalms and other scriptures over us.
By the third song, I was weeping. I tried to stifle the noise, wiping my nose on my sleeve so as not to distract the other people from worship.
But I was so tired. 
Over the past six months, I'd begun deeply investing in the history of my ancestors and of native people in general, a long wound caused by the church– people using the name of Jesus to enslave, kill and force out indigenous men, women, children and elders, and to destroy the land they once lived on.
And it wasn't a grief that I could leave at home or drop off at the front door of the church. It came with me, it sat inside of me, it processed its way into my faith and told me to ask the raw and difficult questions.
So I stood still in that gorgeous monastery cathedral where it was dark and candles were lit and monks were singing a benediction over us, a call into the presence of God, a call into living.
And while they sang, while I wept, I thought over and over to myself, "How could something so beautiful be used to kill so many people?"
Over and over and over,
I stared into human history, zooming in and out, people to people, culture to culture, human to human. I watched as the monks sang over me, as my ancestors sang over me–that piercing in my heart creating shallow breath in my lungs.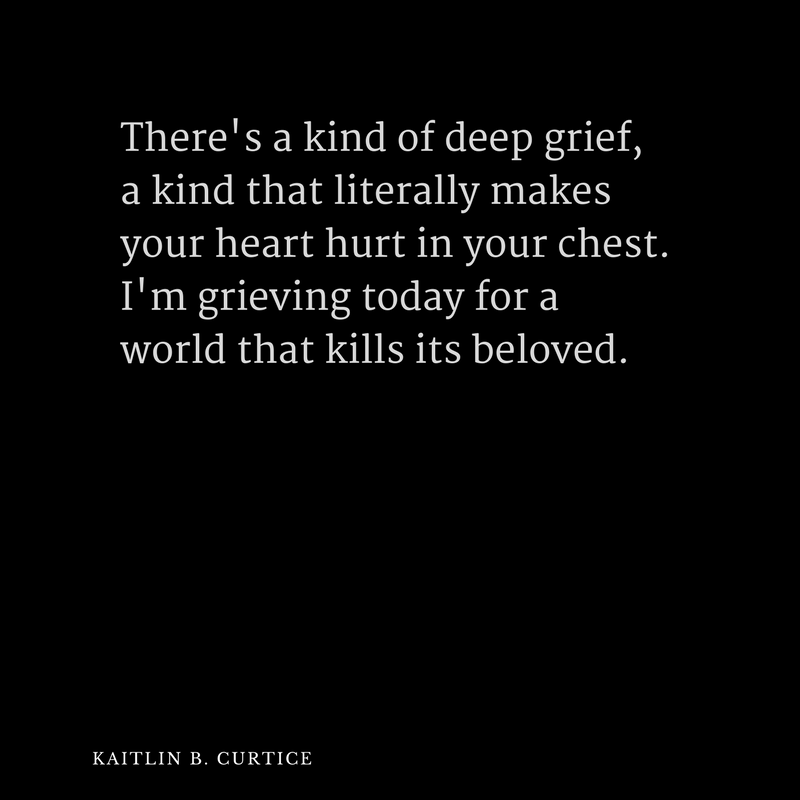 A friend put his arm around my shoulder as we left, and I thought in that moment how grateful I am for a companion on the journey, but how difficult it is to describe something I mourn so deeply.
But I decided that I'd spend my days trying.
And every moment that gives me the opportunity to understand for myself what I grieve, and to bring that to the table of the church, I'll do it.
And I'll do it with a spirit of reconciliation, with a spirit of shalom, because I know that on the human life trajectory, though there is killing, though there is pain and death and brokenness, there is still Jesus.
And while
Jesus is not the God of the American Church, 
he still calls the American Church to a new spirit of humility, to a new spirit of learning and re-learning what it means to honor anyone
"other."
For the first time in my life, my spirit feels "othered" and I haven't been sure what to do with it, except to come here, to share my story, to look my people in the eyes, then to turn to the church and look my community in the eyes as well.
Because today, I have a responsibility to speak into my indigenous, Potawatomi heritage, into my relationship with Creator God and my ancestors, and an equal responsibility to teach the church why I am also a part of her.
So, Church, do you remember how to pray?
I need you to pray with me, to pray us into a new season of Church, into a new understanding of shalom, for the sake of all of us:
O Jesus,
In a world that revolves around life and death,
we hope and pray that we learn to understand the human lives that rest in between.
While we are here, we grieve and celebrate, we laugh and cry,
we journey in and out of appreciation for the life we've been given.
And in the in-between times, we are simply listening,
trying to understand what it means to know ourselves and to know you,
the one who carries the stories of the world and rests in the wilderness with the lonely,
the one who lays beside the dying and calls the broken into wholeness.
We simply hold onto your essence,
because it covers us and leads us both into ourselves
and into each other– into you.
May we journey the labyrinth,
the medicine wheel,
the life cycle,
the moment-by-moment call
to be a people who are both
spirit and breath,
both learned and learning,
both wandering and found.
Somehow,
you hold us there,
eternal love your salve,
the call of shalom your surgical tool.
You, Jesus,
are still the beautiful thing,
despite our attempts to
steal you and create you into something else.
Yes.
You, Jesus,
are still the beautiful thing.
Amen.