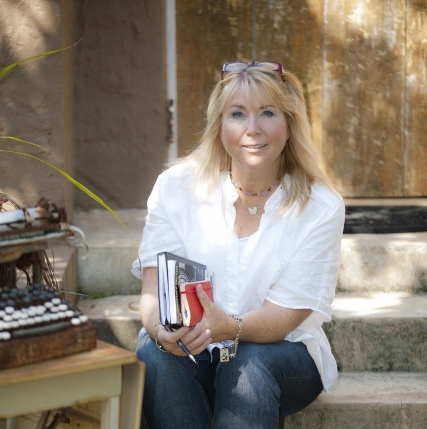 Author Photo
If you would like to schedule Karen to speak to your library, church, bookstore, book club, college or other events, please contact khandschuch at gmail.com
July 18: The Art Factory. Kandern, Germany. Writers Workshop. For more information, click here. 
http://youtu.be/C8OpEcOIN78
MOTHER OF RAIN TOUR with Ann Hite, author of The Storycatcher

MOTHER OF RAIN TOUR with Ann Hite, author of The Storycatcher:
Labor Day Weekend. Decatur Book Festival,  10 a.m. Saturday, Decatur Publi Library Stage, Atlanta, Georgia.
September 5th. The French Market. 5:30 p.m. Pine Mountain Georgia. Cocktails in the Courtyard. With Music by David Toney of Columbus.
Sept. 8th. Georgia Center for the Book.  5 p.m.
Sept. 10: 6:30 p.m. with Ann Hite, author of The Storycatcher, Book Exchange, 
Sept. 11: The Back Porch, Spartanburg, S.C. Luncheon
Sept. 12: Fiction Addiction, Greenville, S.C. Luncheon
Sept. 13: 10 a.m. Art Circle Library, Crossville, TN. Hometown for Gordon Wofford. Place where I drafted the first manuscript.
Sept. 14:  5 p.m. Foxtale Book Shoppe, Woodstock, GA.
Sept. 15: Bare Bulb Coffee Shop, Kathleen, Ga. 3-5 p.m. book event
Sept. 16: Bare Bulb Coffee Shop, Kathleen, Ga. 9:30 – Noon. Writers Workshop.
Sept. 17: Smryna Public Library 10 a.m.
Sept. 20-22: Southeast Independent Booksellers Trade Show, New Orleans.
Sept. 24: Sundog Books, 5 p.m. Seaside, FL.
Sept. 25 Page & Palette. Luncheon.
Sept. 26 Friends of the Library Book Sale, Eastgate Town Center. 1 p.m. Karen 1:30 p.m. Ann Hite
Sept. 27:  Litchfield Books, Noon. Moveable Feast, Pawleys, South Carolina.
Sept. 28: Books Unlimited, Franklin, NC. Noon to 2 p.m.
Sept 28:  Malaprop's, Asheville, NC. 7 p.m.
Sept. 29: Friends of the Library, Greeneville, TN. 5 p.m. Big Springs Room, Greeneville Public Library.
Oct. 4&5: Wordstock, Portland, Oregon
Oct. 6th: Pacific Northwest Booksellers Trade Show, Portland.
Oct. 11&12: Nashville, Southern Festival of the Book
Oct. 15: Barnes & Noble, Kennewick, Wa. 7 p.m.
Oct. 19: Village Books, Bellingham, Wa. 4 p.m.
Oct.22: Morrow County
Nov. 1: And Books Too, Clarkston, Wa.
Nov. 15/16: Klindt's. The Dalles, Or. Writing Workshop. Book event.
Nov. 17: Bellinger's. Hermiston.
Dec. 5: Auntie's Bookstore, Spokane.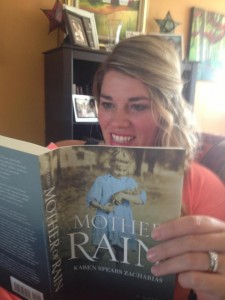 Get caught reading!
At a time when authenticity seems to be in short supply, Karen provides a genuine voice for things that matter most.  Faith, loyalty, integrity, compassion, and thoughtful patriotism are themes she weaves into a tapestry of transforming and inspiring stories. She can also make me laugh for days while making me think about things in new ways.
Dan Morris
Dothan District
Alabama West-Florida Conference of
the United Methodist Church
"I recently had Karen Spears Zacharias as one of my hand-chosen speakers for my annual Pulpwoood Queens Book Club Author Extravaganza and her speech was one of the highlights of the event. Of the thirty authors featured, Karen was by far the crowd favorite! Everyone was inspired." Kathy L. Patrick/founder of the International Book Club, Pulpwood Queens Beauty & the Book.
"Karen Spears Zacharias is not only entertaining and informative but has a message the church needs to hear. She has that unique ability to get us all to laugh and while our mouths are open, she gives us something to chew on!"  Pastor Kevin Lobello. First United Methodist Church/Griffin, Georgia.
"If this writer Karen Spears Zacharias should turn evangelist, the stadium will be full every night." – Sonny Brewer, author of The Poet of Tolstoy Park.
"Karen Zacharias is the rarest, most valuable kind of speaker and writer. Not only does she transport her audience to the real-life scenes she describes through vivid storytelling, but she also explains the technical details of creating nonfiction work in a clear way, so that fellow writers can follow those blueprints and begin to achieve better results as essayists, memoirists, journalists, and other chroniclers of events and lives. Thanks to Karen's guidance, her audience is able to convey what happened and what it all means."   – George Weinstein, Program Chairman of the Atlanta Writers Club