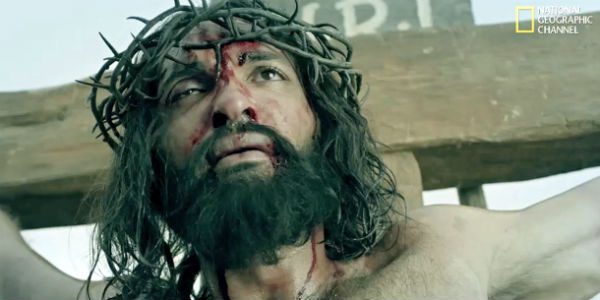 When "Killing Jesus" a three-hour adaptation of the bestselling book of the same name by Fox News host Bill O'Reilly and historian Martin Dugard, premieres on Sunday, March 29, on National Geographic Channel, it'll mark what may be the first time that an actor of Middle Eastern descent has played Jesus in a major production.
The movie looks at the life and message of Jesus — without depictions of supernatural events — along with the sociopolitical forces going on around Him in first-century Judea, then part of the Roman Empire.
Star Haaz Sleiman was born in the United Arab Emirates and raised in Lebanon before moving to the United States at the age of 21, in hopes of getting into music. He was born into the Muslim faith, but, as he said in at a press conference in January (quoted in a story I wrote then for CatholicVote):
I will start by saying that I was raised Muslim — I'm spiritual, but I was raised Muslim. … So, for me, as somebody who is raised Muslim, it is an honor to actually play Jesus just because of that. But I also, myself, have for the past ten years been heavily shaped by Jesus and His teachings. I really believe in His teachings. They have affected me in such a positive way in many different forms and shapes. So, when I got this part, it was a very profound and personal experience.
The rest of the cast apparently wasn't chosen in all cases with reference to matching ethnicities — for example, Kelsey Grammer plays King Herod, and Irish actor Eoin Macken plays his son, Herod Antipas — so Sleiman's looks (with the addition of a long wig and big beard) stand out.
Incidentally, here's how he looks the rest of the time (photo taken at the press event in January):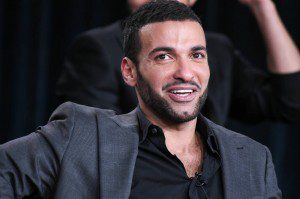 After the press conference, I sat down with Sleiman — I also talked to screenwriter Walon Green, click here for that — and we discussed how it felt for him to take on this role:
It's an honor to play this role, to me, as a Muslim, even through I'm not really a practicing Muslim. … There are a lot of Arabs that are not Muslims. They are Christians; they are Jews. Muslim Arabs, especially in my family, are just so ecstatic that I get to play Jesus. They're so proud.
On shooting the death of Jesus:
What was even more emotionally draining was not the Crucifixion, it was him walking, dragging the cross, on the way to be crucified. It was directed, but inside, I was falling apart. I couldn't stop myself I couldn't control it, because really, it got into every cell, having empathy for someone. It floored me to have to go through that humiliation — the idea of being completely shunned by everybody, ashamed, everybody around there, being made fun of.

And then when one of the guys that has been torturing Him and beating Him, even in that moment, he says to him, "Do you still love me, Jesus? Do you? Do you still love me?" And He says, "I do love you. I do love you." That moment is what it's all about.
Nothing unfortunate happened to Sleiman on set in Morocco, but he has noticed some odd occurrences:
I'm having a lot of 11/11 stories. I've been seeing a lot of 11/11. The last day we shot: 11/11. Who knows [what it means]? It's interesting. In Google it comes up to say that it's some sort of divinity … I mean, it's energy, right?
In the Gospels, there's a storm at Christ's Crucifixion — and "The Passion of the Christ" star Jim Caviezel was actually struck by lightning while filming — and Sleiman says there was some meteorological oddities during production on his film:
They said in Morocco that every time there's a Crucifixion scene, there's a storm. We shot the Crucifixion in two days, and every time we shot it, there was a storm. It was crazy.
On concerns that people, especially fellow Muslims, might object to him playing Jesus:
Here's what I would say to that — you can't control that stuff. You can't control if you walk out and a car hits you. So, I trust in what I did, and I trust in this production, and I stand by it no matter what happens. I can't worry about it. I'm not even going to think about it.
On how doing this has changed his view of Jesus:
I loved Him, but I love Him even more. Everything He stands for is exactly what we always need, not just today, not yesterday. You can't argue with the truth. Some say, "Oh, that's not the truth." It is the truth … because we all breathe the same air. We all have hearts.

He was able to see beyond the noise and beyond the lies. By being able to say, "Love your enemy," he saw beyond the lies and the noise. He saw beyond fear and judgment. He had to walk the talk.
Here's a behind-the-scenes peek:
Images: Courtesy National Geographic Channel