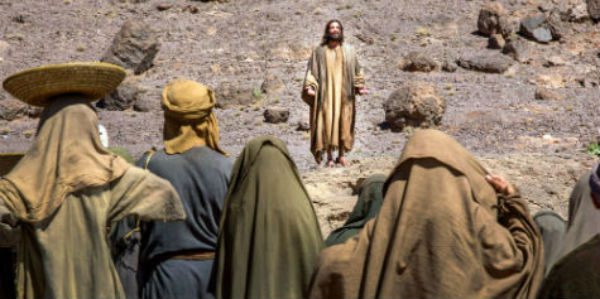 I'll be writing a formal review of National Geographic Channel's "Killing Jesus," the three-hour adaptation of the bestselling book of the same name by Fox News host Bill O'Reilly and historian Martin Dugard, closer to the Sunday, March 29, premiere.
Right now, I will say that the production, filmed in Morocco (the go-to location for Bible tales these days) takes a non-supernatural view of the story, featuring Jesus' words but not any obvious miracles, visions, angels and so forth. O'Reilly and Dugard confined their story to history, not hagiography.
Said O'Reilly in a note to his readers:
The Romans kept incredible records of the time, and a few Jewish historians in Palestine also wrote down the events of the day. The problem is that it wasn't until the last few months of Jesus's short life that he became the focus of establishment attention. Until then, he was just another Jewish man struggling to survive in a harsh society. Only his friends paid much heed to what Jesus was doing.

But those friends did pass much along verbally, and so we have the narrative of the Gospels. But this is not a religious book. We do not address Jesus as the Messiah, only as a man who galvanized a remote area of the Roman Empire and made very powerful enemies while preaching a philosophy of peace and love. In fact, the hatred toward Jesus and what happened because of it may, at times, overwhelm the reader. This is a violent story centered both in Judea and in Rome itself, where the emperors were also considered gods by their loyal followers.
Martin Dugard and I are both Roman Catholics who were educated in religious schools. But we are also historical investigators and are interested primarily in telling the truth about important people, not converting anyone to a spiritual cause. We brought this dedication and discipline to Abraham Lincoln and John F. Kennedy, and in these pages we will do the same with Jesus of Nazareth. By the way, both Lincoln and Kennedy believed Jesus was God.
And before you hear my say on the movie, I'll let the people who made it speak for themselves.
In January, I sat down briefly at a press event with screenwriter /producer Walon Green ("Dragnet," "ER," "Hill Street Blues") and star Haaz Sleiman — a non-practicing Muslim who was born in the United Arab Emirates and raised in Lebanon before moving to the U.S. at 21 — who plays the title role.
Sleiman's remarks appear in a separate post — click here for that — but here's Green on the question of whether or not to show the supernatural:
First of all, an Evangelical seeing the movie will be disappointed that there's not more miracles. [But it might appeal to] the person who doesn't know whether they believe in miracles. They're not believers that Jesus was probably the Son of God or a Messiah. They'll like our movie. It takes you quickly into the reality of the man and stays with him in the story. I can't profess to be a really religious person at all, but this is a guy who arrives with a message that's completely humane.

There's conquerors, there's kings, but they've all got some sort of other agenda. Here's a guy who arrives with nothing other than a message of love and proved, by his life, that it takes more than we think to deliver that message than anybody could comprehend.

To me, that is an inspirational story, so I don't really need to get into the miracles. That's enough for me. We live through narratives as people, and the narrative of someone's life is more powerful than a bunch of books.
I also asked the question at the press conference earlier, and here's how I reported it at the time in a post for CatholicVote:
I asked Green about C.S. Lewis' "trilemma," from "Mere Christianity," in which the author wrote: "I am trying here to prevent anyone from saying the really foolish thing that people often say about Him: 'I'm ready to accept Jesus as a great moral teacher, but I don't accept his claim to be God.' That is one thing we must not say. A man who was merely a man and said the sort of things Jesus said would not be a great moral teacher.

"He would be a lunatic — on a level with the man who says he is a poached egg — or he would be the Devil of Hell. You must make your choice. Either this man was, and is, the Son of God, or else a madman or something worse. You can shut Him up for a fool; you can spit at Him and kill Him as a demon; or you can fall at his feet and call Him Lord and God. But let us not come with any patronising nonsense about His being a great human teacher. He has not left this open to us. He did not intend to."

When I pointed out that, in dramatizing the story, one needs to take a point of view — or to paraphrase Lewis, "Lunatic, Liar or Lord?" — Green said: "I know about C.S. Lewis' trilemma, and I also know about the advocacy of historical Jesus. There's also people that believe there was no Jesus at all, and that the entire thing was an assemblage of legend and myth. I have read about that and looked into it. I believe, in going into this, before I even read the book, that Jesus was a real person. There is a real character like this, that much of what Jesus said and is in the Gospels, He probably did say, if not directly in that form in some very similar form.

"To say that He had to be a madman, you could say that about any extremely committed religious figure. If a person takes on a personal passage like that, and knowing, in the case of Jesus or anybody else who decided to be a messianic figure in this world at the time, 'Yes, I'm probably going to die for this, but I'm willing to do it' — to say that's madness is degrading to the character.

"It's really about commitment. It's about a person who comes out of whatever His youth was with a degree of commitment that nothing else in his life is important to him except this, and he is willing to give his all for that.

"And having given the message of love is what makes Jesus unique. In giving that message, that means that you have to give yourself over. You have to live that message. You have to die and suffer without cursing those who torture you. You have to do all of those things. That's, to me, the wonder of this human being, of Jesus as a human being. So, I think the Lewis idea is just dismissive and simplistic.

Grammer [Kelsey Grammer, who plays King Herod] chimed in: "Also, I think C.S Lewis might have been actually playing the devil's advocate, because he drew his own conclusions, which most people know about, which is that he was divine. So maybe that was just a setup."
Here's the trailer:
Image: National Geographic Channel