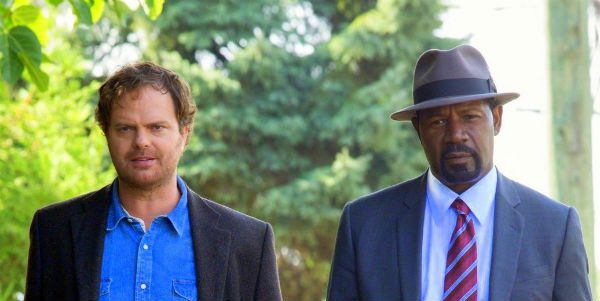 You can take the boy out of the Church, but it's hard to take the Church out of the boy.
Hart Hanson, executive producer of Fox's long-running "Bones" — which features a Catholic lead character, FBI Agent Seeley Booth, played by David Boreanaz — is also the executive producer and showrunner of the new Fox comedy-drama "Backstrom," airing Thursdays.
Hanson, born in America and raised in Canada, was educated by Jesuits. When I reminded him of that during at a press party in January, he said, "I know, I know. That's why I'm a lapsed Catholic."
Based on the Swedish book series by Leif G. Persson, "Backstrom" stars Rainn Wilson ("The Office") as Detective Lieutenant Everett Backstrom, a slovenly and obnoxious, yet brilliant, investigator in Portland, Oregon. Haunted, often drunk and racially insensitive, Backstrom works with an eccentric but talented team, including long-married Detective Sergeant John Almond (Dennis Haysbert), who moonlights as a preacher at the storefront Joy of Everlasting Light Church.
Almond is a character who wasn't in the books. In a recent episode, Almond — wearing what looked exactly like Catholic clerical garb — opened the episode with a sermon:
Evil is seductive because Satan is clever. Temptation is beautiful; that's what makes it tempting. In order to tempt us, the Devil dresses evil up, makes it look good. Evil sparkles, shines, while good … (lights go out, as he's behind on his bills) … avoids the spotlight. But good will always find the light.
In the same episode, Almond led Backstrom and the other detectives in a prayer circle — during which Backstrom had a revelation that helped solve the case at hand.
Said Hanson, "Here's what I thought … I wanted to do a story in which the foil for Backstrom, this horrible man, is a very, very good man who believes in what Jesus said. … I thought it would be absolutely fascinating to have a good man who ascribed to what Jesus said. 'You can't be rich and get to heaven,' you know, all that. Actually love your neighbor and your enemy and all that stuff."
Almond probably wears Catholic-ish clerical garb because Hanson's a Catholic, but it would also be a tough sell to have a police detective character who was actually saying Mass on the weekends.
As for Haysbert, his mother was Baptist, and his father was Catholic, from Louisiana, so he does have a religious background.
Back in January, I did a piece for CatholicVote.org, based on the general press conference for "Backstrom," part of the biannual Television Critics Association Press Tour, the winter edition of which takes place in Pasadena, California. Click here for the whole thing, but here's an excerpt:
Said Haysbert, "If you're working with a person like [Backstrom], and you have to work with them, and all of a sudden, you become friends, it's because you find out what his issues are, and you find out, 'OK, this guy is not as bad, and what he's doing is a kind of a defense against not being liked.' Maybe he doesn't want to be liked, because then he'd have to tell everyone, 'OK, I'm human.'

"Specifically, for Almond, if Almond wasn't a pastor and a detective, I probably would have shot him, OK? But, as a pastor, and looking at him and then understanding eventually and slowly what his issues are, I learn to first tolerate, and then I say, 'You know what? We can be good cop/'God cop.'

"And then it starts to work. So, first of all, we have to find out what our working balance is. Then, I have to find out what his issues are, what happens to him, what happened to him in his life. Then I'm sympathetic and somehow empathetic to what's going on with him."

As for his own background, Haysbert said, "My father was Catholic. My mother's Baptist. So, I grew up in a very religious household. Indeed, my my family's history goes back to 1795. The only reason I know this is because they were Catholic, and they're the only ones that kept records.

"So, I have this religious base. My mother is constantly — she's 95 years young right now. Every time I speak to her, 'Are you reading your Bible?' To which I reply, 'Yes,' but … hey, she's 95."
In conversation after the session, Haysbert told me that his mother approves of the role, saying, "Oh, she loves it. She loves it."
He also has a theory that Almond has a military background and may suffer from a form of PTSD (that's just Haysbert, it's not an official part of the character's backstory … yet).
"I'm supposed to have six foster children as well," he said, "but you never see them in the first batch of episodes. And there's a wife, but you never see her."
He's also happy to be playing a good cop, saying, "I've never met a cop who was a minister. … I'm a great believer that 98, maybe 95, percent of cops are really good people and are doing their jobs. It's just these two, three, four, five percent of them that are making the lives of good cops miserable."