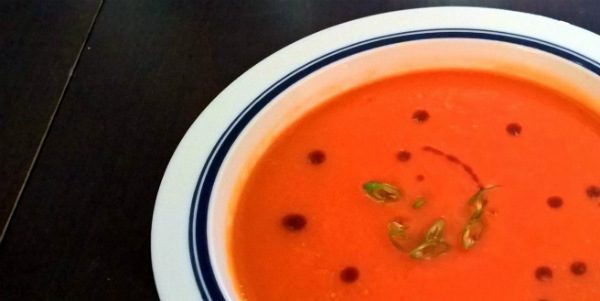 A first-rate soup is more creative than a second-rate painting. … Abraham Maslow
On Lenten Fridays, there might be a fish fry, but there also might be Stations of the Cross, with a meatless soup-and-sandwich dinner afterward. Of my major food groups — including, but not limited to, meat, cheese, butternut squash and chocolate — soup ranks highly. It's delicious, satisfying, easy to eat and comforting, requiring only basic culinary skills but an enormous amount of, as Maslow notes, true creativity.
So, here are five soup recipes, solicited from friends and the Internets, and finishing off with one I'd pick to eat forever (if I could also have meat and chocolate).
*From my pal and fellow writer Terry Lynn Smith:
George Washington Carver Memorial Soup Sweet Potato, Peanut & Ginger

Ingredients (serves 6-8)

1/2 cup peanut or grapeseed oil (I use olive oil)

1 large onion, peeled and cut in eighths

2 garlic cloves

2 tsp fresh ginger, peeled & chopped

2 tsp cumin powder

2 tsp coriander powder

1/2 tsp ground cinnamon

1/4 tsp ground cloves

2 tbsp tomato paste

8 cups chicken or vegetable stock

2 sweet potatoes (approx. 2 pounds), peeled and cut in 2-inch cubes

1 carrot, peeled and cut in 2-inch sections

1/2 cup peanut butter

1 tsp salt

1/4 tsp cayenne pepper

Optional toppings: sour cream, cilantro, dry roasted peanuts

Preheat oven to 375 degrees. Coat sweet potatoes, carrots and onion wedges with all by 2 tbsp. of oil. Sprinkle with salt. Please on a baking sheet and roast in oven for 30-40 minutes until fork tender/soft.

Heat a heavy bottom saucepan with remaining oil. Add garlic, ginger, all spices and sauté for 3-4 minutes, stirring. Add tomato paste, peanut butter, roasted vegetables, salt, cayenne pepper, and stock. Mix well.

Remove from heat. Blend until smooth in patches in blender or food processor. ( I use an immersion blender in the saucepan) Pour mixture back in saucepan, heat over medium-low heat until heated through. Ladle into bowls and serve with optional garnishes.
* From artist and photographer Karen Ransom Dozier:
Corn Chowder:

Ingredients:

1 1/2 Tbsp unsalted butter

1/2 large yellow onion, chopped (about 1/2 cup)

1/2 large carrot, chopped (about 1/3 cup)

1/2 celery stalk, chopped (about 1/3 cup)

3 ears of sweet corn, kernels removed from the cobs (about 2 cups), cobs reserved (see steps for taking corn off the cob) OR you can use 1 can corn drained and 1 can creamed corn (short-cut)

1 bay leaf

3 1/2 cups milk, whole or low fat

1 medium Yukon Gold potato, or Russet, peeled and diced

1/4 red bell pepper, chopped (about 1/4 cup)

Kosher salt and fresh ground pepper

1/2 teaspoon fresh thyme leaves

Method:

1: In a large saucepan, melt the butter over medium heat.Add the onion and sauté for 4 to 5 minutes, until soft. Add the carrot and celery and cook for 4 or 5 more minutes.

2: Break the corn cobs in half and add them to the saucepan. Add the milk and bay leaf. Bring to a boil and reduce heat to a bare simmer. Cover the pot and cook for 30 minutes. Make sure the heat is as low as can be and still maintain a gentle simmer to prevent scalding the milk on the bottom of the pan.

3: Discard the cobs and the bay leaf. Raise the heat, add the potatoes, red pepper, 1 teaspoon of salt, fresh ground pepper to taste, bring to a simmer and reduce the heat to maintain a simmer for 15 minutes, or until the potatoes are almost fork-tender.

4: Raise the heat, add the corn kernels and the thyme. Bring to a boil, reduce the heat, and simmer for 5 minutes.

Serves 4.
* From my Miami pal and co-conspirator on uncovering bad Vatican translations, businessman and Catholic blogger Joe Garcia, who admonishes, "Mind you, this is pretty freehand stuff, so don't get all hung up on the measurements":
Endless Carrot Soup (pictured at top)

1 large onion or two medium leeks (white & pale green parts only)

2T butter or EVOO (extra virgin olive oil

2T grated fresh ginger

2 cloves garlic, minced

1 lb. carrots

2 c. water or stock

Sauté the (roughly diced) onion or leeks (cleaned well) in the butter or EVOO. Cook for a long time (15 minutes at least) over medium to low heat, just to "sweat" them, then add grated ginger and garlic and cook for a couple minutes longer. Add carrots, peeled and sliced. Continue to saute for another 5 minutes (ideally, you want to caramelize a bit of the carrot). Add water or stock to cover by an inch, and cook for 20 minutes at a steady simmer, until carrots are tender.

Here is the tricky bit! This soup tastes better made a day before so you can (in fact, should) stop here, and allow it to cool. Cool soup will be much easier to puree in a regular blender (pureeing hot soups in blenders can be either a bit slow or very explosive!) until the soup is smooth. You can, of course, use a food mill, food processor, or a hand blender but nothing beats the regular blender for smoothness. Salt and pepper to taste.

Variations! This is where the endless part comes in:

Finish soup with some sour cream, cream or creme fraiche, swirled to the tune of about 1T per bowl, or added to the pureeing process (in the blender you can even get away with 2% milk!).

Replace the ginger with curry powder or garam masala, in which case you may wish to serve with cucumber-yogurt raita.

I have discovered that, in lieu of carrots, sweet potato works well, as do various hard squashes.

The ginger can be also substituted with chipotles, or smoked, hot paprika.

You can use scallions or shallots in place of the onion.

You can caramelize the onion/leek/whatever, which is especially nice wih hot or smoky seasonings.

Crumbled bacon as a garnish is a nice touch as are leeks, grilled or frizzled, chives in any manifestation and infused oils. (but NOT bacon on Fridays during Lent).

SHARPLY seasoned, homemade croutons are also good.
* From fellow Patheos blogger and "Firefly" fan, Monique Ocampo — Mushroom and Onion Soup (with pasta).
* And lastly, from the Pip & Ebby food blog, the dizzyingly lovely Cheesy Vegetable Soup (although, for Lent, you may want to try cream of mushroom or cream of celery soup instead of cream of chicken for the base). As you see, I'm not kidding about the lovely part.

Images: courtesy Joe Garcia; Pip & Ebby