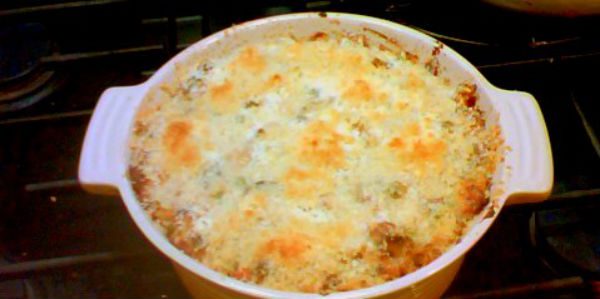 Say "tuna casserole" and people either get all weak-kneed with comfort-food nostalgia or announce that you're ordering out.
Personally, I always enjoyed my mother's tuna casserole with egg noodles, but when I made it, I tended to amend the recipe with extra vegetables or more cheese or whatever seemed like a good idea at the time.
Like last week's macaroni-and-cheese, tuna casserole lends itself to many variations, five of which are listed below for your meatless-Lenten-Friday enjoyment.
* Classic Tuna Noodle Casserole: First up, the Campbell's Soup version, which is very similar to my mom's, including the use of cream of celery soup (rather than cream of mushroom or some sort of white sauce) — although I'm pretty sure she never included pimentos.
* Uptown Tuna Casserole: From TV chef Rachael Ray via Food.com, this version throws in leeks, garlic, Dijon mustard, gruyere, white wine and baby peas (you know it's uptown when it involves infant produce).
* Italian Tuna Casserole: Also from Food.com, this one isn't all that different from Ray's, except it uses Parmagiano-Reggiano cheese, pasta shells and spinach (guess you could call it Tuna Casserole Florentine).
* Southwestern Tuna Casserole: From Chef Cat Cora via Oprah.com, what makes this one "Southwestern" is the addition of bottled salsa, so I guess the level of spicy heat depends on which one you pick. There's also kernel corn, chili powder and whole-wheat pasta. I'm no chef, but I'd add more zip that that — maybe a shot of Sriracha sauce?
* Spanish Tuna Pasta Bake: Apparently "tuna pasta bake" is what it's called in Australia, since this comes from taste.com.au (and I've seen it called that in British recipes, but they were pretty, you know, British). It's not incredibly exciting, but it does include a red capiscum (a k a a pepper), tomatoes, olives and two kinds of cheese (both Italian, but who's being fussy?).
Now, some bonuses! Here's number one:
When I was discussing this post with my dad, he recalled something he had during Lent as a kid — scalloped salmon. I'd never heard of it — and certainly my mother never served it — and he wasn't sure what had been in it besides canned salmon, so I went on a hunt. And I found …
"Classic Cookbooks: Scalloped Salmon": Writer Robin Bellinger found this in the pages of "The James Beard Cookbook," and she says that she's often drawn to recipes that are "a little funny and old fashioned," adding:
This week I settled on scalloped salmon, a casserole made with canned salmon, expecting it to be either brilliant or disgusting. (If disgusting it would at least, I thought, give me a taste of the kind of thing my unfortunate mother had to force down on Fridays in the fifties and sixties as a Catholic schoolgirl.) In the end the dish was neither brilliant nor disgusting, but rather a comforting sort of thing I'll be happy to make again when the larder is looking bare. With its sturdy vegetables and tinned fish, it made me feel economical and housewifely and could be a good end-of-grocery-week standby. The best way to describe it is perhaps as a large fish cake, easier to produce than individual cakes and baked instead of fried (although full of butter, so perhaps no healthier). It might also be interesting to try this with cooked potato flesh standing in for the crumbs.
There are no egg noodles, and it's not properly a casserole, but if it was good enough for my dad, it's good enough to swim with the tuna just this once.
Bonus number two, from my Miami pal and co-conspirator on uncovering bad Vatican translations, businessman and Catholic blogger Joe Garcia — who contributed a Cuban sandwich to my grilled-cheese post — from the Italian side of his ancestry:
What a lot of people don't realize is that mac-and-cheese has its roots in penne ai quattro formaggi, which is something in my background from my Italian (maternal grandmother) side. Similarly, the tuna noodle casserole — and even more alien craft to my palate — comes from the classic tonnato sauce. This sauce most classically goes over cold poached veal but given the batch sizes of the sauce, leftovers are inevitable, and these find themselves dressing pasta. This becomes, therefore, the ur-Tuna Noodle Casserole.

Here ya go:

¼ c capers (rinsed of brine or salt in which they are packed)
1 T grated lemon zest, plus 3 T lemon juice
1 t anchovy paste (I prefer Amore) or 2 anchovy fillets, drained
2 egg yolks
1 can tuna packed in olive oil (try to find Italian or Spanish brands), drained
1 c extra virgin olive oil
salt and white pepper to taste

Purée the capers with the vinegar, zest, anchovies, yolks, tuna, salt, and pepper in a blender (best!) or food processor (OK) until smooth. With the motor running, slowly drizzle in the olive oil until sauce is emulsified. Garnish with additional capers.
And finally, bonus number three, for those of you horrified at the thought of using canned soup, and who are endeavoring to learn to cook from scratch:
Image: tuna casserole, from Wikimedia Commons