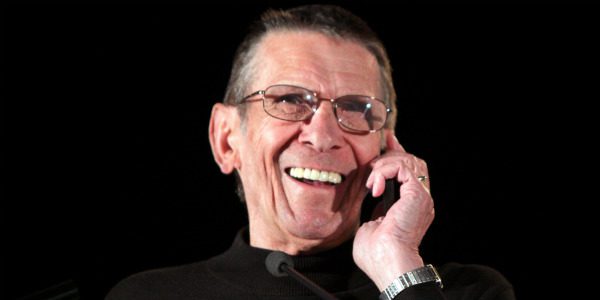 "Death, that undiscovered country from whose bourn no traveler returns …" Shakespeare's "Hamlet," Act 3, Scene 1.
"Star Trek VI : The Undiscovered Country" was one of the good "Star Trek" movie sequels (it's a rule of thumb that you should stick only with the ones that are even-numbered and/or involved writer/director Nicholas Meyer). Reportedly it was based on a suggestion from Leonard Nimoy, a k a Mr. Spock, on what would happen if the "Wall came down" in the long war between the Federation and the Klingon Empire.
On Friday morning, Nimoy passed away at his home in Bel Air, California (not far from where I'm sitting right now), at the age of 83, from end-stage chronic obstructive pulmonary disease, which he attributed to smoking earlier in his life.
When I was a little kid watching after-school syndicated shows, I loved the original "Star Trek," and Nimoy's Spock would become my first real crush. Of course, Nimoy did other roles before and after, and became an acclaimed actor in his own right. But he'll be most remembered for Spock, the half/human-half-/Vulcan first officer of the Starship Enterprise, who arched his eyebrow in dismay at the emotionalism and illogical behavior of the humans that surrounded him.
Also a poet, photographer and musician, Nimoy was born on March 26, 1931, in Boston to Yiddish-speaking Orthodox Jewish immigrants from what is now Ukraine (just four days after fellow Jew and Montreal native William Shatner, who played "Star Trek's" Capt. Kirk). He served as a sergeant in the U.S. Army from 1953 through 1955, and was a a journeyman actor with a long list of credits before taking the job on "Star Trek" that would change his life forever.
Although he was first and foremost an actor, that wasn't all that consumed his interest.
Click here for Virginia Heffernan's extensive article on Nimoy from today's New York Times, which includes this passage:
In later years, [Nimoy] rediscovered his Jewish heritage, and in 1991, he produced and starred in "Never Forget," a television movie based on the story of a Holocaust survivor who sued a neo-Nazi organization of Holocaust deniers.

In 2002, having illustrated his books of poetry with his photographs, Mr. Nimoy published "Shekhina," a book devoted to photography with a Jewish theme, that of the feminine aspect of God. His black-and-white photographs of nude and seminude women struck some Orthodox Jewish leaders as heretical, but Mr. Nimoy asserted that his work was consistent with the teaching of the kabbalah.

His religious upbringing also influenced the characterization of Spock. His character's split-fingered salute, he often explained, had been his idea: He based it on the kohanic blessing, a manual approximation of the Hebrew letter shin, which is the first letter in Shaddai, one of the Hebrew names for God."
Here's a short film that shows Nimoy speaking Yiddish and explores his Jewish roots in Boston's West End:
Nimoy's last major TV role was in the Fox science-fiction series "Fringe," as William Bell, a wealthy scientific genius who wanted to become a god of sorts in a new world order — if nothing else, Nimoy was the right presence for roles that dealt with the biggest issues of human existence.
Now, we hope and pray, he has landed safely in that undiscovered country and has answers to all his questions.
As his last tweet said:
A life is like a garden. Perfect moments can be had, but not preserved, except in memory. LLAP

— Leonard Nimoy (@TheRealNimoy) February 23, 2015
LLAP stands for Spock's signature phrase, "Live long and prosper."
As Catholics, we say … live on and prosper.
Here's a lovely little video tribute to Nimoy as Spock: