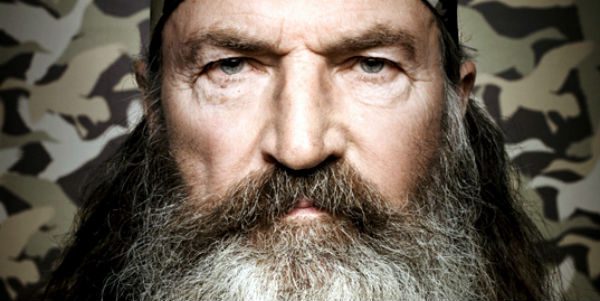 If the attendees at CPAC — Conservative Action Political Conference — didn't have the Holy Spirit before, they may have it now.
Going on right now at the Gaylord National Resort & Convention Center, at National Harbor, Maryland, not far from Washington, D.C., the annual meeting sponsored by the American Conservative Union is spotlighting conservative political activists, GOP lawmakers and especially potential presidential contenders.
Representing none of these on Friday, Feb. 27, was "Duck Dynasty" patriarch Phil Robertson, who was on hand to win the "Andrew Breitbart Defender of the First Amendment Award," named after the conservative activist and media mogul.
Bible in hand, Robertson stood before the crowd — which includes a fair number of non-religious libertarians — and delivered a blistering sermon hitting all the hot-button issues, wrapped in a message of love for others that isn't contingent on whether they love you back.
Unsurprisingly, all the press is interested in is his comments about STDs, and how marrying (and by that, he means traditional marriage) and keeping sex within that marriage will prevent the spread of these maladies, which he said were the "revenge of the hippies."
But the speech was about a lot more than that, including the consequences of a world without Christ. He also quoted several of the founding fathers on the topic of religion and its importance to the American experience.
Here's a bit of how it began:
For you potential candidates, I love you. To keep you out of trouble, keep the scandals down, let me give you a little word of advice. [He takes a Bible out of his knapsack] You carry two things with you wherever you go, in case one of you gets to be the president of the United States. Make sure you carry your Bible with you, and your woman. I'm just sayin' … safety, safety.
And …
I'm going to give you three little words that rarely, if ever, I'm trying to think of the last time I heard a politician utter these three words, was (Wisconsin Gov.) Scott Walker. But I spoke before him at the same event, and I reminded the people of the three words. He got up behind me and he said, "I'm fixin' to move on what that old dude said." The three words that you've never heard from a politician, "I love you."

If they keep this up, and they don't start telling us, at least every once in a while, that they love us, I'm going to begin to conclude, maybe they don't. I sincerely love ya, and by the way, my love for you is not contingent on how you feel about me. You say, "What if we hate your guts? Do you still love us?" "Sure." You say, "You love us, and you're not worried how we feel about you?" "Not one bit."
Click here to watch the whole thing, courtesy of C-SPAN.
Image: A&E