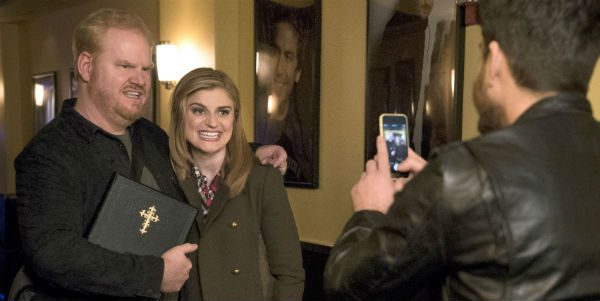 Late Tuesday night on Twitter, comedian Jim Gaffigan issued a directive:
You bastards better watch the new episode of @gaffiganshow tomorrow night at 11 EST on @tvland . It's not listed just watch at 11. Thx

— Jim Gaffigan (@JimGaffigan)
For the month of May, an episode of the show called "The Bible Story" was posted online. It's no longer there, but you have opportunities to see a couple more. From the official Website:
"Super Great Daddy Day" TVland 11pm EDT June 3 & June 9
"Maria" Available on iTunes June 8
Gaffigan had a reason to make "The Bible Story" the first episode people saw. From my other home at CatholicVote:
Our show is just inspired by the life that Jeannie and I lead. This is one episode; this is not the pilot episode. Our show is not just about that [fictional Jim] is paranoid about being outed as a Catholic, as a Christian. One of the the things that Jeannie and I touched on is that I'm a stand-up comedian. I live in New York City, downtown Manhattan, on the bluest island in the country, and 90 percent of my friends are devout atheists.

There's nothing normal in our society about having five kids; there's nothing normal about being Catholic; there's nothing normal about going onstage and making strangers laugh. That's one of the conceits of it.

We started this show because, in my stand-up, I've always been fortunate enough to have audiences with mixed views. I love the fact that, in my audience, there's the Mormon family sitting next to the lesbian couple, and you know what? They don't care that they're sitting near each other, because in the end, they're just going there to laugh.

We made a point that this show is based on our life. Jeannie and I executive-produced it. Jeannie's amazing. … We live in an environment where we constructed this show where Jeannie is this devout Catholic, the "Shiite Catholic," but to balance it out or deal with the kind of biases we live in, because that stuff happens today.

Just because she is a devout Catholic doesn't mean that she's not open to friends that are leading a different lifestyle. The show has been constructed on a lot of different, conflicting lifestyles — my lifestyle being a father of five, versus Adam Goldberg's character, who we've described as aggressively single. Honestly, Jeannie and I have heard that some people are watching the show and saying they're Adam.
To which his wife, Jeannie — who shares executive-producing duties with her husband — said:
As Jim calls me a Shiite Catholic, the more Catholic that I become, meaning I learn more about my faith — the more I realize that I'm a bad Catholic, you know? I should be better.

My prayer is mostly like, "Please, God, help me get through this day, because I don't know what I'm doing."

"The Bible Story" is one of our middle episodes, and it's the direct feeling of this thing where both Jeannie and Jim's points of view are very clear.

Jim is making fun of himself, as in his comic persona, about food and everything like that, about his paranoia about what people are going to think about him. His point of view is, "What's the big deal?" When Jim is more worried about offending all of these other people, our point of view is that people are not afraid of offending Catholics at all.

Jeannie's feisty in there. It's not a sugar-coated comedy at all. It's gritty, and husbands and wives fight. When Jeannie is totally offended by the fact that Jim doesn't care when he's outed as a Christian, he doesn't care that Jeannie might be offended. He cares that all these people he doesn't know might be offended.

That's a real thing in our world. The things that are the most important to us, and the people that are most important to me, tend to take a backseat to what the social perception is of us.
So, if you don't want to insult the Gaffigans, tune in.
Image: Courtesy TVLand