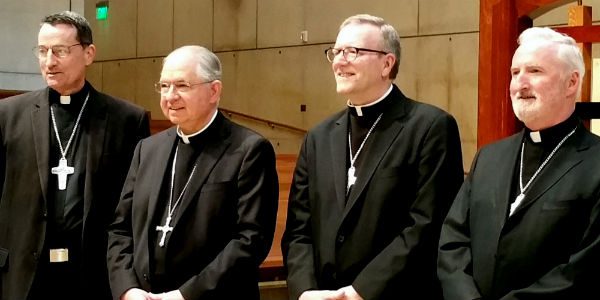 On Tuesday, July 21, Archbishop Jose Gomez (second from left) of the Archdiocese of Los Angeles held a press conference at the downtown Cathedral of Our Lady of the Angels to introduce his three newly named auxiliary bishops — (from left to right) Msgr. Joseph V. Brennan, Father Robert Barron, and Msgr. David O'Connell — to the media.
The three bishops-elect wore pectoral crosses identical to those worn by Pope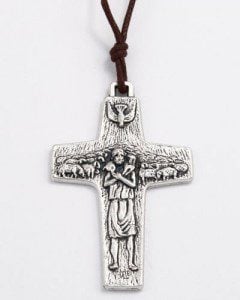 Francis, who had the ultimate say over their elevation (but I understand the recommendations originated with Archbishop Gomez).
The Irish Connection
Two of them, Brennan and O'Connell, both 61, are longtime fixtures in the Archdiocese, while the 55-year-old Barron — the host of the "Catholicism" miniseries, and a popular and well-known figure through his Word on Fire media ministry — comes from Chicago, where he was a protege of the late Cardinal Francis George.
All the bishops-elect addressed the media in English and fluent Spanish, useful in an archdiocese where the majority of Catholics are of Hispanic origin.
It's interesting to note that all three men carry Irish blood — and O'Connell was actually born in Cork, Ireland (Brennan is a Los Angeles native). Many founders of parishes and even current pastors in Los Angeles either came from Ireland or are of Irish descent. In the 1940s and '50s, as much as 80 percent of priests in the L.A. Archdiocese were born in Ireland (considering the difference in the weather, one can hardly blame them).
From CatholicIreland:
"We all have a great example in Pope Francis who, even though he has the cares of the whole Catholic Church on his shoulders, continues to reach out to the poor and the rejected in a very loving and compassionate way. It's a great time to be Catholic," [O'Connell] said.

He returns home to Cork on regular visits to family and was quoted by an American newspaper as saying he enjoys the 'craic' in Ireland. A far cry from his home, LA puts him in the thick of urban problems and well as doing his parish work he organizes regular retreats for fathers. He considers them as a key to changing communities, and leads the retreats in the mountains focusing on how to be good fathers, husbands and men for the community.
Among the Irish-American ones is Los Angeles native Cardinal Roger Mahony, who covered himself in shame for his appalling handling of the sex-abuse crisis. Although Gomez has declared that Mahony, who retired in 2011, has no public or administrative duties, the cardinal was present at the press conference (but did not speak).
Consecration to St. Michael the Archangel
Brennan has been serving as vicar general and moderator of the curia in Los Angeles since 2013. O'Connell, who serves on the Archdiocesan Finance Committee, has served at several parishes, most recently as the pastor of St. Michael Parish and School in South Los Angeles, a region plagued by crime and gangs.
Before the press conference, I heard a story about how O'Connell consecrated the entire area around the parish to St. Michael the Archangel, who stood against Satan and his rebels. Apparently, in the wake of the consecration, murders dropped in the vicinity. We'll never know if that was just St. Michael's doing or a combination of policing, community involvement and divine intervention, but it's good to have a man who stands in good stead with the sword-arm of Heaven as a bishop in the vast, diverse and troubled L.A. Archdiocese.
A Message From the Vatican to Hollywood: "We're here."
The relocation and elevation of media veteran Barron, most recently rector of Mundelein Seminary in Chicago — and I have heard several people express concern about its orthodoxy after he leaves — to the entertainment capital of the world likely indicates that Gomez wishes the Church to have a higher profile in Tinseltown than it does now (which is, not much).
The Archdiocese also live-streamed the remarks from Gomez and the bishops-elect, and below find the entire video:
I was also on hand for the conference — and hope to have an interview with Barron soon — and for those most interested in his remarks, here's my video of that:
After the remarks, there was a Q&A session, and I asked Bishop-Elect Barron about how he would approach the entertainment industry. As I first reported yesterday at CatholicVote, here's his answer:
 Now that I'm here in this great entertainment capital, which includes the whole world, it's an important question. One thing I've tried to do in my evangelical work is to reach out to TV and to movies and to popular culture, and try to find what the Church Fathers called seeds of worth, the signs and echoes of the Faith that you see in pop culture, and to point those out, so as to lead more positively.

It's easy enough to say that there are all sorts of negativity within media culture — and there is — but my preferred method is to find the points of contact and to emphasize those.

In a more direct way, you can think of [the training and mentorship program] Act One here in Hollywood, trying to bring Christians into screenwriting. That's a good thing.

My thing, from an evangelical standpoint, is to look out into popular culture, to find the points of contact and thereby draw people closer.

So that's been my strategy, kind of an affirmative orthodoxy, if you will. It's a hopeful way to engage popular culture.
The ordination is set to take place sometime this fall, but no date has yet been announced.
Image: Kate O'Hare
Don't miss a thing: head over to my other home at CatholicVote and like my Facebook page.