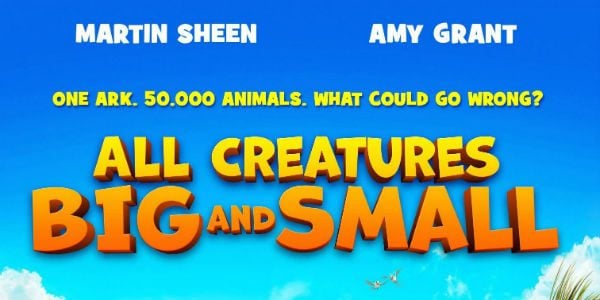 If you're a parent who can't bear the thought of paying for tickets, popcorn and parking — along with trying to keep wiggly little ones in theater seats for almost an hour and a half — just to see a family film, streaming service Google Play has your back.
Yesterday, July 1, and until July 28, an HD version of the computer-animated, Bible-based film "All Creatures Big and Small" is available to stream for free, if you just click here. (I'm streaming it through the Google Play app on my Android tablet, and sending it to my TV via Google's Chromecast — and it looks fantastic.)
Distributed by Entertainment One (eOne), the 80-minute film — released in time for the holiday weekend — is meant to introduce Google Play's new family-friendly discovery experience, intended to help parents find apps, games, movies, TV shows and books suitable for kids.
Brightly colored and imaginatively drawn, the look of "All Creatures" is reminiscent of "Ice Age" and "Madagascar," but without the frenetic, snarky humor and big musical
numbers. It's clever enough (despite being G-rated) so adults won't get bored, and, so far, has gotten four out of five stars from the Google Play viewers.
The story centers on Dave and his son, Finny, two of a colorful species called Nestrians — who belch noxious blue gas when they're scared — that are left off the list to board Noah's Ark before the Great Flood, but manage to sneak aboard in disguise. But when Finny accidentally steps off the boat and gets left behind, it's up to Dave to make some new animal allies to get the Ark to turn around and save his boy.
(I will say that the Flood, when it arrives, looks like an episode of "Deadliest Catch" on steroids — and the Ark bears an interesting resemblance to a really tubby crab boat.)
Accompanying cheerful Finny on his adventures is grumpy girl Grymp Leah, whose single mom, Hazel, joins with Dave on the rescue mission. Now, this part doesn't make much sense, since two animals that are parent and offspring really don't make a good breeding pair, and neither do a male and female of entirely different species. But since Nestrians and Grymps are both mythical creatures, maybe it doesn't matter.
Unfortunately, from "Bambi" to "Finding Nemo," single and/or missing parents have become standard in children's entertainment. In a story sense, it creates tension and gives the child characters more autonomy, but it's just one more brick in the wall between generations of youngsters and positive images of intact families.
While the script and story aren't at Pixar levels, "All Creatures" does avoid the syrupy sweetness and preciousness of a lot of Bible-inspired entertainment for kids. And, as the story centers on the animals, not Noah and his family, non-religious members of the family won't be driven off by frequent God references.
Voices include Catholic actor Martin Sheen (as the kingly lion),and singer/songwriter Amy Grant, who's best known for contemporary-Christian music.
Here's a look at the trailer …
And an exclusive clip:
Images: Courtesy eOne
Don't miss a thing: head over to my other home at CatholicVote and like my Facebook page.