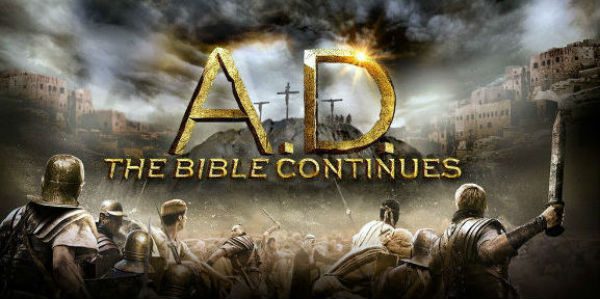 NBC has opted out of a second season of "A.D.: The Bible Continues," but that doesn't mean the story of the founding of our Church will be off TV forever.
"A.D." was the highly anticipated followup to producer/spouses Mark Burnett and Roma Downey's blockbuster 2013 History miniseries "The Bible," but it never measured up to that project's ratings. Despite a promising beginning, over the 12 episodes, it averaged about 6.5M viewers and a 1.0 rating in the vital Adults 18-49 demo.
By contrast, "The Bible" averaged 11.7M viewers over its 10-episode run.
NBC also axed "American Odyssey," which aired after "A.D.," so there may have been a general softness in NBC's Sunday night viewership this past spring (the NFL can cause scheduling headaches, but it's a heckuva lead-in).
There are any number of explanations for why "A.D." didn't match the performance of "The Bible," but here's a few that came to me:
1) It went beyond the Bible …
"The Bible" covered the Old and New Testaments, which are familiar stories to even many unchurched people. It had built-in name recognition, and people tuned into watch all the high points — parting of the Red Sea, the Nativity, the Crucifixion, etc. "A.D." went into less well-known territory, not just using the Gospels and the Acts of the Apostles, but also branching out into the Jewish-Roman conflicts of the time, which may have been too esoteric for a lot of viewers.
2) There were some casting risks …
For whatever reason, aside from the casting of Adam Levy as Peter, the essential Jewishness of the Apostles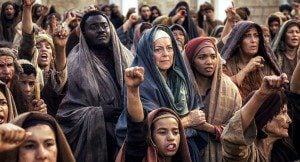 was very toned down or outright avoided, including casting a Gambian actor as the Apostle John, along with the usual cohort of Brits, Scots, etc.
Some have suggested to me that this was a nod to Evangelicals, who may not place as much emphasis on the Jewish roots of Christianity as Catholics do. It's certain that Burnett and Downey did a lot of their promotion among such megachurch luminaries as Rick Warren and Joel Osteen, so there may be some truth in that.
Or, it could have been part of an effort to make the story more relatable to the international audience.
3) It took its eye off the Apostles …
Too much license may have been taken with — and too much emphasis placed upon — the adventures of Caiaphas and Pilate. The actors did a good job, especially the ones playing their wives, but I would have preferred the focus stayed on the Apostles, who sometimes seemed like secondary characters. And at the same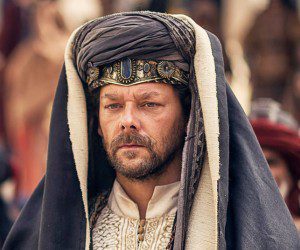 time we were getting the extra-biblical domestic dramas of the Jewish high priest and the Roman governor, Barabbas was entirely left out.
4) Fans just said no to the Peacock …
This may be an important one — a lot of commenters seemed to have an inherent and vehement distrust of NBC, and the presence of Downey and Burnett couldn't overcome that. Their concerns are not unwarranted. Unlike CBS, which has maintained a level of respect for Middle America (and has the ratings to prove it) — and, as it's an arm of Disney Company, I consider ABC to be a lost cause — NBC has taken a hard left turn under entertainment chief Robert Greenblatt, who came from Showtime. In public comments to TV critics each year, he still seems to carry a torch for his old employer and the freedoms pay-cable offered.
Greenblatt was the first gay man to head up a broadcast-TV network, and some of his programming choices have reflected that. On the other hand, Brit Paul Lee of ABC, who said at the network's upfront presentation to advertisers in May that his wife is an Irish Catholic, greenlighted the reprehensible "The Real O'Neals," so NBC's journey away from the center may be more a sign of the times.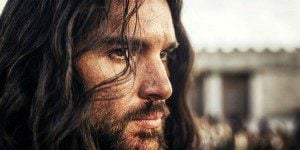 5) Base hit but not home run …
"A.D." was OK, but it wasn't great — and that goes for its Christ as well. In moving beyond the Gospels, Burnett and Downey went into uncharted TV territory, and the storylines reflected a level of uncertainty about how the non-Bible material should be handled. "A.D." did some things right, but it also got a lot wrong, and it was hard to figure out some of the choices.
"The Bible" had its wobbly moments as well, but when you're working with the Greatest Story Ever Told, you get a bit more leeway. And while Juan Pablo di Pace certainly looked good as Jesus, I would have preferred a stronger, more assertive Risen Lord over his ethereal portrayal. And if Jesus isn't strong, it weakens the overall narrative.
Something more like this (without the Nordic looks):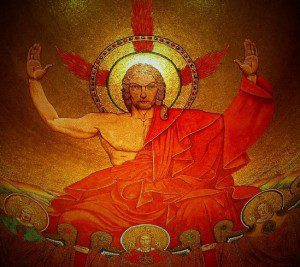 But Burnett and Downey no doubt learned a lot during production of "A.D.," and at the time of the cancellation, had ordered work to be started on season-two scripts. Right now, it doesn't look like they're shopping the project to another network, but have something else entirely in mind.
From Variety:
But now that the "A.D." moniker is established with a devoted cadre of viewers, Burnett and Downey see it as a perfect tentpole for the launch of the OTT channel they have been working on since partnering with MGM to form United Artists Media Group last fall.

The online channel is envisioned as a hub for all manner of faith- and religion-focused content, including original scripted programming. "A.D." hailed from Burnett and Downey's Lightworkers Media banner, making it easy for them to reclaim the show from NBC.

The channel is not expected to bow until late 2016 or early 2017. Burnett, Downey and MGM are in the process of sorting through their options for business models and digital partnership opportunities for the launch. For now, the actors on "A.D." will be released from their obligations to the show, which may require some recasting when production gets back on track.
In showbiz parlance, "OTT" means "over the top," referring to programming not delivered via a broadcast signal or a traditional cable provider. This includes channels and shows available via devices like Apple TV and Roku boxes, through Internet apps or Internet-connected "Smart TVs," and from streaming services such as Netflix and Hulu.
Images: Courtesy NBC/Lightworkers Media
Don't miss a thing: head over to my other home at CatholicVote and like my Facebook page.