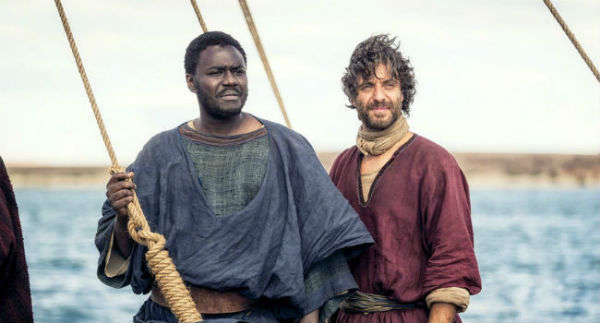 Over at CatholicVote today, I have some comments from actors Adam Levy and Babou Ceesay, who play the Apostles Peter and John, respectively, in NBC's "A.D.: The Bible Continues," which airs it second episode tonight at 9 p.m. ET/PT (following an 8 p.m. ET/PT repeat of the first episode).
Here's a taste of what they said after a press conference in Pasadena, California, in January, starting with Levy:
Peter is just a worker, he's a fisherman, and he's illiterate. That's the premise. He's never written anything. The thing is, if you talk in the language of workers, everybody will hear you. If you talk in the language of scholars, only scholars will hear you.

So, I think Jesus needed somebody to stand up and say, "I can talk to everyone." At that point, Peter doesn't know that. He didn't know he could speak. Within the first, three, four hours [of the series], he finds his voice.
And Ceesay:
"The first few episodes are all about post-Crucifixion. There's not much space for anything but support, warmth and courage. In later episodes, the part becomes funny, but in those moments,he takes a space between something happening and a response, whereas other people, something happens, they respond.

"Something happens, he'll think about it, realize that it means nothing in the big scene of things. I have lots of moments where Peter's doubting, Thomas is doubting, and at end of it all, I'll just go, 'End this.'"
Click here to read the whole thing.
In case you were wondering, Levy, who lives in London with wife and two children, is Jewish. From The Jewish Journal:
Adam Levy admittedly didn't know much about the New Testament before he was cast as Peter in "A.D.," NBC's miniseries about the crucifixion of Jesus Christ and its aftermath. But the British-born Jewish actor immersed himself in research, and happily took on "one of the huge roles in history. Peter was born and died a Jew," he reminded. "There was no such things as a Christian at the time."
At the press conference, Levy said this about shooting in Morocco:
Our set is a mini-Jerusalem, and the Temple and Pilate's palace. It's so immersive to be there. My first few days on set — my father is Israeli, and I've been to Jerusalem a lot and walked around, and I know that terrain very well.

I used to go past the Temple every day and think, "I'm going in there." I just sort of tread past and go back into old Jerusalem, where we were held up in a safe house straight after the Crucifixion. It was an immersive experience. It's the right place to shoot — a beautiful country, a very innocent country."
Image: Courtesy LightWorkersMedia/NBC