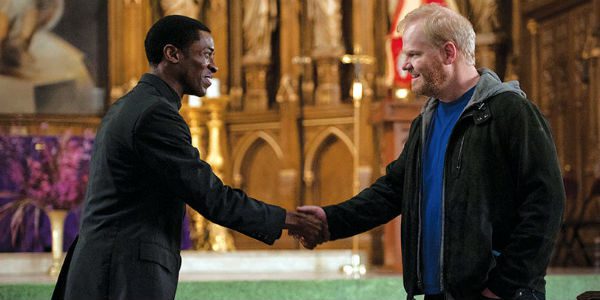 On Wednesday, July 15, at 10 p.m. ET/PT, TVLand premieres the half-hour comedy "The Jim Gaffigan Show." It's is a fictionalized version of the life of the food-loving Catholic comedian, who, together with wife Jeannie (Ashley Williams), is depicted raising five kids in a two-bedroom New York City apartment.
Gaffigan and his real-life wife, also named Jeannie, are partners both in stand-up comedy writing and as executive producers of the TV series.
In late May, I had an extensive chat with the Gaffigans and published sections of it before, and you can click here and here for those posts.
With the premiere now at hand, I'm posting the rest of our conversation. Part one, talking about the importance of strong Catholic fathers and the faith journey of Jim Gaffigan's TV alter-ego, is at my other home, CatholicVote. Click here for that.
In part two, we're looking at the similarities and differences between the Catholic evolution of fictional Jim and real Jim. While real Jim is more secure in his faith than the version of him on TV, that hasn't always been the case.
"I lived across from a Catholic church for 15 years," he said, "and I never went in. Then, me and Jeannie ended up getting married in there, and our son just received his First Communion there."
For TV purposes, Jim's story is taking a different path, and that involves his relationship with the family priest, Father Nicholas Ngugumbane, played by Zimbabwe-born actor Tongayi Chirisa.
"Jim is going to evolve," said Jim Gaffigan. "I'm not going to say that Jim, at the end, is going to be on an Opus Dei retreat. There's some place that this relationship is going, Jim and the priest.
"But I'm way more Catholic in real life than I am in this show, but we did that intentionally …"
"To show a journey," Jeannie added.
"Yeah," said Jim, "to show a journey. Also, it's more interesting. Again, we could talk for years about the priest character and how that relationship is. For instance, there's a scene where this priest is being outgoing and saying 'Hello' and walking with Jim, and Jim turns to him and says, 'Look, you don't have to be outgoing to New Yorkers. In fact, New Yorkers don't like it.'
"The humor is that Jim doesn't want to be outgoing, but the priest is this guy who's doing a very human thing, which is connecting with strangers and showing love to them. The three of us could sit here and say, 'That's a very Christian thing. That's the right thing to do.'"
Said Jeannie: "Jim's character walking down the street, and the priest saying hello to everybody is just weird. You don't talk [to people in New York], they don't like it."
Real-life Jim may not have a priest from Zimbabwe, but he has a clerical story to tell.
Said Jim, "One of the episodes we're shooting right now is inspired from real life. Jim invites the priest to come with him to his first appearance on 'The Tonight Show.' This is inspired by the fact that I brought my priest, who was probably a 5-foot-tall guy from Southern India, to Letterman.
"When we got there, he was like, 'I'd like to meet Kareem Abdul-Jabbar.' I'm like, 'No, we don't talk to the other guests. We sit in our room, and we wait for them.' And he was like, 'I'm just going to say hello.' That inspired me. All the stories in the show are really — Jeannie and I have been writing forever — but they're little, interesting examples of stuff that happened to us, because we don't watch tons of sitcoms or comedies. In fact, we don't watch any.
"It's all these stories that are very personal to us, and they mean something."
Added Jeannie, "We're also looking at this in a very universal way. Probably very few people have our exact experience of being a family in New York with five kids. As a matter of fact, I know one other family — and I know a lot of people — but I know one other family that has five kids in New York. Well, actually, two. One is a guy I met at church.
"There are scenes in the show that mean to feel really universal to a broad range of people in all different faiths. It's sort of like, Jim has this whole bit that we wrote together about McDonald's, and how people are so judgmental about McDonald's, how everyone has their own McDonald's, their own thing that they're ashamed of.
"It's like taking our experience and putting it out there in a way that hopefully will be compelling for everybody who's watching it."
If you've never heard that bit, here you go:
Image: Courtesy TVLand
Don't miss a thing: head over to my other home at CatholicVote and like my Facebook page.