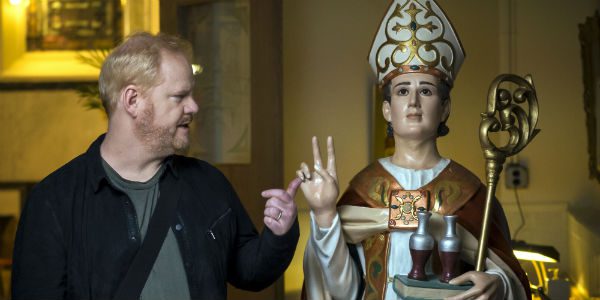 Whether coincidence, conspiracy, kismet, synchronicity or divine intervention, the trailer for ABC's midseason comedy "The Real O'Neals" and a sample episode of "The Jim Gaffigan Show" — set to premiere July 15 on TVLand — popped up online at roughly the same time (hurry, it's only available through May 29).
The ABC show, inspired by the childhood of gay activist, sex columnist and apparently deeply disaffected lapsed Catholic Dan Savage, offers a caricatured take on a suburban Catholic family with a panoply of troubled members, including a gay teenager — click here to watch the trailer and draw your own conclusions.
"The Jim Gaffigan Show" is a fictionalized version of the life of the practicing Catholic and stand-up comedian, along with wife Jeannie (played by Ashley Williams) and their five kids, living in a two-bedroom New York City apartment — click here to see an episode (NOT the pilot).
Both shows were in development for quite a while before being picked up (after the you watch the "O'Neals" trailer, just ponder the  number of pitches, rewrites, ABC/Disney executive approvals, reviews by Standards & Practices, focus groups, etc., it went through to wind up with what it has, which apparently is just dandy with everyone).
Ironically, CBS twice passed on Gaffigan's show, only to pick up "The McCarthys," a short-lived sitcom also featuring an Catholic family with a gay son. Huh.
Anyway, I recently had an extensive chat with the Gaffigans. who are both executive producers on "The Jim Gaffigan Show."
First up, Jim and Jeannie address the elephant in the room, "The Real O'Neals."
Jim:
Jeannie and I have been writing stand-up for a long time. There would be a tentativeness in the audience, because they would assume that I would go with what "The Real O'Neals" were doing, right? Which is, dealing in cliches. It's a different style of comedy, but I don't believe the premise anyway.

It's one of those things where it wasn't completely foreign with what they're doing, and it wasn't. We live in a shock-filled entertainment landscape. I was like, "Yeah, that's what I would imagine." Even when we started writing this, and we were writing  a priest character, and we're dealing with directors, Jeannie and I are like, "No, this guy's smart."
Jeannie:
We don't go there. We are not into any cliches. Priests are real people. They're not this ridiculous stereotype. There are people, when they hear you're writing about a priest, they have this mocking face, how bad religion has messed up your life, and that kind of thing.
Click here to keep reading …
Image: Courtesy TVLand