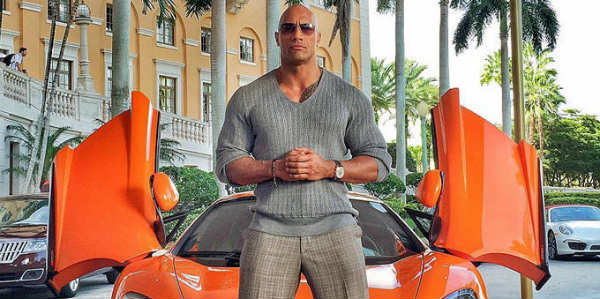 On the surface, Dwayne "The Rock" Johnson appears to have it all — the former pro wrestler has parlayed his ring celebrity (and the nickname that came with it) into a successful career as a film actor, writer and now TV star.
In HBO's half-hour dramedy "Ballers" — which ended its first season on Sunday, Aug. 23, with another on the way — Johnson plays former Miami Dolphins linebacker Spencer Strasmore, who's dealing with the emotional, physical and psychological issues that come with negotiating life after the NFL. He's also working for a financial-advisory firm, trying to mentor younger players and sign them up as clients.
But dip under the surface, and Johnson reveals some deep regrets. He won a national championship in 1991 with the Hurricanes football team from the University of Miami. He then went on to play for the Calgary Stampeders of the Canadian Football League before being cut two months into the 1995 season.
After that, Johnson segued into wrestling, but mixed feelings linger to this day. Earlier this month, beaming in by satellite to the biannual TV Critics Association Press Tour in Beverly Hills, California, Johnson responded to a question about Spencer making peace with his life off the field by saying:
It's one of the biggest reasons why I feel such a personal connection to the show, because the life that Spencer Strasmore has was a life I wanted. I wanted that life. Down here, University of Miami, 18 years old, I stepped on campus. I had no money, and we struggled for a long time, but my number-one goal was to make it to the NFL, just so I can buy my parents their first house that they lived in. I never lived in a house until I was 28 years old. We lived in efficiencies and apartments.

So the point is, it's Spencer's life as a successful NFL player, future Hall of Famer. That was the life I wanted. I failed at that. So, to answer your question, which was a great question, by the way, about will I ever find peace with it? I think I found peace with it. I don't know. Maybe a therapist would say otherwise. Maybe I need some work with clearing some issues, but for many years my goal was to make it, and I never did. And then when the game is taken away from you or it's cut short like a lot of players, like it happened to me when I had a run there where I was ‑‑ I had suffered a lot of injuries, five knee surgeries, bad back injury, complete reconstruction on my shoulder. It all happened within my college career. So it sidelined me.

So will I find peace with it? As best I can, but I think ‑‑ and now, because I have my degree in psychology, clearly, I think I'm finding peace with it on the show. And I gotta tell you, it's unlike any experience I've ever had. I've had the opportunity in movies to play a lot of characters and a lot of men who have done some pretty good things, and they galvanize some people, and they go on to save the day, and there's bad guys to hunt down. In something like this, the muscle I get to exercise in this is a completely different one that I was never used to. What I mean by that is just living and just every day you're just living and living life. So the experience has been tremendous, and I am fortunate to be playing a guy whose life I wanted.
And if Strassmore's life, or the life of an of the players in "Ballers," hits the rocks, that's somewhere Johnson has been as well. He said:
Well, I think what happened for me, I hit rock bottom. The first rock bottom that I hit was out of college where I worked for 10 years, from the time I started playing football at 14 years old to the time I was 23, I think, and did not get drafted. Played in the CFL for approximately 200 bucks a week Canadian. I got cut from the team a couple of months later, and I had to close that chapter in my life. Then when I went back home, I couldn't afford to live here in Miami with my girlfriend at the time, and I had to move back in with my parents.

At 23 years old, it's pretty sobering. It's a tough experience when you have to move back in with your parents. And at that time, my parents ‑‑ like I said, we never lived in a home. So they had a little small apartment in Tampa, Florida, and I had to move in with them. And then you go through your ‑‑ you go through the challenges of that. You hit depression. You hit rock bottom.
Asked what that 14-year-old aspiring NFL star, or that 23-year-old facing broken dreams, would say if they could see themselves in 2015, Johnson said:
They would say holy sh*t. They would. They would just be grateful. Honestly, that 14‑year‑old boy – I was evicted. We were evicted out of our efficiency in Hawaii when I was 14 years old and forced to leave Hawaii. To look from that to sitting here with all you guys talking about a show that's doing pretty good and a career that's doing pretty good, very, very grateful.

So I think that I'm very, very lucky, okay, so I've got a lot of good people around me. I surround myself with some really good partners. …

But I can tell you that the number-one thing ‑‑ and I tell this, by the way, to players who are playing in the league, to college players who want to make it to the NFL, to players at the end of their career and they want to transition into media. I always say the same thing. You could strip it all away. You could strip away the lights. You could strip away Hollywood, strip away the glitz, the glamour, the cars, the money, strip it all away. It will always come down to the hard work and the commitment you're willing to put in.

So for me, this is why I say I'm lucky. So I got a lot of people around me who are willing to work just as hard as I am.
Image: Courtesy HBO
Don't miss a thing: head over to my other home at CatholicVote and like my Facebook page.