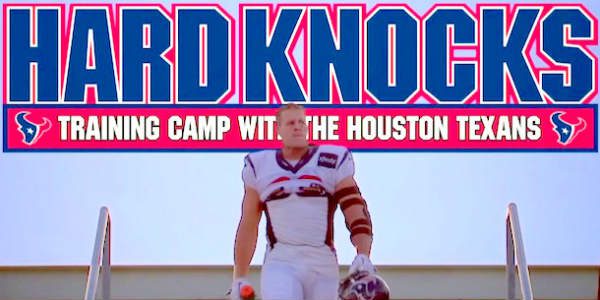 There's no substitute for putting in the work.
In the season premiere of HBO's NFL-documentary series "Hard Knocks," this year following the training camp and preseason of the Houston Texans, defensive end J.J. Watt — recently voted by his peers as No. 1 on NFL Network's list of the Top 100 players of 2014 – shows what it takes to be the dominant athlete he is.
It helps that he's very large (six-five, and 289 pounds), but that wouldn't count for much if he didn't do stuff like this.
From episode one:
Want dedication to excellence? To greatness? To being #1? This is dedication. This is @JJWatt. #HardKnocks http://t.co/sW9SVvZFf6

— NFL (@NFL) August 12, 2015
Watt was also was seen matching his muscles to an object even larger than himself.
From Grantland's list of great J.J. Watt moments:
J.J. Watt flipping a mega tire that weighs 1,000 pounds. He said that in 2013, he was able to flip it one time. By 2014, he was up to 30 times. In 2015, he's flipped it as many as 65 times.
But, practice can also lead to imperfect. In the episode, the Texans are seen in a scrimmage with the Washington Redskins that devolved into bench-clearing brawls. While that wasn't funny, the sight of 6-foot-tall Redskins wideout Pierre Garcon getting in Watt's face (from below) and calling him an obscene name (several times) kind of was — especially because the unflappable Watt responded by reminding Garcon that, for his own good, he might want to rethink confronting a defensive lineman.
Also seen in "Hard Knocks" was running back Arian Foster, who sustained a serious groin injury (click here for the grisly details) and now will be out for quite some time.
Foster was recently the subject of a lengthy ESPN profile focusing (with apparent sympathy and approval) on his public admission of atheism. It's interesting reading, if for no other reason than figuring out where this bright kid — son of a devout Muslim father — missed the chance to be properly formed in faith.
Then there's this tidbit:
His 6-year-old daughter, Zeniah, knocks and enters. Dinner is finished, and she wants to know if it's OK for her to eat the ice cream her grandmother has promised. As she skips away, free to indulge, Foster mentions — his voice betraying an I know, I know tone — that Zeniah just finished kindergarten at a Catholic elementary school.

"Every once in a while she'll mention Jesus or God," he says. "One time she likened God and Jesus to Zeus and Hercules. She did it on her own. She said something along the lines of, 'They're the same. They're both stories.' I thought it was brilliant on her part to be able to distinguish it."
The article also goes on at length about the connection between Christianity and football, which is truly there, especially in the South (in a tone that, to my ear, implies a certain amount of scorn for, if not faith itself, the general situation).
On the other hand, there's the friendship that Foster struck up at the University of Tennessee with now-Baltimore Ravens running back Justin Forsett, a devout Christian.
There is an edge to Foster and a predator's sense of weakness. Letting Arian be Arian is a euphemistic way of saying he can be cutting and abrasive, eager to display his intelligence like plumage. Perhaps because of Forsett's refusal to back down, a friendship sprouted. The two running backs communicate almost daily, and when Forsett ends a conversation or text exchange with "I'll pray for you" — as he often does — Foster responds with "And I'll think for you." When Forsett tweets out, "The [Bible] verse for tonight is …," as he does every night, Foster has been known to tease him by replying, "When are you gonna give us your least favorite verse, though?"

"Arian pushes me to be a better man and a better man of faith," Forsett says. "He's going to ask questions, tough questions, and I take that as a challenge. I have to be prepared to give a response at any given moment. If I don't have a response, he's going to push me to go get it."

Says Foster: "Here's what I respect about him: Justin was never like, 'Hey, man, you're going to go to hell.' He was like, 'This is what I believe is the right way, and I'll pray for you.' I never feel arrogance or judgment. He never acted like he had something I don't have. He said, 'I would love for you to experience this,' which is more divine than anything I've ever come across."
Click here to read the whole thing.
"Hard Knocks" airs Tuesdays on HBO; it can also be streamed via HBO GO.
Image: Courtesy HBO
Don't miss a thing: head over to my other home at CatholicVote and like my Facebook page.