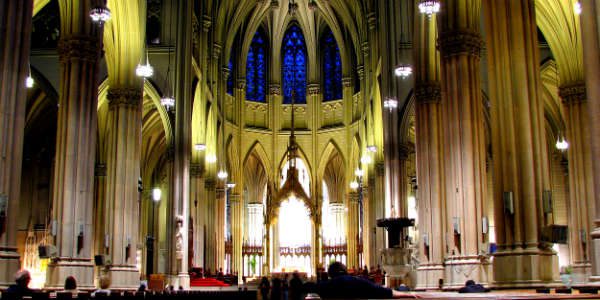 New York City PBS stations THIRTEEN/WNET and WLIW21 have come together to honor one of Gotham's signature landmarks — and a focal point for American Catholicism — with the premiere of "Treasures of New York: St Patrick's Cathedral." Whatever the sorry state of the city's St. Patrick's Day Parade, the 135-year-old cathedral is a glorious testament to the Faith, especially after unveiling a bright, pressure-washed facade in December 2014
The $25M facelift (made necessary when toxins began to make the marble crack and crumble) is part of a larger, $180M restoration set to be completed by later this year, which includes structural repairs, updating systems, and restoring the true colors of the Gothic building's stained-glass windows.
From WNET:
Since its doors first opened in 1879, St. Patrick's Cathedral, the largest Roman Catholic cathedral in the United States, has served as a symbol of hope, faith and freedom for New York's parishioners, community members and travelers from around the globe. Overlooking Fifth Avenue, the neo-Gothic building has endured while the surrounding urban environment has changed.

As the world awaits Pope Francis' highly-anticipated September visit to New York,Treasures of New York: St. Patrick's Cathedral – premiering on Tuesday, August 18 at 7 p.m. on WLIW21 and Tuesday, August 25 at 8 p.m. on THIRTEEN – takes viewers through the cathedral's rich history as a center of Catholic life in New York City, showcases its recent $175 million restoration, and examines architectural features that have made it a celebrated New York City treasure and a National Historic Landmark.

The new film also highlights the efforts to preserve this historic treasure, examining the massive, recently completed restoration that included a new roof, repairs to the building's stone façade and restoration of its stained glass windows. The project, which was initiated in 2007, marks the most extensive and expensive restoration in the cathedral's history.

Treasures of New York: St. Patrick's Cathedral features interviews with members of the cathedral's staff, including His Eminence Timothy Cardinal Dolan, the Archbishop of the Diocese New York; Monsignor Robert Ritchie, the rector; Dr. Jennifer Pascual, director of music and Daniel Brondel, associate director of music and organist. The film also features writers Peter Quinn and Turlough McConnell, as well as several of the key preservationists and architects involved with the restoration, including Raymond Pepi, president at Building Conservation Associates; Michele Boyd, associate at Building Conservation Associates; Jean Parker Phifer, associate at Thomas Phifer and Partners; Christopher Botti, president at Botti Studio of Architectural Art; Jeffrey Murphy AIA, founding partner at Murphy Burnham & Buttrick Architects; and John Peragallo IV and John Paragallo III of the family run Peragallo Organ Company.

After the initial broadcast, the full episode will be available for online streaming at thirteen.org/treasures.  The Treasures of New York website also offers past episodes about some of New York's greatest institutions.

Treasures of New York: St. Patrick's Cathedral is a production of WLIW LLC in association withWNET. WNET is the parent company of THIRTEEN and WLIW21, New York's public television stations and operator of NJTV.
Click here to get the full details of Pope Francis' visit to New York City, which includes evening prayer at St. Patrick's on Sept. 24, a speech before the United Nations General Assembly on Sept. 25, and a multifaith ceremony at the 9/11 memorial on that same day.
Image: Wikimedia Commons
Don't miss a thing: head over to my other home at CatholicVote and like my Facebook page.