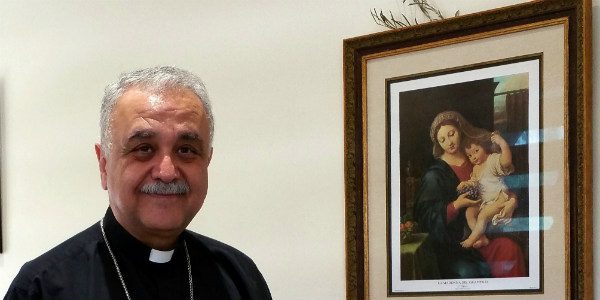 Here's my latest for The Tidings, the newspaper of the Archdiocese of Los Angeles, focusing on efforts to help construct safe housing for Christian refugees who choose to stay in Iraq, spearheaded by a Chaldean Catholic bishop in  San Diego, California.
Bishop Soro was formerly a bishop of the Assyrian Church of the East. A longtime advocate of the primacy of the Apostolic See
of Rome — he proudly displays thick albums of photos of the times he has met Pope Saint John Paul II, Pope Emeritus Benedict XVI and Pope Francis — Bishop Soro was received into the Catholic Church in January 2008.

He recently joined forces with Kingdom Special Operations, a Las Vegas-based private security company. Staffed by former intelligence officers and military Special Forces members, it goes on assignments worldwide for the U.S. government and other entities.

But the CEO of Kingdom, Orange County native Roger Flores, is a Catholic and a Knight of Columbus, and he has always maintained that part of Kingdom's mission is to help his fellow Christians.

Flores and his compatriots have spent much of their adult lives living in tents and similar structures in war zones and disaster areas, and he wants better for the Christians currently living in refugee camps.

"Our commitment," said Flores, "is to build a suitable transitional location away from harm."
Click here to read the rest. And below find links to both Kingdom's efforts (they've now increased their commitment to 100 homes since the story was written), and Bishop Soro's own initiatives.
Images: Kate O'Hare; courtesy Roger Flores