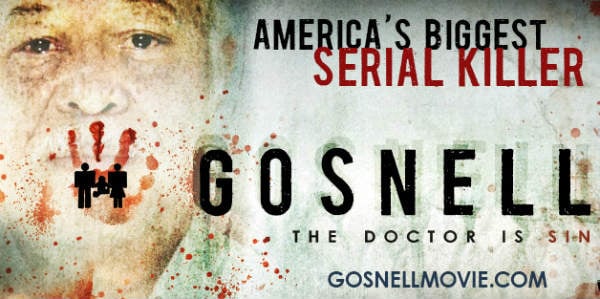 Today on Facebook, actor/director Nick Searcy ("Justified"), who's currently at the helm of the "Gosnell" movie, shooting in Oklahoma City, Oklahoma, offered some words of wisdom for his fellow film directors.
Notes to future directors: When directing a movie,

1. Wear headphones at all times, whether anything is coming through them or not. They protect you from outside noise.
2. Stay with the crew and the DP on set. Talk to the actors constantly. Make sure they are confident and certain. Address their concerns earnestly, and with passion and sensitivity.
3. Never sit in "video village." There lies madness. Keep focussed on the work at hand. You are not a spectator or a critic. You are part of the crew.
4. Use your attitude and humor to make your script supervisor think twice before he/she approaches you. 
5. And never, ever, EVER quit until you get what you need to make the scene work in the editing room. Because if you don't, you will regret it for the rest of your life.

Oh, and go out for lunch if there is a good restaurant nearby.
Click here to learn more about "Gosnell" — financed through crowdfunding — which is based on the true-life (or true-death) abortion horror story of Dr. Kermit Gosnell, convicted for multiple counts of murder for killing infants delivered alive after late-term abortions.
Here's a bit of the most recent press release:
Superman Dean Cain has joined the Gosnell movie to play the detective who uncovered the doctor's 'House of Horrors' clinic.

The filmmakers have also announced that veteran actor Earl Billings has been cast as Dr Gosnell.

Nick Searcy, best known as an actor for his role in Justified on FX, is directing.

Gosnell is based on a true story of the doctor who killed hundreds perhaps thousands of infants by stabbing them with scissors after they were born alive in his abortion clinic – which prosecutors described as a "charnel house".

ABC's News correspondent Terry Moran described Gosnell as "America's most prolific serial killer".

Sarah Jane Morris of Brothers and Sisters and NCIS has been cast as the assistant DA – who successfully prosecuted the doctor in an atmosphere of political interference around the hot button issue of abortion.

Gosnell is currently serving life without parole in a Pennsylvania prison for the murder of several babies and killing a female patient.
Here's what CNN anchor Jake Tapper ("The Lead") told me about the case, in a 2013 interview for Zap2it.com:
On the subject of horrific stories, Tapper and "The Lead" were one of the few places in the mainstream media to offer coverage of the Kermit Gosnell trial in Philadelphia before FNC commentator Kirsten Powers wrote a USA Today op-ed that alerted a largely indifferent or unknowing media to the stomach-churning tale of an abortionist accused — and now convicted — of killing babies born alive after abortions.

"The truth of the matter is," Tapper says, "it is such a horrifying story that it's not an easy story to tell on television. That's not just about Gosnell, that's about anything that involves horrific things happening to babies, to children. Those stories are often very, very difficult to tell.

"There were a lot of details from [the mass school shooting] at Newtown, Conn., that did not come forward on television. I'm not talking about the story write large, I just mean the details. There are details about Newtown that the public does not know, that reporters know, that police know, and quite honestly, that the public does not want to know."

Regarding the Gosnell trial, which much of the media either wasn't aware of or had averted its eyes from, Tapper had a personal connection.

"Look," he says, "my dad is a pediatrician from Philadelphia. I know where Lancaster Ave. is. I know that was a story when I first heard about it, because I read a lot of Philadelphia media. So when it first exploded in Philadelphia media, I was horrified.

"When I got my own show, in the first week, I said, 'We have to cover this, and we have to keep an eye on it and cover it periodically.' I don't disagree with anyone who says this should have been covered more. I'm only saying it was a challenge to tell it for a mass audience because it was so horrifying. Not that we shouldn't have or not that we didn't, but it was a challenge."
I also talked to Fox News' Kirsten Powers, a Christian convert, who also took up the cause of bringing the Gosnell case to public awareness. From another 2013 story for Zap2it.com:
Powers says she is a strong believer in justice, and that's what led her to go public with her disappointment over the lack of Gosnell trial coverage. But it was her Christian faith that led her into circles where she first heard about the story — a gruesome and sensational proceeding that many other reporters claimed hadn't hit their radar.

(But Powers is now on that radar, since she was mentioned in the New York Times piece about the guilty verdict for Gosnell, who has also just agreed to plead guilty on federal drug charges.)

"Being a Christian has affected my worldview," says Powers, a former atheist. "It's not so much how it affects how I'm a journalist, it's expanded my worldview. It's pulled me out of the liberal Democratic bubble, which is what I grew up in, what I worked in, and just expanded my world into a world where I have friends of all different kinds, different types of Christian faith, very conservative friends.

I'd like to think even if I wasn't a Christian, and I found out about those things, I would write about them. Maybe I'm wrong."
Remember, the appalling brutality of abortion doesn't begin or end with Planned Parenthood. Defunding that organization is only a first step in a long cultural struggle to reclaim the rights of the innocent and the compassion of an increasingly cold-hearted and selfish society.
Image: "Gosnell" key art, courtesy Phelim McAleer, Ann McElhinney, Magdalena Segieda

Don't miss a thing: head over to my other home at CatholicVote and like my Facebook page.