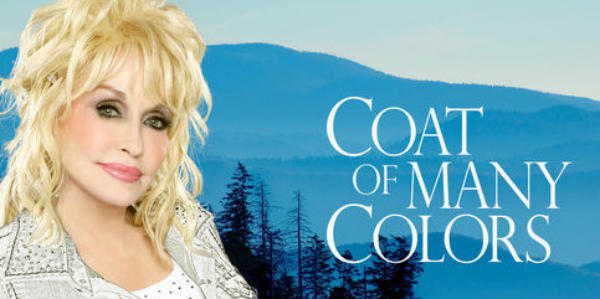 It was a moment in a little girl's life that became a country classic.
Premiering Thursday, Dec. 10 on NBC, "Dolly Parton's Coat of Many Colors" isn't a biopic or a musical based on the country singer's whole life. Instead, it focuses on an incident when Parton was 9 years old, as she and her close-knit family in Tennessee's Great Smokey Mountains in 1955 struggle to overcome a devastating tragedy.
Along the way, a handmade patchwork coat — the TV one doesn't exactly duplicate the original — helped form Parton into the woman she would become and inspired one of her most famous songs.
Alyvia Alyn Lind plays the young Parton, with Jennifer Nettles and Rick Schroder as her parents, and Gerald McRaney as her grandfather.
Writer and executive producer (with Sam Haskell) Pamela K. Long took time to answer some questions about the movie, its themes and the place of stories of faith in today's TV landscape.
What brought you into this project as a writer and executive producer?

I had met and worked with Dolly many years ago on a movie project at CBS. So, two years ago, when Sam Haskell's office called me to say Sam wanted me to get on a plane to Nashville to meet with DOLLY, I was intrigued to say the least — what was Dolly up to now? It's always fascinating and it's always fun!

I was one of a group of Hollywood writers meeting with Dolly—she was finally interested telling her own life story! I jumped at the chance to meet with Dolly and talk about her life. I was on a plane to Nashville the next day.

I met with her and Sam at her place for lunch — she's a wonderful cook — and it was clear to both of us that we had chemistry together, we spoke the same language –I was also raised by a mountain preacher's daughter, we were both believers, both depended on our faith to get through this life. When our meeting was over, she said she was pretty sure I was right for her, but she "needed to pray on it" — it was the beginning of a great partnership of the heart. A Divine appointment.

You're dealing with a famous subject, but she wasn't famous then. How did you manage to make young Dolly recognizably Dolly Parton but still a little Tennessee girl of the 1950s?

She's still a little mountain girl from Tennessee! The very fact that she hasn't changed is a big part of why she's one of the world's biggest stars. It's true that we are seeing Dolly before she was DOLLY. But she was still the Dolly we know and love. She was born an artist, she was full of beans then and she's full of beans now—she always knew she was destined to be a star.

We see in the movie that she had a God-given confidence, a vision of who she was in the universe. She saw beyond her poverty and her mountain home to the wide world that awaited her.

What were the major themes you wanted to come through in the movie?


Love never fails. Faith, family, and love are the most important things in life. In these things the Partons were the richest people on earth. They lived an abundant life.  While others may look at their life and see abject poverty, we see that they had riches beyond measure. Love never fails, love never fails, love never fails. Simple, but powerful. Because the power of the universe in behind it! So, never give up. You might miss your miracle.

What research did you do?

I read Dolly books, articles, looked at videos, old photos, interviews, and documentaries. But I had something better than any research … I had Dolly Parton, up close and personal. Every word out of her mouth was gold.

What surprised you most about the story as you got into it?

I think my take on what inspired Dolly's mother to make the Coat of Many Colors surprised both of us. It was a great honor to reveal, after all these years, what had transpired in Avie Lee Parton's heart to motivate the making of that coat. It pulled all their family history into focus.

Faith-based, family-friendly stories are increasingly rare on network television. Why do you think that is?

(laughing) Why the Devil, who else? Our culture has changed, when God is taken out of the classroom, and the town square, He will surely be scarce on television. If it's not the central focus of family life in America, it will be reflected in the content of television. And we, as believers, have allowed it.

I know that Americans are so hungry for these kinds of stories, and that this audience basically holds the purse strings in our country. What would stop the television titans from seeing this and running with it? Political correctness perhaps. So, maybe politics have become the new religion.

Whatever the reason, Dolly Parton cuts through all this clatter and is loved by EVERYONE. NBC embraced this story; they never once pulled back on the faith-based themes of my script. In fact, they never had a note, not one. Now, THAT'S a modern day miracle! Seriously, they couldn't have been more supportive. It was very encouraging to me. Now, if people of faith will tune in and watch, then I'm sure we can count on more faith-based television!

What can be done to encourage networks to do more of these types of stories in the future?

NUMBERS. Big responses from the audience–Positive feedback, love letters, loyalty, and sanctioning from social media. Also, it all starts with a great story, great characters, and a great script that great actors want to play. Stars who want to put something positive back into the culture, which can cut through the prejudices, and get these kinds of stories picked up.

Also, people don't want pablum; they want meat, stories that fill you up, not leave you feeling empty. If you can get an audience to laugh and to cry, and THINK, you have an audience that will tune in next time. I think "Coat of Many Colors" does just that—it entertains, but it has truth and wisdom in it, and that's uplifting.

I think we could all use a little of that right now. That's what Dolly is so good at, one of her great gifts … making people happy and feeling good about themselves, their situations…their lives. Everyone knows Dolly Parton, but you'll know her with a deeper understanding after seeing her and her extraordinary family in "Coat of Many Colors."
Here's a sneak peek:
Images: Courtesy NBC
Don't miss a thing: head over to my other home at CatholicVote and like my Facebook page.