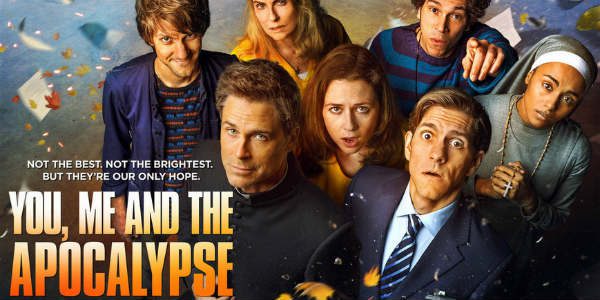 In what may be the most pleasant TV surprise of this young year (although it actually premiered in the U.K. in late 2015), NBC's "You, Me and the Apocalypse," premiering Thursday, Jan. 28, at 8 p.m. ET/PT, achieves the near-impossible — it's a comedy-drama on a broadcast network that manages to be both comedic and dramatic, and could be a positive portrayal of Catholicism to boot.
In the 10-episode miniseries, co-produced in the U.K. by NBCUniversal International Studios and Britain's Sky 1, a comet is streaking towards Earth and the literal end of the word is at hand. The series then skips back to 34 days before the big day, and shows how a group of disparate strangers wind up sitting in a relatively safe haven in England.
Said The Los Angeles Times:
Brawling, sprawling, absurdly ambitious and ambitiously absurd, Iain Hollands' black comedy pushes its many characters and fabulous cast across a high wire held in place by opposing forces: It's the end of the world, yet life goes on.

Hilariously, spectacularly and with growing tenderness toward the story's subjects.
Among the characters are an American librarian (Jenna Fischer) in prison to protect her teen hacker son; her white-supremacist prison pal (Megan Mullally); and a bank manager whose mum (Pauline Quirke) has a secret.
There's also beautiful Italian cloistered nun Sister Celine (Gaia Scodellaro), who applies for a job as the assistant to the "Devil's Advocate," a Vatican priest tasked with vetting (and usually rejecting) candidates for sainthood.
Now, in the face of impending doom, Father Jude knows he's going to be inundated with "fake prophets and false miracles," and he teams up with the tough-minded, faithful Sister Celine to stem the tide. Oh, yeah, and there's the whole Second Coming of Christ to deal with.
Rob Lowe — also the star of the Fox comedy "The Grinder" — plays the foul-mouthed, cigarette-smoking Father Jude Sutton. We had a chat at a press event last fall in Los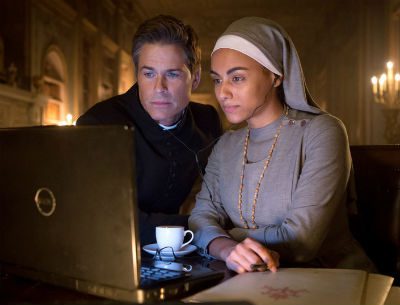 Angeles, and here's what he had to say.
Who is Father Jude?

He is, I would say, the rock-and-roll black sheep of the Vatican. I would say, what House was to the medical industry, my character is to people of faith.

Does he have faith?

Oh, yeah, absolutely. What I really like about it, is that it's a real, pragmatic faith, where there's room for doubt, and there's room for struggle. Because, if people don't have doubts and struggles, in my experience, it can make it very hard.

He very much embodies that world in a very provocative way. I love playing that character. It's very well-written.

At the end, out of everybody in the Vatican, he's the one that's the purest. Ironically, the one whose faith is more complicated, harder to understand, full of anomalies, ends up being the true believer. It's really interesting.

It was a big, bold, larger-than-life character. In an ensemble of really great characters, he stood out.

But what about the Church in general?

I'm not sure, at the end of the day, how [Catholics] are going to feel about the portrayal of the Vatican.

No one knows the Vatican's shortcomings better than us.

Yeah, if you're watching it through that prism, which sophisticated Catholics will, they will be prepared.
Here's a sneak peek: