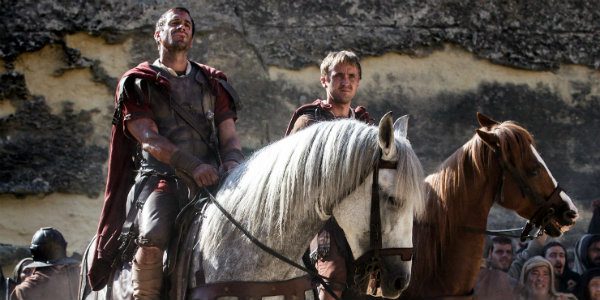 You could call it "CSI: Jerusalem."
In the new feature film "Risen," set to be released on Feb. 19, 2016 – during Lent — British actor Joseph Fiennes ("Shakespeare in Love," "FlashForward") plays Roman Military Tribune Clavius, assigned by Pontius Pilate (Peter Firth) to find the missing body of Yeshua, a k a Jesus (Cliff Curtis) during the 40 days after the Resurection.
A pagan with a devotion to Mars, the god of war, Clavius is present at Christ's death on the Cross and sees His face. Therefore, he's a good choice to identify the corpse, if it can be located.
Clavius heads out on an investigation through the back alleys of Jerusalem, questioning witnesses – including Mary Magdalene, unfortunately and inaccurately depicted as a prostitute – and examining dead bodies.
At his side is his new aide, Lucius (Tom Felton, who played Draco Malfoy in the "Harry Potter" movies), who begins to get concerned when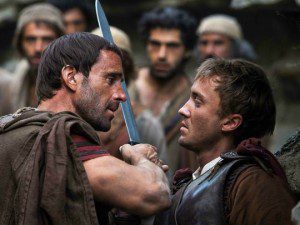 the grizzled combat veteran's professional curiosity begins to become a matter of faith and conscience.
In the end, Clavius does a lot more than hunt through the dead – has a life-altering experience.
In a one-on-one interview at press event in early September, Fiennes said, "The journey is really a man who's deeply conditioned in one way of thinking, in terms of the business he's in – it's death. He's a very pragmatic and brilliant military tribune, and he's made his way up through the ranks, but he's been surrounded day in and day out by death.
"His journey is really a great revelation, which brings him to the point of challenging his conditioning and also getting out of that industry and really seeing a life of redemption beyond the Roman Empire, and beyond the military."
Asked what moved him about the story, Fiennes said, "I loved the relationships that we see with Pontius Pilate and Clavius, and that relationship with Clavius and his aide, Lucius. They're almost like father-son relationships.
"What we have in a theological and spiritual way is the divorce of the earthbound parental relationships and then the adoption of a more spiritual father/son relationship."
Fiennes, born as one of twin boys in 1970 in Salisbury, England – the famed Salisbury Plain is home to the mystical Stonehenge – is the youngest of six siblings, which include actor Ralph Fiennes, along with filmmakers, a composer, a novelist and a conservationist.
Fiennes married the former Maria Dolores Dieguez in a Catholic ceremony in Tuscany in August 2009, and they now have two young daughters.
"As a child," he said, "I was really arrested by the story of Christ. [As a father], I can't wait to introduce my children to that narrative. I feel, ultimately, that the story – and how I interpret it – is a great, deep-seated philosophy within myself to go through life."
One thing that sets "Risen" apart is that it's told from the point of view of an unbeliever, a Roman soldier with no personal stake in Christ's saga. But growing up in the U.K., Fiennes was surrounded by evidence of Great Britain's Roman past.
"It's a big part of our psyche," he said. "Who's to say that, genetically, we might be somehow connected? It would make sense, wouldn't it? There's always been a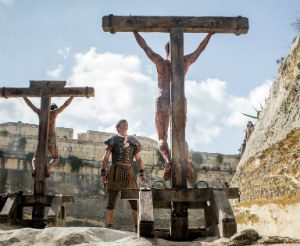 fascination. It's an incredible part of history.
"But what's amazing about this story is how that empire was irrevocably changed by this one event, and how, very quickly — in a short space of time, if you think about it – was the fall of the Roman Empire and the rise of Christianity. It's an amazing thing."
Clavius stands in for everyone who had encountered Christ and then finds his or her life irrevocably changed.
"I do believe he is really a component in God's plan," says Fiennes of Clavius.
In Fiennes' acting history, he played Christ on stage in Dennis Potter's controversial play "Son of Man." He also played Martin Luther in the 2003 biopic "Luther," and a Catholic monsignor in Fox's anthology series "American Horror Story."
None of these projects could even be remotely considered as a faithful portrayal of orthodox Christianity or especially of the Catholic Church, but Fiennes does seem repeatedly drawn to the core subject matter. Now, there's "Risen."
When this trajectory was mentioned, Fiennes said, "I don't know. I seem to have done a lot of films connected to things like this."
Directed and co-written by Texan Kevin Reynolds ("Red Dawn," "Hatfields & McCoys") – the script, co-written with Paul Aiello, has been around for a decade and gone through multiple revisions – "Risen" is a production of Affirm Films, a faith-based division of Sony Pictures, and is distributed by TriStar Pictures.
The producers are Aiello, Mickey Liddell ("Everwood") and Chaldean Catholic Pete Shilaimon ("The Devil's Hand").
Here's a sneak peek (click here for movie times and tickets):
Images: Courtesy Sony/Affirm Films/TriStar Pictures
Don't miss a thing: head over to my other home at CatholicVote and like my Facebook page; also like the Patheos Catholic FB page to see what my colleagues have to say.