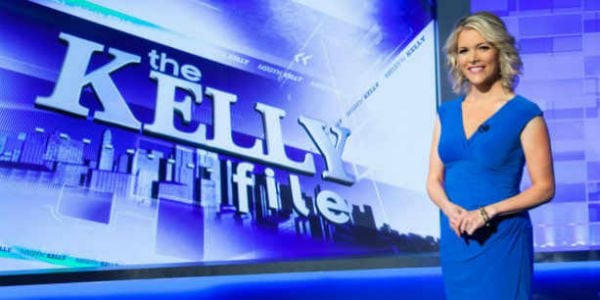 Fox News Channel anchor and rising — or by this time, risen — star Megyn Kelly of nightly news show "The Kelly File" is the subject of a splashy photo shoot and profile piece in Vanity Fair, a magazine not known these days for its kindness to anyone to the right of center.
But the portrait of Kelly is neither a puff piece nor a hit piece. It's a briskly written look at the life and career of a smart, beautiful woman who found success as a lawyer only to upend her life and reinvent herself as a TV reporter. She's now a wife and mother of three, and, Bill O'Reilly notwithstanding, the centerpiece of Fox's primetime lineup.
In recent months, she gained credibility on both sides of the aisle by going head-to-head with presidential candidate Donald Trump, especially regarding his comments about women. Trump, as he does, hit back, but when the dust settled, it doesn't appear that he laid a glove on Kelly, who emerged a more respected figure for her candor and fearlessness.
Here's a bit from Vanity Fair:
Kelly's Trump episode was one in a string of satisfying male-ego deflations … Her occasional, yet highly entertaining, bucking of the conservative party line has attracted more independent-minded viewers and has even earned praise from liberals such as Chris Matthews, Joy Behar, and Gayle King. As of late, passersby have been calling out versions of "It's not too late to come to the other side!" Still, some media types warn against getting too excited over Kelly. As Bill Maher put it, "We think of Megyn Kelly as the sane one over there at Fox News. It's just because she's surrounded by Hannity and Bill O'Reilly. She's like the blonde dragon girl on Game of Thrones. Everyone else is a zombie or a dwarf or f*****g their sister, so she looks normal."

Whatever the case, Kelly has become a feminist icon of sorts—the sort who won't actually call herself a feminist. Perhaps this is because Kelly works at Fox News, where "feminists" are in the same scary category as "liberals" who wage war on Christmas each year. Perhaps, as she claims, it's because her accomplishments speak for themselves and have nothing to do with her gender.
Or perhaps, Kelly's just sharp, tough and talented, while not finding it necessary to downplay her femininity.
One thing the Vanity Fair profile left out was Kelly's Catholicism. Raised in an Irish-Catholic family in a suburb of Albany, N.Y., the 45-year-old Kelly is a lot like many of her fellow American Catholics. She remains strongly identified with the Faith while not necessarily following all of its edicts.
I've met and interviewed Kelly, before she became a primetime star — most recently for The Los Angeles Times in 2011, when she was a GOP debate moderator — but the issue of faith didn't come up at those times. So, I don't have a window into her soul and will just examine what's in the public record.
Kelly married her first husband, Dr. Dan Kendall, in a Catholic ceremony in 2001 — and she went by Megyn Kendall for a while on TV — but the marriage didn't last. They divorced, reportedly amicably, in 2006.
Said the U.K.'s Daily Mail early this year:
But even before they married there were signs that they were not meant to be. Kendall was setting out as a successful doctor and his bride-to-be was still a high-powered attorney.

Even the Roman Catholic priest who married them expressed his worries that they would be able to make their marriage work, Kendall remembered.

'He could see the potential conflict. I remember him telling Megyn it is going to be important to take care of your husband at home and I remember her saying "what about him taking care of his wife?"'
While Kelly was covering the ultimately debunked rape allegations against Duke University lacrosse players in 2007, she attracted the attention of Duke alumnus Douglas Brunt, who's now a successful novelist and at-home dad.
From Vanity Fair:
While they were falling in love, he told her, "By the way, if you don't want children, you should tell me soon." As it happened, Kelly had long believed that she didn't want kids, but she had recently experienced an epiphany: "I'll never forget being in my own bed and thinking to myself, Oh my God! It's not that I don't want children. It's that I didn't want to have children with my first husband." Thirty-seven when she married Brunt, Kelly got right to work on that front.
Since Kelly's first marriage wasn't annulled, they wed in early 2008 at a historic hotel on Long Island, with one of Kelly's FNC colleagues, Kelly Wright, who's an ordained minister, officiating. According to an account of one of Kelly's later appearances on "The Don Imus Show" in 2010, it didn't appear she had abandoned the Faith.
As he tried to ask Kelly her legal expertise on state Attorneys General around the country threatening to sue over the health care bill, Imus was distracted by the strange use of "Attorneys General" instead of "Attorney Generals."

"It's just people trying to sound fancy," Kelly speculated. "It's like people who went to Harvard saying, 'I studied in Cambridge.' Do we have to go through the two-step question? Harvard's fine. I get it."

She doubts that the states suing have a legal leg to stand on, since the Supreme Court almost never strikes down laws passed by Congress under the commerce clause, as the health care bill was. "I'm not going to say it has no chance, but it doesn't have a great chance," she added.

Kelly is saddened that, as Imus put it, the "wheels are coming off the Pope-mobile." But she's also frustrated, trying to find a church in which to baptize her now six-month old son. Kelly, a Catholic, has run into some problems because her first marriage was never annulled in the church, and her current husband is a Presbyterian. 

Is this what happens to an innocent child, Kelly wondered frantically, when a Catholic marries a Presbyterian and doesn't have an annulment in their first marriage? 

No. It's what happens when you agree to appear on Imus in the Morning. 
But in 2014, during the struggle over the ObamaCare birth-control mandate, Kelly was energetic in her defense of the Little Sisters of the Poor, subjects of legal action by the federal government over their refusal to comply with the mandate, while interviewing former National Organization for Women (NOW) president Patricia Ireland.
At one point, Kelly asked, "Are you Catholic? Well, I am. We follow rules. It's not a religion for wusses!"
Then, this past summer, Kelly called out 
The New York Times
for hypocrisy for publishing a photo of a piece of art depicting Pope Emeritus Benedict XVI using condoms, after not publishing cartoons depicting Mohammed, claiming that it didn't want to "offend" anyone.