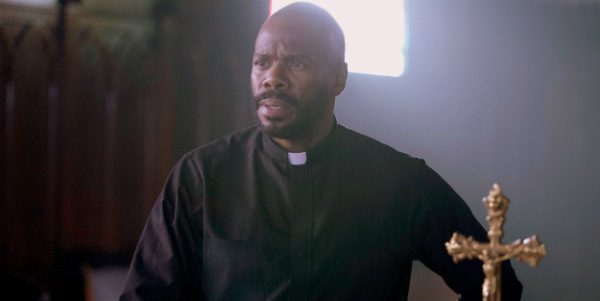 As a revert, I spent many years outside of the Church, but that doesn't mean I wasn't still looking in from time to time. Two of the things that kept me connected to the Faith were Midnight Mass from the Vatican on TV, and what I like to call "Catholic horror movies," like "The Omen," "The Exorcist," "Stigmata," "End of Days," etc. (and one comedy, "Dogma," but that's a conversation for another time). Anyway, one thing all these movies have in common is that the Catholic Church is portrayed as being the ultimate power against incarnate Evil.
Basically, in the movies, when Satan and his minions threaten to sweep across the face of the Earth, you go get a Catholic priest (and sometimes also a nun).
Some Catholics might find this irritating, but I take it as a compliment. What it said to me, even when I wasn't a practicing Catholic, is that the Church is to be taken seriously, that it contains the power necessary to take on whatever Hell can dish out. If even Hollywood knows that, you know it must be pretty obvious.
By the look of TV recently, nothing has changed.
In an earlier post, I discussed the serious questions about the Faith asked in A&E's "Damien," a spin-off series based on the original "The Omen" movie — with Satan's son (Bradley James) all grown up now and just becoming aware he's more than just human — which premiered early in the month. Here's a taste of what I thought after seeing five episodes:
The Church is also present, both in the form of very traditional churches (oddly, Damien never feels compelled to run into any modern worship spaces) and Catholic figures, including a Vatican priest and a devout exorcist (Robin Weigert).

During the five episodes I saw, the idea of faith is never ridiculed (except by Damien, but it's more nervous bravado than intentional blasphemy), and both Catholicism and the Catholic figures are taken seriously and not played as buffoons. This is in line with "The Omen" itself, which made it clear that, if you have an Antichrist, you must have a Christ first.

In short, I enjoyed it. "Damien" is literate, interesting and handsomely produced. It's just shlocky enough to do honor to the original, but intelligent enough to be engaging to thinking viewers. Damien is a sympathetic figure, but one gets the feeling, as he goes into his own 40 days (or several seasons) in the desert and is tempted, he won't fare as well the Lord.
But, there's more.
Back in January, Fox premiered "Lucifer," in which the devil, a k a Lucifer Morningstar — played with an excess of camp by Welsh actor Tom Ellis — has abandoned his responsibilities in Hell to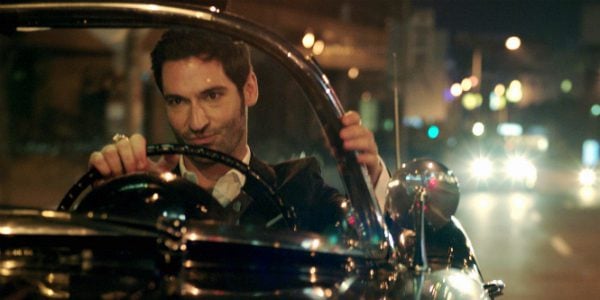 take on human form and run a bar in Los Angeles. The pilot wasn't overly promising, but the notion it put forward, that living as a human was working on Lucifer, thawing his hard heart and bringing out his sensitive side, was intriguing. There's also a lot of what's common across just about all the comic-book adaptations ("Lucifer" is loosely based on a DC Comics title) on TV today — Daddy issues (or Mommy issues, if we're talking about CBS' "Supergirl"). In the case of Lucifer, as an angel, created by God before humans, he considers God as a father — one he rebelled against, who turned on him, abandoned him and consigned him to Hell.
But Lucifer is portrayed as more mischievous and playboy-ish than seriously eeeeevil, and under it all is the petulant anger of a disappointed son, who gets cranky anytime somebody says, "Oh, God." But in the March 21 episode, things got interesting.
Called "A Priest Walks Into a Bar" — if you have Hulu, you can watch it here, or at Fox.com — it features Colman Domingo as Father Frank Lawrence. He walks into Lucifer's club one day, seeking his help, in his capacity as a rumored "fixer," with rescuing a teenage former altar boy (Harrison Thomas) from the clutches of a drug lord. Lucifer snarks out all the usual pedophile cracks, insinuations and cheap insults — up to and including exotic dancers dressed as nuns — which bounce off the honest, unflappable Father Frank without leaving a mark.
Even though the good Father, as Lucifer points out, represents everything the devil stands against, and is his sworn enemy, Lucifer agrees to help — partly, he says, to find out what dirty secret the priest is hiding (spoiler: there really isn't one). Lucifer is stunned when Father Frank reveals that the loss of his own daughter helped reawaken his faith, and resists mightily when the priest insists that God has a plan for him, wondering why anyone would assume that "it's a good plan?" To that — and Lucifer's insistence that his Father lost faith in him first — Father Frank wonders whether the plan is yet finished.
The two start, against Lucifer's will, to become friends. If you want to see how it all ends utterly unspoiled, stop reading now …
……
If you're still with me, basically, at the end, Father Frank makes a heroic sacrifice to save the teen, and winds up getting fatally shot. As he lays dying in Lucifer's arms, he muses that, rather than Lucifer being thrown in his path, instead, he was thrown into Lucifer's. With nearly his last breath, he assures Lucifer that "Your Father has a plan for you," leaving Lucifer to wonder if the faithful priest knew all along who he really is.
It ends with Lucifer crying to the sky, to God, about why this good man, who followed all the rules, had to die — and why, sinner or saint, we all wind up dead in the end.
Yep, this was Fox primetime, with an unequivocal assertion of the existence of God, a kind and heroic priest, and a heartfelt moment with a fallen angel.
Dang.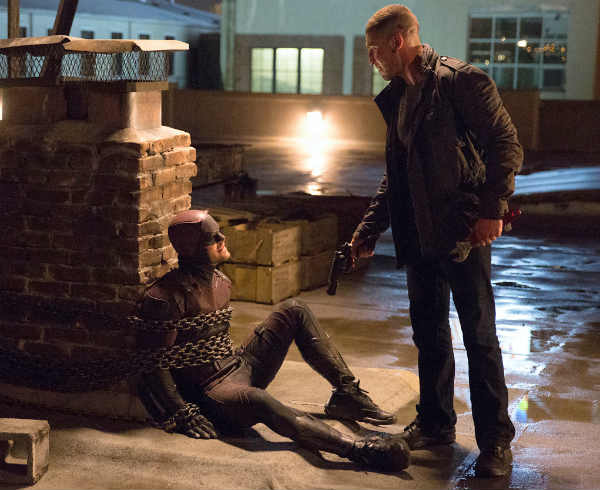 Since season two of "Marvel's Daredevil" only just became available on March 18 on Netflix, and many of you haven't had a chance to watch it, I won't go into detail about the Catholic goodies so far. But you may have seen some articles about the spectacular fight scene in the second half of episode three. It's pretty great, but I prefer the first half of episode three, a scene between Daredevil/Matt Murdock (Charlie Cox) and his new nemesis, The Punisher/Frank Castle (Jon Bernthal).
Best line?
"Do you still go to Mass?"
Heh. Doing the series has made Cox reconsider his Catholicism, so there's that.
I bet it rankles the Devil to no end that those Tabernacle candles are burning 24/7 in churches all over the world. Darkness can never prevail so long as the Light stays on.
Images: Courtesy Fox, Netflix
Don't miss a thing: head over to my other homes at CatholicVote and theFaith & Family Media blog, and like my Facebook page; also like the Patheos Catholic FB page to see what my colleagues have to say.