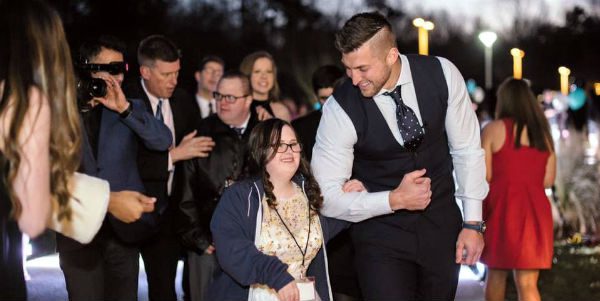 As I wrote about in a previous post:
Yet, lots of people hate on former NFL quarterback Tim Tebow, including fellow Christians. But on Friday, Feb. 12, he and his Tim Tebow Foundation gathered together more than 70,000 volunteers at more than 200 churches in the U.S. and other countries to give special-needs teens over 16 and adults the night of their lives.

Night to Shine crowned over 32,000 "kings and queens" at proms that featured red carpets, volunteer "paparazzi," caregivers and "buddies" that helped people often forgotten by society to be the stars of the show.

I scanned the list of U.S. participants, and I did find St. Malachy's Catholic Church in New York City, but we were underrepresented in the United States, compared to Evangelical, Lutheran, Methodist and Baptist communities. This is year two of this event; let's see if we can do better next time.

Pope Francis has repeatedly called on us to reach out to the marginalized, and I can only imagine he'd give Night to Shine a big thumbs-up.

As Tebow said in the video to all the "kings and queens" being celebrated, "That's how God sees you."
Planning is now underway for the 2017 prom, and it's about time that Catholic parishes caught up to our evangelical brethren in providing this outstanding event. From the inbox:
The Tim Tebow Foundation Opens Applications to Host Night to Shine 2017

The Tim Tebow Foundation announced today that Night to Shine 2017 will take place simultaneously on

Friday, February 10, 2017

, at hundreds of locations around the world. This is the third year for Night to Shine, an unforgettable prom night experience, centered on God's love, for people with special needs. The Tim Tebow Foundation is currently in the process of accepting applications from potential host churches for the 2017 event. People can refer their church to be considered as a host location or simply learn more about the worldwide movement of Night to Shine by visiting

www.timtebowfoundation.org

.

Night to Shine 2017 promises to be as successful and even bigger than its predecessors. As in the past, every guest of Night to Shine will enter this complimentary VIP event on a red carpet complete with a warm welcome from a friendly crowd and paparazzi. Once inside, the guests will receive the royal treatment including hair and makeup stations, shoe shining areas, limousine rides, dinner, karaoke, prom favors for each guest and, of course, a dance floor…all leading up to the moment when each guest is crowned king or queen of the prom.

Another exciting part of the night is that Tebow makes personal appearances at as many proms as possible. Last year, Tebow visited host locations in five different states and even made a special visit on Thursday night to the Night to Shine kick-off in Neply, Haiti.

"The Night to Shine movement is more than just a prom; it is a night where people with special needs shine and they are told that they matter, that they are important and that God has a plan for their life" said Tim Tebow, Founder of the Tim Tebow Foundation.

As part of the Tim Tebow Foundation's sponsorship of this worldwide movement, the foundation provides each host church with the official Night to Shine planning manual, an official Night to Shine prom kit complete with gifts for the honored guests as well as branded decor, personalized guidance and mentorship from a Tim Tebow Foundation staff member throughout the planning process, ongoing year-round special needs ministry guidance and more. Host churches can also apply for financial grants from the Tim Tebow Foundation and last year alone, the foundation awarded more than $2.5 million towards Night to Shine.

The Tim Tebow Foundation launched Night to Shine in 2014 with a simple vision…On one night, the Friday before Valentine's Day 2015, work with churches around the country to provide an unforgettable prom night experience, centered on God's love, for people with special needs. In just its first two years, Night to Shine experienced 450% growth. This past February, 201 churches representing 23 denominations and 70,000 volunteers, came together to host 32,000 honored guests in 48 states and 7 countries, including Haiti, Ecuador, New Zealand, Kenya, Uganda, the Philippines and the United States.

"Our hope and prayer is to change the narrative on how people with special needs are viewed and valued in communities around the world," said Erik Dellenback, Executive Director of the Tim Tebow Foundation. "With more than 200 returning churches already committed to host again, we cannot wait to see what God has in store for 2017!"

To refer your church to host Night to Shine 2017 or find additional information on this worldwide movement, visit www.timtebowfoundation.org.

The Tim Tebow Foundation exists to bring Faith, Hope and Love to those needing a brighter day in their darkest hour of need. That mission is being fulfilled every day through the foundation's seven areas of outreach, including W15H, Timmy's Playrooms, Orphan Care, Adoption Aid, the Tebow CURE Hospital, Team Tebow and Night to Shine. For more information on the Tim Tebow Foundation, please visitwww.timtebowfoundation.org

###

Copyright © 2016 Tim Tebow Foundation, All rights reserved.
You are receiving this email because of your previous support of the Tim Tebow Foundation and we want to inform you of how we are working together to bring Faith, Hope and Love to those needing a brighter day in their darkest hour of need.

Our mailing address is:

Tim Tebow Foundation

2220 County Road 210 W.

Ste. 108, PMB 317

Jacksonville, FL 32259
Image: Tim Tebow Foundation Facebook page
Don't miss a thing: head over to my other home at CatholicVote and like my Facebook page; also like the Patheos Catholic FB page to see what my colleagues have to say.