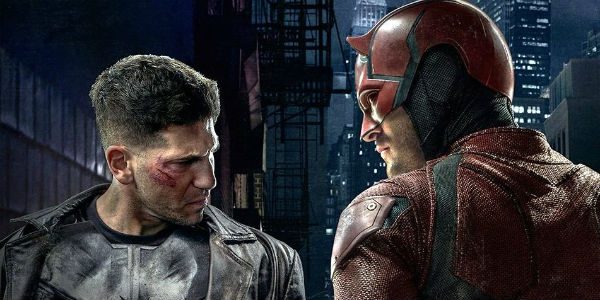 WARNING: If you haven't seen "Captain America: Civil War" or season two of Netflix's "Marvel's Daredevil," go away now. Here's an extra picture to help you contemplate the imminent possibility of huge spoilers (first for "CA:CV," and then, after another picture break, for "Daredevil"). Also, I'm not going to give much backstory on what I'm about to talk about, so click here for the Wikipedia entry about "CA:CV," and here for the one for "Daredevil," in case you need to brush up.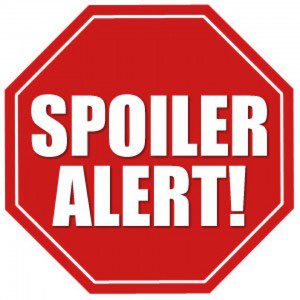 In modern secular, polarized America, it's hard to create realistic stories that talk about the big questions of life, since political correctness and hostility to religion suck the lifeblood out of too many productions. Filmmakers and TV producers wallow in violence and sex but seldom seek the deeper meaning behind these things, because our desacralized world offers few satisfying answers. But science fiction and fantasy have always been avenues to go deep without dragging along contemporary baggage.
In this particular time, comic books provide mythological frameworks for much storytelling, and in between the zaps and pows and showy special effects, they can speak to much of what plagues us.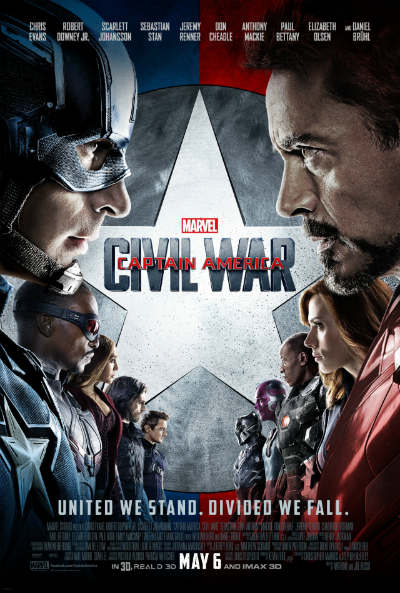 I'm biased, since I only read "Spider-Man" and "Iron Man" as a kid, but I think the flawed, funny, quirky, deeply human characters from the Marvel Comics universe do this especially well. With a few exceptions — like Thor, who bores me — they're ordinary people thrust into extraordinary circumstances, and having superpowers doesn't mean they stop being who they are. Their human lives matter as much as their superhero lives, and sometimes, even more.
In "Captain America: Civil War," currently in theaters, the Avengers are torn apart when half of the superhero team, led by cynical Tony Stark/Iron Man, agrees to be bound by a United Nations compact, while the other half, led by idealistic Steve Rogers/Captain America, prefers to stay free. Cap and his crew then go rogue to stop a man seeking a massive revenge for the deaths of his family. There are a lot of echoes of political issues, but that's not what I'm here to discuss.
In the center of the dispute is Cap's childhood friend Bucky Barnes/Winter Soldier, who has done terrible things after losing his will to the process that transformed him into a killing machine. Cap still believes he can be redeemed, while Stark — who learns that his parents were among the Winter Soldier's victims — only wants him dead.
When Bucky is himself, he is deeply remorseful for what he has done. Ultimately, once the civil war has exhausted itself and there's a truce, he allows himself to be put into suspended animation, since he knows he's not in control of what he does.
But as the battle between Stark and Cap intensified, I began to wonder if Bucky would take himself out of the equation. While he's not fully responsible for what he did, his sins have caused immense suffering, including that of Cap, who selflessly risks everything to protect his friend. If Bucky had stopped fighting, laid down his arms and surrendered to whatever fate awaited him, whether prison or death, he could have ended the fight immediately.
Obviously, he didn't, since there are more movies to be made, but what a moment it could have been, if Bucky accepted an unjust punishment, and sacrificed himself for the sake of his friend, and for peace.
It's been done before.
Meanwhile, over at "Daredevil" …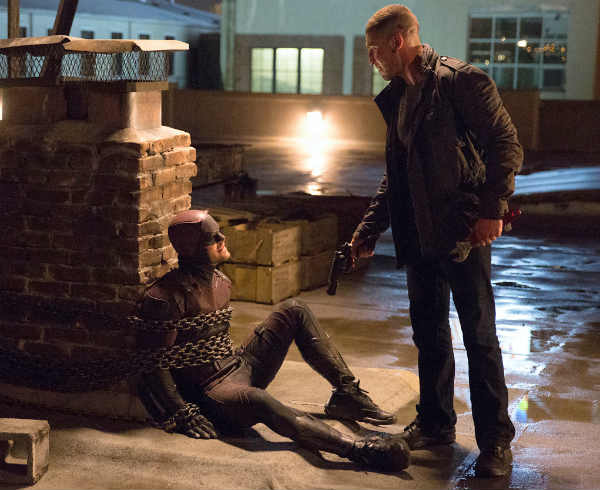 … in an earlier post, I discussed how the arrivals of Frank Castle/The Punisher and Elektra forced Catholic Matt Murdock to reconsider the moral justifications he'd created for himself to be able to maintain his double life as lawyer for the downtrodden and masked protector of New York's Hell's Kitchen. I also explored how doing the role has affected star Charlie Cox's own Catholicism.
But that was before I saw the whole season. Apparently the Punisher is Catholic as well but, after horrific experiences at war and the murder of his family, he now lacks Daredevil's scruples about killing people. In episode three, as Punisher holds Daredevil prisoner at night atop a building, church bells are heard. Punisher identifies the church in question, causing Daredevil to ask, "Are you Catholic?" When the Punisher replies that he once was, Daredevil asks, "Do you still go to Mass?"
I loved that moment, but then they went into a long discussion of the morality of killing your enemies (rather than just pummeling and maiming them, as Daredevil does, but leaving them alive). Daredevil insisted that it's God's call who dies, that the Punisher doesn't have the right to be an executioner, that he can't take it on himself to destroy souls that might still have a chance at redemption.
This didn't seem to make a dent in the Punisher's drive to slaughter anyone he felt deserved it.
Later in the season, Murdock's old girlfriend, Elektra Natchios, reappeared, seeking Daredevil's help with her fight against the Yakuza and its ninja warriors. As she did in college, she plays upon Murdock's dark side, the same one that comes to the surface when he's Daredevil.
(By the way, because of Elektra, there's finally a sex scene in "Daredevil," but it's fairly modest and a flashback, so Matt Murdock continues to be, as far as we know, chaste since the series premiere. He romances his law secretary, Karen, but it never goes beyond kissing.)
When Elektra is badly injured and being treated by hers and Murdock's mentor, Stick, Murdock bows his head and audibly prays for her. At one point, she tells him that there is a light in him (we Catholics know what that is). While she loves that light, she insists that there's only darkness inside herself.
With both the Punisher and Elektra, Daredevil is tempted to extinguish the light within himself and throw his lot in with his dark counterparts. For Punisher, he announces his willingness to finally kill someone; with Elektra, he wants to abandon his life and friends and follow her across the world.
Ultimately, in both cases, he's not allowed to do this. Punisher arranges it so that the bad guys get blown up, without Daredevil being responsible, then escapes to his own spin-off series. And Elektra sacrifices herself to stop the bad guys and prevent Daredevil from throwing away his life — and innate goodness — on her. As she lays dying in his arms, she tells him she finally got to do something good, and asks him if it always hurts so much (he says it does).
She perishes, but, in true comic-book fashion — and because there's going to be a season three — she is inevitably going to be mysteriously resurrected.
The Punisher and Elektra don't believe that they can change, but both of them don't want to see Daredevil go down their roads. It's as if knowing that the goodness in him exists and continues is as close to redemption as they'll ever get.
Not bad stuff for a couple of comic-book stories, eh?
Images: Courtesy Marvel, Netflix
Don't miss a thing: head over to my other home at CatholicVote and like my Facebook page; also like the Patheos Catholic FB page to see what my colleagues have to say.