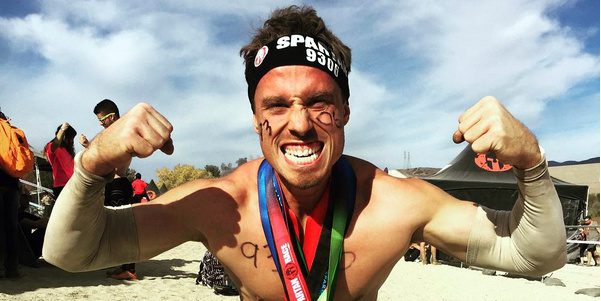 "Spartan Ultimate Team Challenge," the new show from the producers of "American Ninja Warrior," premieres Monday night, June 13, at 10 p.m. ET, right after "ANW," which has moved to Mondays.
On "ANW," there's contestant Sean Bryan, the "Papal Ninja," who made it through the Los Angeles qualifier and will appear later in the season, on the City Finals episode. He's a former seminarian who discerned the priesthood wasn't for him but keeps close ties with his brothers in religious life — and he competes wearing the yellow-and-white of the Vatican flag, with "Papal Ninja" on his chest.
Credit to the producers of "ANW" that when a contestant is a Christian, they don't try to hide or minimize it. The show has also been consistent in promoting hard work, effort and family ties. From the looks of the premiere episode, "Spartan" is in the same vein — and the first episode also features a strong Catholic athlete (whose scapular is visible in an interview).
Los Angeles-based Kaiser Johnson is a frequent Spartan competitor, and also an actor. Catholic audiences may have seen him on EWTN in "G.K. Chesterton: The Apostle of Common Sense" or "Young Catholic Minute," or in the movie "Little Boy."
He joined teammates Rachel Bartlett, Jeff Ellingson and Carlen Don, and Spartan expert Alex Nicholas — each team must include two women, and is joined by one expert — for "Spartan Ultimate Team Challenge," which filmed earlier this year in the Atlanta area.
Here are two interview videos I shot with him for Family Theater Productions:
Johnson, an avid outdoorsman who who runs the Hollywood arm of the American Chesterton Society, also took time to answer a few more questions about the intersection of athletics and spirituality …
You've been doing Spartan races for a while. Why do you like them, and how did you get started?
I got started Spartan Racing off of a Facebook ad, actually! I asked my friend Patrick, who'd done a few obstacle races, if he wanted to do it too, and he said he definitely did, so we signed up together. After the first one, I was hooked, and the next day signed up for one three times the distance!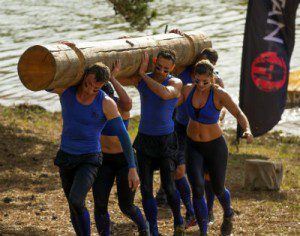 What has the experience of doing these races taught you about yourself?
It's taught me that so much more is possible in our lives if we're willing to work and sacrifice for it. All good things entail some amount of suffering, and huge amounts of self-discipline. And those are things that we're called to in our spiritual lives as well!
Is there a saint who inspires you in your athletic pursuits?
You know, more than any particular saint, I tend to think of Christ in His Passion, and the carrying of the Cross… how determined He was to do whatever it took for our salvation. Meditating on that tends to take away any temptation to overplay my own tiredness or exhaustion!
And of course, since I do a lot of my training and racing outdoors, I do take some inspiration from Bl. Pier Giorgio Frassati and St. John Paul the Great, who were avid outdoorsmen.
How does prayer figure into your training regimen?
I always pray to my guardian angel before I start a race. And, whenever I'm suffering and pushing myself hard in a race or in the gym, I try to remember to "offer it up," so that my suffering isn't just spent then and there, but can do some good.
Now that we have you, and a "Papal Ninja" on "American Ninja Warrior," is it time for more Catholic athletes to be as bold about their faith as Evangelical ones are?
When we as Catholics live our faith as enthusiastically as Evangelicals share their faith, the world can't help but take notice. As the Baltimore Catechism points out, the good that we do come first through suffering, then prayer, then example, and only lastly through encouragement, through talking about our faith. The glory of God is man fully alive, says St. Irenaeus, and that is the Catholic sacramental understanding: that everything we do ought to be a proclamation of the kingdom… having life and having it to the full IS witness. That opens the conversation, and then we have the opportunity to, as St Peter says, "give reason for our hope."
What advice do you have for athletes who want to try Spartan races or events like them?
Start! Pick one three months out, and start training TODAY. Be diligent, and don't make excuses. For your first race, you could do 30 burpees, run up a hill, and work on pull-ups as your total training, and that would be enough to get you through… that's 15 minutes a day. If you can't find time for that (like claiming you can't find a time to get to Mass), you've just got your priorities in the wrong order. Also, Spartan has a great training guide designed to take you from completely sedentary to finishing a race in only 12 weeks. You can change your life in 12 weeks. Do it.
(BTW, this is a burpee …)
Tell me about the bonds that doing this show helped you forge with your teammates.
My teammates have become some of my closest friends. When you sweat together, fight together, suffer together, and bleed together, you can't avoid being bonded with those people. They are some of the kindest, most supportive, reliable people I've known, and I love them.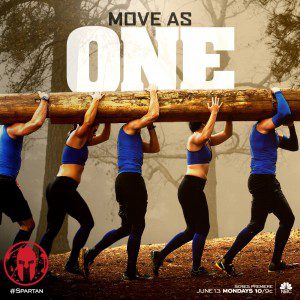 What's next?
More races! My "Spartan Ultimate Team Challenge" teammates Jeff Ellingson and Rachel Bartlett and I are all racing the Tahoe World Championships, and I've got three other races scheduled this year. The goal is to get better and better… the podium is calling our names!
Images: Courtesy Kaiser Johnson (top); NBC
Don't miss a thing: head over to my other home at CatholicVote and like my Facebook page; also like the Patheos Catholic FB page to see what my colleagues have to say.