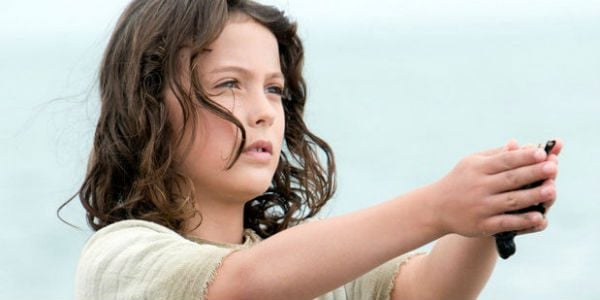 On June 14, Universal Pictures Home Entertainment releases "The Young Messiah" on Blu-Ray™ and DVD. Inspired by "Christ the Lord," a novel from "Interview With the Vampire" author Anne Rice, it takes a fictionalized look at a period in the life of Jesus (Adam Greaves-Neal) when He was a child, and His effect on those He meets — including a Roman soldier (Sean Bean) — during a journey with mother Mary (Sara Lazzaro), stepfather Joseph (Vincent Walsh) and other family.
Of course, there'll be DVD extras, and here's a Patheos exclusive look at some of the new material:
Among those interviewed in the clip is director Cyrus Nowrasteh, who, together with wife Betsy Giffen Nowrasteh, adapted Rice's novel for the screen. He also took the time to answer some of my questions for Patheos. Take a look …
How did you manage to get this movie funded?
Funding any movie is difficult. It's not uncommon for a feature film to take 3-5 years to get funded, often longer. A group of people came together on this movie because they loved the message of the film. Most are devoted Christians using their art to point people towards Him. The funding came from independent sources and Focus Features (part of Universal) agree to distribute.
What were the artistic and technical challenges of recreating this world on a tight budget?
Recreating 2,000 years ago is always a challenge. We filmed in Italy, using creative Italian crew based at Cinecitta Studios in Rome. The Production Designer, Art Director, and Costume Designer are all Italian and brilliant craftsmen. It is their work and planning, with the film's director (myself), that prepare and plan the look, feel, and texture of the world we're creating. We had to build Nazareth, the Temple in Jerusalem, as well as recreate Jerusalem City and Alexandria in Egypt. It is very difficult on a tight budget, but I believed in our craftsmen and I believed in the plan.
What was the casting process to find the young Jesus?
We did a global search for young Jesus. It is very difficult to find a seasoned young 7-year-old to play the Savior. Our casting search discovered a young boy in London named Adam Greaves-Neal — a remarkable young actor and a remarkable child. The casting was then done around him.
If a nonbeliever saw this film, what do you hope he or she might take away from it?
I think anyone can take away from this film themes about love and family, and a journey to discover truth and beauty. No matter one's faith, or even if they're an atheist, one can identify with these themes of family and love.
What do you hope a Christian takes away?
I think Christians will be fascinated by the "what-if" nature of this story. What might young Jesus have been like? Every Christian wonders and wants to know more about Jesus, motivated by their love for Him.
Straying outside the Jesus of the Gospels always carries the risk of offending Christian audiences. Why did you think the risk was worth it here?
It's always risky to attempt something extra-biblical. But it all depends on how you do it. Is it done with reverence and respect, with genuine thoughtfulness and scholarship? I wanted to remain faithful to the Bible and remain true to the character of Jesus revealed in the Bible. So as we considered how Jesus would react to a situation in His childhood, we looked at what the Bible tells us about how He reacted to similar situations as an adult. Our story shows a young Jesus behaving the same as the adult Jesus did.
What did you want the DVD extras to give to the viewer?
The extras provide a comfort zone for people to understand the people who made this
movie, their motives, their process — and realize this is done with only the best of intentions — especially for the faith-based viewer.
Not all films that appeal to the Christian market have to be stories about Jesus. Do you have anything on a different subject in the pipeline for this audience?
I'm always thinking of new projects, new ideas, for the faith-based audience. Primarily
because I am a Christian and love stories and themes that honor God. There is a wonderful play about Paul on trial in Rome that I would love to turn into a motion picture.
In your view, what should be the trajectory of films aimed at the Christian audience, whether they're Scripture-based or not?
I think there's room for both Scripture-based movies, and movies that are not — it all
depends on how they're done.
WingClips.com is also offering a "Church Study Guide" (not specifically Catholic) intended to be used by pastors and other faith leaders to create small-group conversations and larger talks based on the film. Click here to access the assets available.
Image: Courtesy 1492 Pictures; CJ Entertainment
Don't miss a thing: head over to my other home at CatholicVote and like my Facebook page; also like the Patheos Catholic FB page to see what my colleagues have to say.