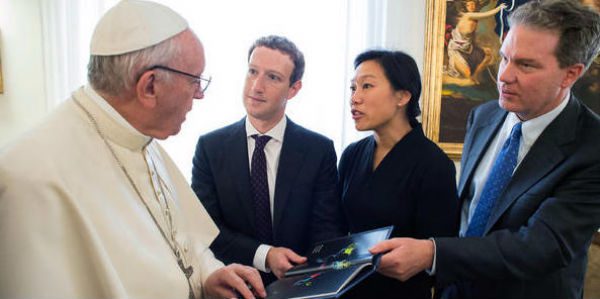 From today's (Aug. 29) Los Angeles Times:
Pope Francis met with Facebook Inc. founder and Chief Executive Mark Zuckerberg and Zuckerberg's wife, Priscilla Chan, at the Vatican on Monday.

One topic of discussion at the meeting was "how to use communication technologies to alleviate poverty, encourage a culture of encounter, and make a message of hope arrive, especially to those most in need," Vatican spokesman Greg Burke said.

The atmosphere appeared informal, with the chat taking place in the Santa Marta residence, the guest house in Vatican City where the pope lives.
Click here to read the rest.
Here's how Zuckerberg described the encounter on Facebook (unedited):
Priscilla and I had the honor of meeting Pope Francis at the Vatican. We Told him how much we admire His message of mercy and tenderness, and how he's found new ways to communicate with people of every faith around the world. We also discussed The Importance of connecting people, especially in parts of the world without internet access. We gave him a model of Aquila, our solar-powered aircraft That will beam Internet connectivity to places That do not have it. And we shared our work with the Chan Zuckerberg Initiative to help people around the world. It was a meeting we'll never forget. You can feel His warmth and kindness, and how deeply he cares about helping people.
This isn't the first time that Pope Francis has met with tech bigwigs. In January, he met both with Apple CEO Tim Cook and with Google executive chairman Eric Schmidt.
Image: Courtesy Los Angeles Times (press pool photo). Although the official caption doesn't identify the man at the far right, I believe it is Vatican press office head Greg Burke.
Don't miss a thing: head over to my other home at CatholicVote and like my Facebook page; also like the Patheos Catholic FB page to see what my colleagues have to say.