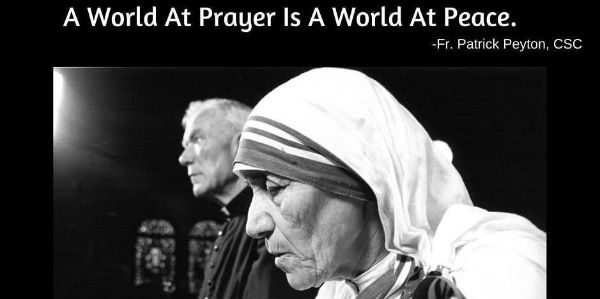 It's an interesting moment in the history of the Catholic Church. For millennia, we've read about our saints, and seen paintings and icons and statues of them, but it's only in the last century or so that we've had actual photos of saints. And only in the most recent decades can we watch saints walk and talk on video.
On Sunday, Sept. 4, Pope Francis will officially canonize Mother Teresa, founder of the Missionaries of Charity, and best known for her work with the desperately poor and neglected of the slums of the Indian city of Calcutta, now known as Kolkata.
Born on Aug. 26, 1910, in what is now Macedonia, Mother Teresa (birth name Anjezë Gonxhe Bojaxhiu) died in on Sept. 5, 1997. As a winner of the Nobel Peace Prize in 1979, the ethnic Albanian was often called on to speak and make appearances.
But the private or contemplative Mother Teresa is harder to find. In the video below, culled from the archives of Family Theater Productions, a Holy Cross apostolate and TV/film production company on Sunset Boulevard in Hollywood, the future saint is seen talking to, and praying a decade of the rosary with, FTP's founder, Irish-born Father Patrick Peyton, C.S.C.
Known as "The Rosary Priest," Peyton, who died in 1992, was a major figure in Catholic media, starting in the late 1940s. He did film and radio with some of Hollywood's biggest stars, and is known for his signature phrases: "The family that prays together stays together," and "A world at prayer is a world at peace."
As Social Media Manager and Internet content creator for Family Theater, I manage the
Facebook
,
Twitter
and
Instagram
accounts, and write for
the blog
, but I also get to work on short-form video. With the help of editor James Zambrana, we pulled this footage out of a larger show, completed in 1981.
Father Peyton has been named a Servant of God, and there is a campaign to have him first beatified and then canonized. So, potentially, this could be footage of two saints praying the Visitation Mystery — marking the journey of the pregnant Virgin Mary to visit her cousin Elizabeth, mother-t0-be of John the Baptist (saints all) — decade of the rosary together.
Bob Newhart, also a Catholic, is host (didn't see that one coming, did you?). And, by the way, Bob Newhart's birthday is Sept. 5 (he's 87 this year), which is also the anniversary of Mother Teresa's death — and her new feast day.
It's pretty heady stuff. Enjoy.
Image: Courtesy Family Theater Productions
Don't miss a thing: head over to my other home at CatholicVote and like my Facebook page; also like the Patheos Catholic FB page to see what my colleagues have to say.