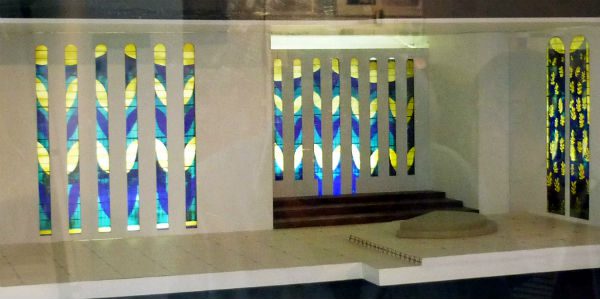 Today, Dec. 31, is the birthday of French artist (and atheist) Henri Matisse. Toward the end of his life, after surgery, he needed a nurse. The young woman who replied became a close friend — and later a Dominican nun. Matisse created the Chapelle du Rosaire (Chapel of the Rosary) for her in Vence, France.
From ARTNews:
In 1941, a nursing student named Monique Bourgeois responded to an ad placed by Henri Matisse for a "young and pretty night nurse." Five years later the friendship that developed between Matisse and Bourgeois, by then a Dominican nun named Sister Jacques-Marie, would culminate in the creation of what Matisse considered his life's greatest achievement: the Chapel of the Rosary in Venice.

Sister Jacques-Marie, the woman Matisse called "the true initiator of the chapel," died last fall of respiratory failure and other causes at Les Embruns, a rehabilitation center in Bidart, France, where she had been director. She was 84, according to Barbara Freed, a professor of French studies at Carnegie Mellon University in Pittsburgh, who directed a 2003 documentary on their relationship, A Model for Matisse: The Story of the Vence Chapel.

…

In a letter to his friend Andre Rouveyre, Matisse likened his near-flirtation with Sister Jacques-Marie to a "fleur-tation," because "what takes place between us is like a shower of flowers—rose petals that we throw at each other."

At Sister Jacques-Marie's October funeral in the Vence chapel, which was attended by Matisse family members, her casket was surrounded by masses of anemones, the artist's favorite flower and the inspiration for the chapel's candelabra.
Sister Jacques died in 2005. From the New York Times:
With the aid of a monk convalescing at the rest home, Matisse roughed out a sketch for a chapel, and Sister Jacques­ Marie made the working model. Soon Matisse immersed himself in every aspect of the chapel, from the brushstroke sketches of a Stations of the Cross mural to the vestments and the slender Crucifixion altarpiece. The stained­ glass windows, with one pair, "Tree of Life," suggestive of a flowering cactus, are regarded as particular triumphs; they allow lemon ­yellow, bottle­green and blue light to play capriciously against white­ tiled walls and the marble floor.

Sister Jacques­ Marie did preliminary design work and offered candid evaluations. As important, she ran interference with her local superior, who disapproved of a chapel designed by an artist known for his nudes. In the end, Matisse described the chapel as "their shared project." When Sister Jacques­ Marie told Matisse that she believed he was inspired by God Almighty, he replied gently, "Yes, but that god is me."

In the months before Matisse died in 1954, Sister Jacques­ Marie tried to get him to agree to be buried in his own chapel. Instead he was buried in Nice.
God works in mysterious ways, indeed.
Click here to buy the whole documentary mentioned above, and here for the trailer (it's on Vimeo and can't be embedded).
Image: Wikimedia Commons
Don't miss a thing: head over to my other home at CatholicVote and like my Facebook page; also like the Patheos Catholic FB page to see what my colleagues have to say.