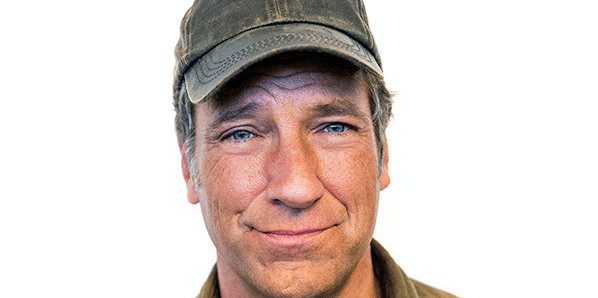 From the Facebook page of Mike Rowe, former host of "Dirty Jobs" and other TV shows, podcaster, advocate for skills training and vocational education, and one of the most sensible people in media … if not America in general.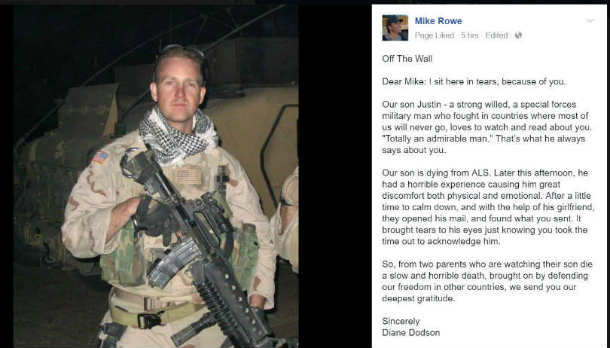 Hi Diane,

I suspect words like "Merry" and "Happy" are difficult to hear at the moment, so I'll forego the holiday greetings, and simply say "you're welcome."

I was very sad to learn of your son's illness, and deeply humbled that a man like Justin finds me "admirable." Please assure him the feeling is mutual.

The truth is, acknowledging Justin's service is both an honor and a privilege. I know that my freedom and my liberty were bought and paid for by people like your son. I know his freedom is now being removed one day at a time. I know that his liberty is being slowly denied, by an enemy he cannot overcome.

I would like you to know, that your note reminded me of just how tenuous it all is. Our freedom. Our liberty. Our health. It's all so fragile. And so damn easy to take for granted.

Sooner or later, our bodies will fail us. There are no exceptions. But what Justin did with his body while it was still in his control, has left me forever in his debt, and mindful of what matters most. Because ultimately, there is no greater threat to our freedom, than a lack of gratitude to those who provide it.

Your note is a reminder that acknowledging soldiers like Justin, requires me to count my many blessings, and vow to be a better version of myself. Actually Diane, it's more than a reminder – it's a gift. A gift from you and your son.

A gift for which we, the undersigned, are most grateful.

Mike
Can't add much to it, except this.
Prayer for the Safety of a Soldier

Almighty and eternal God,

those who take refuge in you will be glad
and forever will shout for joy.
Protect these soldiers as they discharge their duties.
Protect them with the shield of your strength
and keep them safe from all evil and harm.
May the power of your love enable them to return home
in safety, that with all who love them,
they may ever praise you for your loving care.
We ask this through Christ our Lord.
Image: Wikimedia Commons
Don't miss a thing: head over to my other home at CatholicVote and like my Facebook page; also like the Patheos Catholic FB page to see what my colleagues have to say.