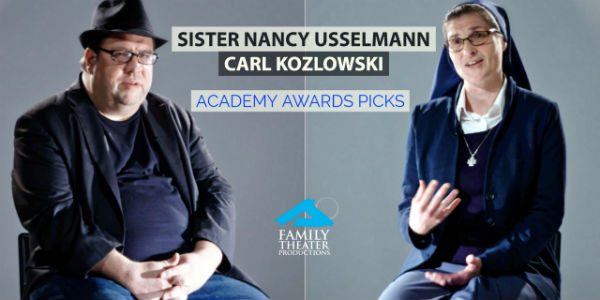 Acceptance-speech controversies aside, who and what wins the Academy Awards — taking place Sunday, Feb. 26 — still matters a lot in Hollywood.
Recently at Family Theater Productions in Hollywood — where I manage social media, blog and produce videos — we had a panel to discuss the nominations for the upcoming Academy Awards.
Before the panel (the February edition of our monthly Prayer and Pasta series), I sat down with what you might call the new Catholic version of Siskel & Ebert — Sister Nancy Usselmann of the Daughters of Saint Paul (the "media nuns") and Catholic film critic Carl Kozlowski — and went through the top nominees.
They didn't always see eye to eye — especially on "La La Land" — and who or what their hearts wanted to win didn't always match what their heads said would win.
On Sunday, we'll know which prevailed.
Click here for a full list of nominees.
Enjoy.
Image: Courtesy Family Theater Productions
Don't miss a thing: head over to my other home, as Social Media Manager at Family Theater Productions; also like the Patheos Catholic FB page to see what my colleagues have to say.