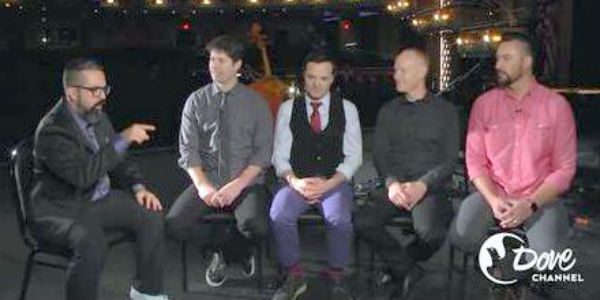 There are people doing good and spreading positive messages through the media, and Matthew Faraci wants to hear their stories.
On Tuesday, March 21, streaming service and Roku channel Dove Channel premieres "Frankly Faraci," a talk show that sends Faraci around the country to talk to faithful media figures. Faraci is the president of Inspire Buzz, which specializes in marketing to the faith and values audience. Prior to that, he worked for Faith Driven Entertainment, advocacy groups and in politics, both for the Department of Labor, under the Bush adminstration, and for Indiana Rep. John Hostettler.
He also worked in TV production, on the PBS shows "Think Tank With Ben Wattenberg" and "The McLaughlin Group."
The first episode of "Frankly Faraci" talks to the Piano Guys, who gained fame recently by performing at the Trump inaugural.
Take a look:
Recently, I caught up with Faraci to see what he has in mind …
On being approached to do the show after a panel appearance at a Variety Purpose Summit, looking at faith in entertainment:
A couple of the executives from Dove Channel came up to me afterwards and said, "That was great. You need to do a show with that." I was like, "Huh." You know I consider myself a marketer. I was like, "I don't know." But as I thought about it, I thought, "I love this stuff. I love this space. I love the idea of interviewing people, famous people who are doing amazing things and are driven by their faith. That excites me." So when I thought about that, I thought this would be an amazing thing to have an opportunity to do.
On how he picked the subjects:
I chose people that I wanted to meet. I chose people who are doing things that I find fascinating and that I think my family will enjoy watching, because I believe that if my family will enjoy watching them, that millions of other families will too.
On who the audience is:
Families, in the sense that Dove's niche in the world is to provide programming that the whole family can watch together. I would particularly say, probably young families who have kids that are looking for role models and are looking to be inspired.
Why the Piano Guys?
I've talked to a lot of kids who have started to pick up the piano or the cello because they think it's cool because The Piano Guys do it. You know what I mean?

That is so cool, because for you and me. it's like. "Piano? Cello? It's been around for 500 or 600 years. What's the big deal?" But by taking it out of the traditional context, they have made it cool. It's funny, Kate, because this idea of great again that has been introduced into the culture obviously because of the president … I said it with The Piano Guys. You're making classical music great again, and I think that's cool.
On a future episode featuring rapper Propaganda and clean-comedy troupe Studio C:
I have been a Propaganda fan for years. This is the thing that gets me excited. Kate, is that God uses different people … God is a great marketer, if you will. I don't want people to think of that in a crass way, but He uses different people to speak to different people and groups.

For example, Propaganda can reach a whole audience of young people that other people cannot reach because of who he is, because of how he talks, the way he communicates. The Piano Guys are the same way. I interviewed Studio C, the comedy group, and again they're reaching kids and families because of comedy.

That's the thing that I so love, to see that all these people are amazing people, but they're reaching people in a way that resonates with their particular interest. I just think that's so cool.

The other thing, Kate, that I think is so important is many people have a misconception, and you know this so well, of faithful people. They think that they are judgmental, finger wagging, goody-two-shoes people.

Faithful people are the coolest people I've ever met. They're free; they're filled with joy; they have purpose; they know what their mission is; and they're proud of what they're doing in their life. I want to really change people's perception of who those kind of people are.
In January, Faraci did a presentation on the values audience at the monthly Prayer and Pasta event at Family Theater Productions in Hollywood, where I manage social media, write blogs and create videos. Here's one of those videos, an interview I did prior to the presentation, in our office chapel:
Image: Courtesy Dove Channel
Don't miss a thing: head over to my other home, as Social Media Manager at Family Theater Productions; and check out FTP's Faith & Family Media Blog.