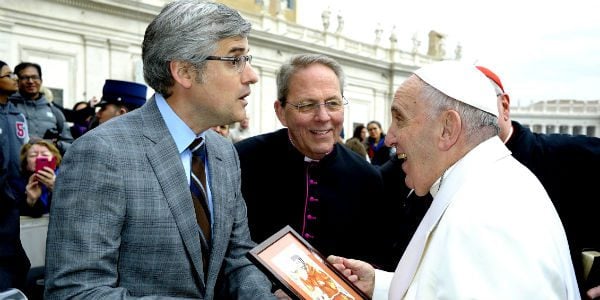 From the inbox:
CBS SUNDAY MORNING correspondent Mo Rocca meets Pope Francis and presents him with a portrait of St. Francis of Assisi painted by Bronx student Zuleika Rymer, during an audience at The Vatican that will be broadcast Easter Sunday, April 16 (9:00 AM ET) on the CBS Television Network.

The Pontiff warmly admires Rymer's painting during the visit. As the Pope holds the painting, Rocca asks why he chose the name Francis. The Pope answers and has a request of his own.

"Pray for me," he asks Rocca. "I need it."

New York's Timothy Cardinal Dolan accompanied the CBS SUNDAY MORNING team to Rome. Dolan tells Rocca he liked Pope Francis the moment they met in 2013, when the future Pope was Cardinal Jorge Mario Bergoglio.

"I feel this tap on my back, and I turn around, and he said, 'I'm Jorge Bergoglio from Buenos Aires. I think you're Timothy Dolan from New York, and I've wanted to meet you,'" Dolan tells Rocca. "And I thought right away, 'I like this guy.'"

The broadcast includes visits to Assisi, the home of the saint who inspired Pope Francis, and Perugia, where the chocolate egg is an art form, plus a tour of the Roman palazzo residence of Princess Rita, formerly known as congressional spouse and Playboy model Rita Jenrette.
In 2015, Rocca delivered a Spanish-language Scripture reading at the papal Mass at New York's Madison Square Garden. Since he had announced in 2011 that he was gay, many LGBT advocates hailed his appearance as groundbreaking. Reportedly, Rocca — a Harvard grad who attended Jesuit-run Georgetown Preparatory Academy in North Bethesda, Maryland — did it to please his Colombian-born mother.
Rocca said on Twitter:

Image: Courtesy CBS News
Don't miss a thing: head over to my other home, as Social Media Manager at Family Theater Productions; and check out FTP's Faith & Family Media Blog.