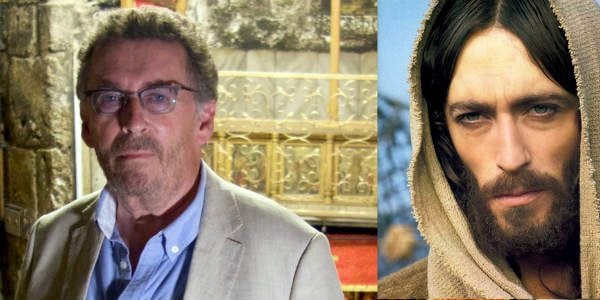 It's Easter, so it must be time for another skeptical secular documentary on Christ. Sigh.
Airing Easter Sunday and Monday, April 16 and 17, Smithsonian Channel's documentary miniseries "The Real Jesus of Nazareth" takes advantage of the 40th anniversary of Franco Zeffirelli's excellent 1977 TV miniseries "Jesus of Nazareth" to ask a bunch of old questions and give no new answers.
By the way, this is the same Smithsonian Channel that, back in 2012, covered itself in ignominy by breathlessly trumpeting its special about the so-called "Gospel of Jesus' Wife" — a scrap of parchment lauded by a Harvard Divinity School scholar who should have known better — only to have the entire thing thoroughly debunked as a forgery. So, keep that in mind.
The four-hour series sends "Jesus of Nazareth" star Robert Powell on a quest through the Holy Land to discover something about the man he played. If it had just been that, it might have been fine.
Powell, now 72, with the same clear blue eyes that were so arresting in 1977, is charming throughout — reverent, genuinely curious and kind. After seeing this, I'd very much like to sit down to tea, scones and a chat with him.
He's a long-married father of two, having wed just before "Jesus" began filming. In a 1977 interview conducted on set, he said:
Robert, whom American audiences have also seen in the films 'Mahler' and 'Tommy' explained it to me this way: "There was an aspect of Christianity that always distressed me. The meaning of Christianity is so simple, but its tenets are complicated. This is what put me off. Before I began this film, I had no particular interest in religion and absolutely no opinion of Christ.

"Now, I do believe in Christ and His divinity, even though I do not necessarily go to church. Prior to being cast in the part, my knowledge of Christ was limited to Sunday school teachings and religious stories, all on a rather immature level. I knew this would never be enough for me as an actor, to work with in developing a character. So I read the Bible through thoroughly, which I'd not done before, taking it apart and analyzing it. I also consulted works of reference and commentaries on the Bible because I wanted to obtain other people's ideas as well.

"An actor has to be objective when interpreting a part. Nonetheless, after playing Christ for all these months, it would be difficult not to really believe in him." Concluded Robert.
But rather than just going with Powell, some of the usual suspects of Biblical scholarship are trotted out.
On the plus side is Dr. Candida Moss of Notre Dame, who is actually a Catholic, and also appears on CNN's well-done "Finding Jesus." But, you couldn't tell by listening to her on either show, as she keeps belief out of her comments (or the editors do, hard to tell).
On the downside is Protestant-educated former "liberal Christian" and current avowed atheist Dr. Bart Ehrman of the University of North Carolina at Chapel Hill, who is visibly dismissive and disdainful of any supernatural claims about Jesus.
In the middle is Dr. Helen Bond of the University of Edinburgh, who is careful to give no credence to supernatural claims either, but manages to do so without a sneer.
There are a few interesting bits about Judaism during the special — probably worthy of a documentary of its own at some point — but nothing new or noteworthy about Jesus is revealed.
My favorite moment, though, is when Powell sits down with a Catholic priest whose groundbreaking for a construction project in Israel unearthed an ancient synagogue. He tells Powell that he saw "Jesus of Nazareth" as a teenager, that it influenced his vocation, and he's been waiting 40 years to say thank you.
Powell is genuinely touched and thrilled.
If only there'd been more of that and less of scholars sniffing at sincere Christian belief.
Frankly, just skip this and watch "Jesus of Nazareth." It's available on Amazon, iTunes, and below, on YouTube:
Image: Courtesy Smithsonian Channel
Don't miss a thing: head over to my other home, as Social Media Manager at Family Theater Productions; and check out FTP's Faith & Family Media Blog.