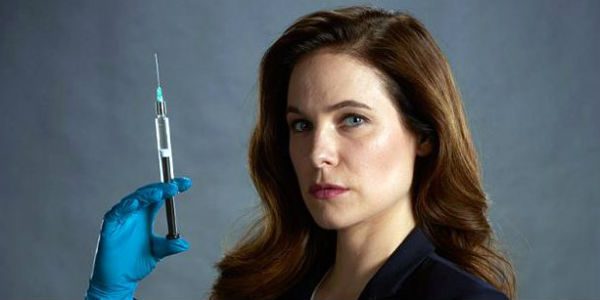 Since I'm an orthodox Catholic, it's not hard to figure out how I'd feel about a new primetime series celebrating a doctor who moonlights in euthanasia. So, in the case of Lifetime's "Mary Kills People," premiering Sunday, April 23 — Divine Mercy Sunday, not that the network cares about that — I'll just let the secular critics speak for themselves.
Here's how Lifetime describes the show, and the people responsible for it:
The Lifetime original scripted series, "Mary Kills People" will premiere on April 23 at 10pm ET/PT. The provocative series stars Caroline Dhavernas ("Hannibal") as a doctor who helps people in need end their lives with dignity. The series also stars Jay Ryan ("Top of the Lake"), Richard Short ("Vinyl"), Lyriq Bent ("The Book of Negroes"), Greg Bryk ("Bitten"), and Charlotte Sullivan ("Rookie Blue"). "Mary Kills People" is produced by eOne and Cameron Pictures in association with Corus Entertainment. The series is executive produced and written by showrunner Tassie Cameron ("Ten Days in The Valley"), Amy Cameron ("The Book of Negroes"), Jocelyn Hamilton and Tecca Crosby. Co-Executive Producer Holly Dale ("The Americans") directs the season in its entirety. Tara Armstrong ("Private Eyes") created the series and is Co-Executive Producer and writer. Additional writers include Marsha Greene, Sherry White and Mike Goldbach.
From Variety:
"Mary Kills People" is a smart, entertaining series that understands, on a core level, that nobody really wants to watch a TV show about medically assisted suicide. Use of that phrase so early in this review may send some running for the exits, but that would be a mistake. "Mary Kills People" is an energetic, savvy program that combines elements of crime thrillers, medical soaps, and propulsive character drama, employing all those recognizable forms to illuminate the complexity of the knotty issues at its core.

Anchored by a charismatic performance from star Caroline Dhavernas, "Mary Kills People," a Canadian import, resembles its lead character's specially prepared doses of life-ending medication: It combines the dark stuff with a dollop of fizzy champagne. With a fraction of the resources of most American shows but a surfeit of ideas and frisky energy, this Lifetime drama supplies one of the most impressive debuts of the year.
From the New York Times:
From Canada, home of crazy ideas like universal health care and kindness to refugees, comes another wacky concept: a racy prime­time drama about euthanasia. "Mary Kills People" — that got your attention, right? — is an unusual and fairly entertaining Canadian series making its United States debut Sunday on Lifetime. Caroline Dhavernas of "Hannibal" plays Mary Harris, brilliant emergency ­room surgeon by day and merciful dispenser of death to the terminally ill by night. Filmed in Ontario, the show takes place in an English ­speaking city of unspecified nationality, perhaps because Canada legalized physician­ assisted suicide (under certain conditions) last year while the six­-episode first season was being filmed.

…

The counterintuitive humor helps make up for the less wise choices, mostly involving the sexual tension between Mary and the cop who's on her trail. Also distracting, though more believable, is the domestic­ drama story line in which Mary, a divorced mom with two daughters, supports her loser husband but still has to put up with his snide digs about how she's hurting their children by being gone so much at night. If he only knew.
From USA Today:
Mary, which features sex, romance and some comedic moments,fits Lifetime's strategy "of wanting to find complicated but relatable characters. This show, ironically, has a more hopeful outlook, even though it's about assisted death," says Gateley.
"Assisted death is a topic that's timely, but it's dealt with in such a poignant and complicated way," says Lifetime programming chief Liz Gateley. "If you look at the number of shows out there and the quality, you have to place your bets very carefully."
Oh, yeah, and Mary makes sexual overtures to a terminally ill young man.
I suspect we're a half-inch away from the series about a spunky single mom who does late-term abortions in a secret clinic in her garden shed. And she'll probably be a devout Christian, considering how much the secular press loves Jesus-quoting abortion doctor Willie Parker.
It's all about the female empowerment, which apparently means the freedom to kill at the beginning of life and at the end.
You've come a long way, baby.
Image: Lifetime Television
Don't miss a thing: head over to my other home, as Social Media Manager at Family Theater Productions; and check out FTP's Faith & Family Media Blog.