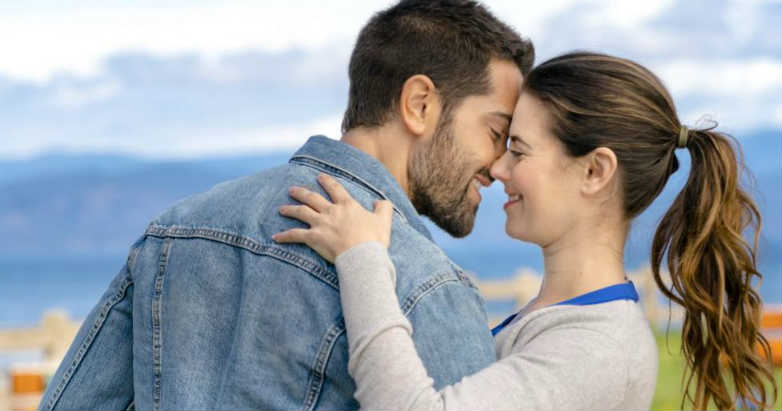 In a world of strife and contention, you'd think broadcast TV would want to offer an alternative, something uplifting and warmhearted and life-affirming — in other words, more things like NBC's "This Is Us."
Well, one TV channel does that 24/7, and it's smiling all the way to the bank.
While much of broadcast, cable and streaming TV chases edgy, controversial, sexy and violent fare, Crown Media's Hallmark Channel, and its offshoots, Hallmark Movies & Mysteries, and Hallmark Drama (coming Oct. 1), appeal solidly to Middle America — wherever it lives — offering movies and series that celebrate love, family and holidays (and often all three together).
On Oct. 3, Hallmark is moving into the streaming space with its own subscription video-on-demand service (SVOD in TV parlance) called Hallmark Movies Now. It will cost $5.99 a month, or $59.95 a year, and will launch with between 800 and 1,000 hours of programming not currently available on Crown Media's other channels.
Hallmark is getting in front of a lot of eyeballs, especially during its Christmas movie marathon. It's the only cable network that isn't news in the top 15 cable channels to see substantial viewer growth last year.
According to an Aug. 21 piece in The Washington Post:
Ratings are up another 9 percent so far this year, Nielsen says, and the Christmas movie marathon hasn't even started yet.

It's feel-good TV. There's no sex or gore. Hallmark movies and series like "When Calls the Heart" and "Chesapeake Shores" have happy endings. The main characters do the right thing. The problems get worked out. The guy and girl, whatever their age or grumpiness level at the start, always end up together. This kind of TV has always drawn in older women, but Hallmark's appeal isn't limited to them anymore. Ratings are growing fast among 18- to 49-year-old women, and a growing number of men are tuning in as well. Men account for some of the jump in the Nielsen ratings, and when the channel does focus groups, increasing numbers of men say they watch with their wives.

…

Advertisers are also flocking. Hallmark is now attracting car companies and financial firms as advertisers. That's rare for channels that are perceived as mostly women's networks. Hallmark is also making more of an effort to have nonwhite actors, although the company admits it has more work to do on diversity. At Upfronts, a massive convention for TV advertising where network executives gather to try to lure more dollars to their channels, Adweek noted how relaxed Hallmark executives were. While many other TV executives were trying to convince advertisers their network wasn't dying, Hallmark just pointed to the ratings.
You'd think this would inspire other TV networks, many of whom are struggling to keep viewers. There is NBC's "This Is Us," as I said, and some family-oriented comedies and a few other shows, but for the most part, scripted primetime TV is pretty family-unfriendly.
And as the news gets more contentious and partisan, a lot of viewers head to the Hallmark channels in search of escape, comfort and entertainment that doesn't bring them down. Network TV used to be the chief source of that, but not anymore.
Why?
I'm no mind-reader, and there are probably as many reasons for this as there are TV executives and creators, but I will offer some words of advice. I've offered them before, including at Hollywood parties, and I'll keep doing it. It's about attracting the values-based and faith audience, but they could apply to attracting any viewer in "Middle America" (truthfully, the split is not so much geographic as it is between major urban centers and college towns, vs. pretty much the rest of the country).
Dear ABC and NBC (CBS already gets it, as it knows what its viewers want, and it's not embarrassed to give it to them):
Once upon a time you were broadcasters, programming to the vast bulk of America. In an attempt to compete with cable and now streaming services, you've pushed your programming further and further to the edge, and it's not working anymore. ABC just lost tentpole producer Shonda Rhimes to Netflix, where the last fetters on her content can be removed.

Face it, Netflix and Amazon are going to beat you every time right now when it comes to luring away hot talent with big bucks.

As broadcasters, you can never be as edgy as cable, and let's be honest, you're never going to be that cool again– but that doesn't mean that cool is the only way to go. The first network drama nominated for an Emmy in FIVE YEARS is "This Is Us," a clever but heartfelt family drama. It reduced even cynical, crusty TV critics to tears, and it raked in the audience.

Good job, NBC. Great start. Keep it up.

Embrace the dork; embrace the sentiment; embrace the heart. Be that campfire that America can gather around after a long day fighting the world. Shine light into dark holes, instead of digging new ones.

Go back to being BROADcasters. Make shows that celebrate the good and the everyday heroes rather than the tortured and the broken; shows that don't lecture and hector and endlessly preach your brand of politics.

How to win back the Christian audience in particular? Start with these two simple things: Give them at least one character in each show whose life and values they relate to; and stop insulting them directly. That's a good place to begin.

As a bonus, you may make a lot of money and survive.

Love America again, and America may just love you back.
Image: Jesse Metcalfe and Meghan Ory from "Chesapeake Shores," courtesy Hallmark Channel
Don't miss a thing: head over to my other home, as Social Media Manager at Family Theater Productions; and check out FTP's Faith & Family Media Blog.