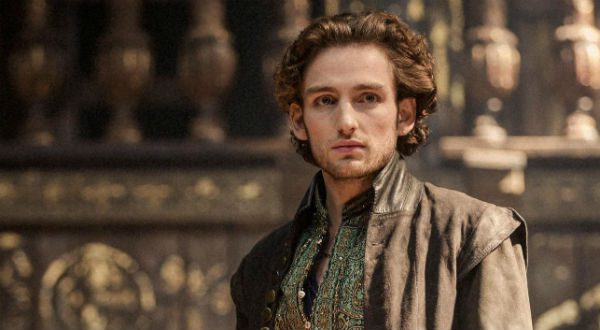 After a 10-episode freshman run that ended on Sept. 4, TNT's "Will" won't be back for a new season.
The drama starred newcomer Laurie Davidson as a young William Shakespeare, in an Elizabethan London spiced up with diverse casting, anachronistic contemporary music and dance, and punk-style hair and costumes.
From Variety:
Will averaged just 697,000 total viewers and a paltry 0.2 in the advertiser-coveted adults 18-49 demographic. Olivia DeJonge, Colm Meaney, Mattias Inwood, Jamie Campbell Bower and Ewen Bremner co-starred on the project from showrunner Craig Pearce (Romeo + Juliet) and Shekhar Kapur (Elizabeth).

It was a rough road to the screen for Will, which was originally ordered straight to series at the since-defunct Pivot before being picked up to pilot at TNT. The drama launched in July to mixed reviews, with The Hollywood Reporter's Daniel Fienberg noting that the show "starts off fun, but runs out of inspiration in a hurry."
It's a shame, since the show was just starting to be a really interesting examination of the relationship between Will's forbidden Catholic faith and his art, and of the tortured spiritual journey of his wild-child rival playwright, Christopher "Kit" Marlowe (Jamie Campbell Bower).
The creator, Craig Pearce, has been a writing partner with Baz Luhrmann, who blended historical and modern in "Moulin Rouge" and "Romeo + Juliet."
In this case, I think all these bells and whistles obscured and trivialized what was actually an intriguing story and some very good writing. One supposes the modern mash-up might have gotten the pilot sold, but it didn't service the show — and it sure didn't draw in the audience.
Just because it worked for "Reign" on The CW, which targets a young, female audience, doesn't mean it was going to draw in the TNT crowd, which generally expects their dramas to have a bit more heft.
Also, "Will" couldn't sustain the look and energy beyond the first few episodes. I just wish they'd played it straight from the beginning.
The Oscar-winning "Shakespeare in Love" didn't need rainbow mohawks and hip music to sell the life of the Bard. It's too bad that either Pearce or TNT didn't have enough faith in the power of the story to carry the day.
Goodness knows, working in the confines of an Elizabethan-era theater, Shakespeare always did.
Image: Courtesy TNT
Don't miss a thing: head over to my other home, as Social Media Manager at Family Theater Productions; and check out FTP's Faith & Family Media Blog.