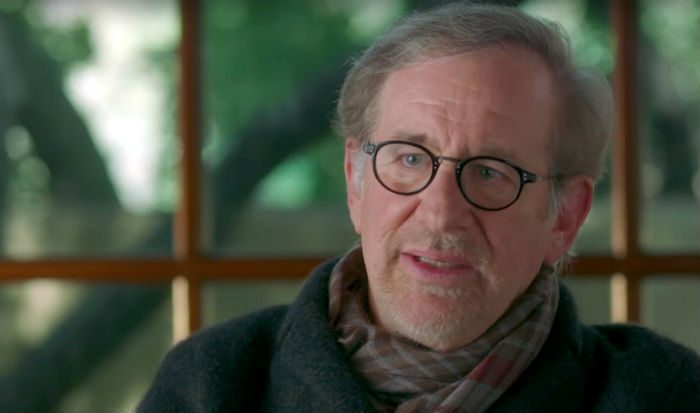 Last week, I had the pleasure of attending a screening of the HBO documentary "Spielberg," premiering Saturday, Oct. 7, at 8 p.m. ET/5 p.m. PT on HBO East (it appears at the same time on the HBO Now and HBO GO apps), at the Paramount lot in Hollywood.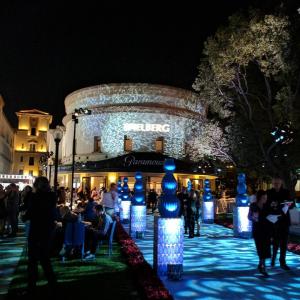 The Paramount Theater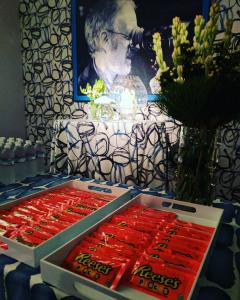 Yes, "E.T." fans, there were Reese's Pieces in the theater.
As lovely as the party was — got to sit down to dinner with Luis, who tends director Steven Spielberg's vineyard — it should have been over the hill at Universal Studios, because that's where the 20-year-old wunderkind and then-college dropout (he later finished his B.A. in Film and Electronic Arts from Cal State Long Beach in 2002, 34 years after dropping out) got his start.
(If your grades aren't good enough for USC Film School, take heart — neither were Spielberg's.)
There are possibly apocryphal stories about how he talked himself onto the Universal lot and parlayed that into a contract directing television (courtesy of studio v.p. Sidney Sheinberg). Director/producer Susan Lacy's two-and-a-half hour documentary lets that bit of legend slide by, but one thing comes through clearly. The now-70-year-old Spielberg just doesn't come off like a showbiz jerk.
As Hollywood has convulsed this week over revelations of decades of sexual harassment by movie mogul Harvey Weinstein, one takeaway from watching "Spielberg" is that the movie-obsessed kid from Phoenix, Arizona, doesn't seem to be THAT guy — you know, the narcissistic, bombastic, abusive, arrogant, self-satisfied Hollywood guy.
Steven Spielberg just seems like a guy who's loved movies since he could remember, who knows he's good but still seems giddy that he gets a chance to do it for a living.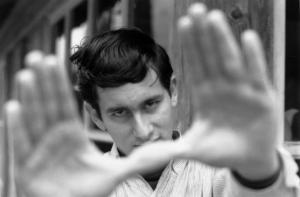 Even compared to the young filmmakers who formed his unofficial fraternity — Martin Scorsese, Francis Ford Coppola and George Lucas — Spielberg has the greatest aura of normalcy. He's a suburban kid who never turned on the cul-de-sacs of his childhood; a man bullied for being a Jewish boy, who rediscovered his faith with joy; a child of divorce who found himself divorced, then remarried and wound up, quite unexpectedly, with a passel of kids — biological and adopted.
Creator and executive producer of PBS' "American Masters" series, Lacy said at the premiere that she barely got "Spielberg" out of her mouth before HBO jumped on it. One might expect an HBO Hollywood doc to be down and dirty, to examine the dark underbelly of Tinseltown.
That's just not the case with "Spielberg." It's a warm and loving portrait, not without its pointed moments — like Ed Bradley of "60 Minutes" suggesting that Spielberg's films are "not art" — but the furthest thing from a takedown. It's rated TV-MA for some language, brief nudity and film violence, but nothing that a mature teen with a real interest in movies can't handle, with a little parental guidance.
In a town full of backstabbing and fake friendliness, the Hollywood bigwigs interviewed in the film — and those in the screening audience — seemed full of genuine affection (I keep saying "seemed"; I've lived long enough around the industry not to take surface appearances as fact).
Being a TV nerd, one thing I love is Spielberg's commitment to his early TV work. In one of my first jobs, I had to write loglines for TV episodes from the '50s to the '90s, and I remember the delight of running across episodes of "Columbo" or "The Name of the Game" directed by Steven Spielberg.
And then there's "Duel,"a 1971 TV movie, written by Richard Matheson from his own short story, starring Dennis Weaver as a motorist terrorized by a mysterious semi. Luckily for you, the whole thing is posted on YouTube. It's a testament to how to do horror on a budget and without a lot of special effects — and succeed in a memorable way.
Today's SFX-obsessed filmmakers could take a lesson.
In the film, Spielberg says that seeing director David Lean's "Lawrence of Arabia" almost made him abandon the idea that he could ever be a director, while simultaneously firing his imagination. It's easy to understand why.
Today's celebrity culture makes it increasingly hard to separate artists' lives from their work. We learn in the film that the strong personalities of Spielberg's parents, and their divorce, plays out as a theme of breaking and reforming families throughout his films.
Novelist James Baldwin, one of my favorites, once said:
Every writer has only one story to tell, and he has to find a way of telling it until the meaning becomes clearer and clearer, until the story becomes at once more narrow and larger, more and more precise, more and more reverberating.
I suspect that's true of me as a writer, and it seems also true of Spielberg. A lot of articles about this documentary have outlined everything in it, point by point. But I'd say, just watch it. Come with what you think of his movies and come away with what you think of him.
Then ask yourself, what's my story? Not all of us are writers, but all of us have a story to tell. Then maybe, if you're so inclined, pick up a pen or a camera.
You never know where a story will take you.
Here's the trailer:
Images: Courtesy HBO
Don't miss a thing: head over to my other home, as Social Media Manager at Family Theater Productions; and check out FTP's Faith & Family Media Blog.