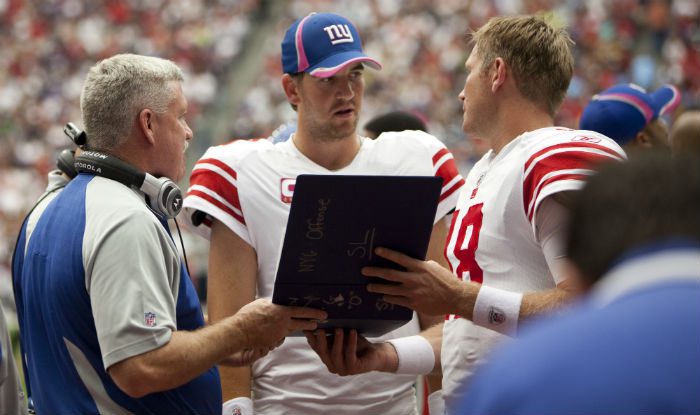 Dan Fogelman, lifelong New York Giants football fan and creator of NBC's hit family-centric drama "This Is Us," has written a heartfelt "Open Letter to Our Beautiful Boy," to recently benched New York Giants quarterback Eli Manning — whose whole future with the team has been thrown into question.
Will Manning ever appear in a Giants uniform again? Will he go to another team? Will he walk off into the sunset (or the commentating booth, like Tony Romo)?
While we await answers to these questions, and Giants fans — indeed, many in football commentary (looking at you, Deion Sanders and Shaun O'Hara) — have a collective meltdown, Fogelman does what he always does, gets right to the heart of the matter.
As usual with Fogelman's writing, it may make some people cry — even football players.
What, you say, tough football guys don't cry? Please, have you ever watched the Hall of Fame Gold Jacket ceremony? More kissing and crying than Miss America. Football guys are stoic about pain, but they're not stoic about much else.
But, without further ado, an excerpt …
I'm sorry you've been completely and shamefully shafted by my favorite team. It's unforgivable, and if New York Giants fans don't rise en masse and chant your name throughout the ENTIRE next home game, I'll be stunned and disappointed.

But more importantly, I want to say thank you.

Eli Manning: you adorable, frustrating, talented, badass manboy—you have provided for myself, and for my friends, some of the BEST moments of our entire lives. Now, in truth, our lives haven't been all that exciting. But still.

It's not just the Tyree catch.

It's not just the Manningham catch.

It's not just the Super Bowl wins.

It's not just the fact that you brought down the Death Star New England Patriots, not once, but twice.

OK, realistically it is that (and God how we love how that infuriates them). But still, Eli: You are, and forever will be, OUR quarterback. Sure, people love your brother. And we get it. He was good. He was funny on SNL. He got that giant red mark across his forehead whenever he took off his helmet. But you, Eli: You have been the New York Giants for the past decade. And this terrible ending won't take the memories away …

2008: I'm at my best friend's house. We've been best friends since childhood. Since Simms. Since LT. You complete the pass to Tyree. Then to Plaxico. Somewhere in Van Nuys, California, a bunch of fat 35-year-olds literally fall on top of one another in a pile in front of horrified small children.

2012: For luck, we return to the same house. The children are older. The adults are fatter. We pile on one another. Again.
Click here to see the whole thing at TheRinger.com.
Images: Wikimedia Commons
Don't miss a thing: head over to my other home, as Social Media Manager at Family Theater Productions; and check out FTP's Faith & Family Media Blog, and our YouTube Channel.