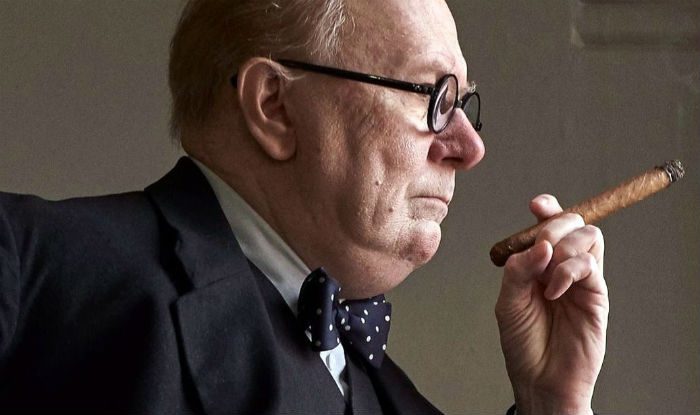 Tomorrow, Nov. 22, "Darkest Hour" hits theaters, starring a nearly unrecognizable Gary Oldman in an award-worthy performance as British Prime Minister Winston Churchill, one of the towering figures of World War II.
I've seen it at screenings twice, and it's a stunning achievement (not the least for the amazing makeup that turns the lean Oldman into the balding, portly Churchill). It's not pure history and there are liberties taken, but it's the rare historical drama that captures the flavor of the moment while still delivering rip-roaring entertainment.
While this summer's "Dunkirk" plunged moviegoers into the fire and fear of the mass evacuation of the British army from a French beach at a low point in the war with Germany in 1940, "Darkest Hour" tracks the political and strategic maneuvering behind that event and the U.K.'s ultimate commitment to total war against Hitler.
Churchill became Prime Minister in a time of crisis, unwanted by his own party, plotted against from the moment he came to power — especially by his predecessor, Neville Chamberlain (Ronald Pickup) ,and would-be successor Viscount Halifax (Stephen Dillane). King George VI (Ben Mendelsohn) dislikes the unpredictable, rough-edged Churchill — preferring aristocratic pal Halifax — and tells his new prime minister that he scares him, because the king never knows what's going to come out of Churchill's mouth.
Meanwhile, Churchill's outsize personality and eccentric habits — like working from bed during breakfast — make for a rocky start with his new typist, Elizabeth Layton (Lily James), causing his wife, Clementine (Kristin Scott Thomas), to speak to him about his behavior.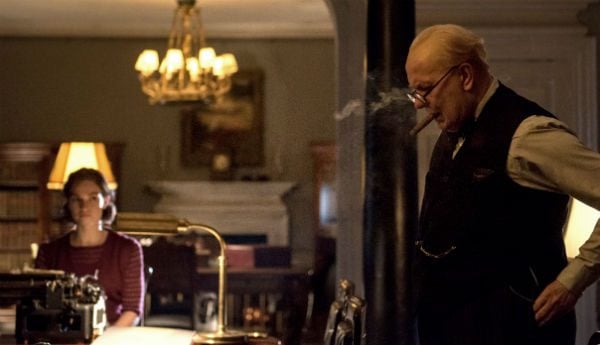 To those who may be wondering whether the behavior is depicted as crossing lines into harassment — it isn't. Layton does take dictation from Churchill through a closed door as he's in the bath, but he gives her fair warning to scurry away when he emerges "in a state of nature" — and no, there's no nudity shown.
And, Layton was a real person who really worked like this with Churchill and remained fiercely devoted to him until her death at 90.
At one point, a desperate Churchill also talks on the phone to U.S. President Franklin Roosevelt (heard, not seen), begging for help. As we were officially neutral at the time, FDR can't even deliver to Churchill planes the U.K. had paid for. His solution to the situation is cringe-inducing.
With inventive camera work — much of it done from a bird's perspective — director Joe Wright brings alive both Churchill's political battles and the reality of life on the front. In addition, he achieves this without the overt and bloody violence seen in many modern war films, such as "Hacksaw Ridge."
The film is rated PG-13 for thematic content — I only heard one bit of profanity, and it was mild — but it's nothing that a bright teenager can't handle. The violence is discussed but not shown, and there is no sexual content.
While there are invented bits (such as Churchill seeking counsel from the ordinary folk of London while riding the Underground), it's a fast-paced, compelling slice of history that's suitable for mature middle-schoolers and up.
In between sweet holiday films like "The Star" and "The Man Who Invented Christmas," "Darkest Hour" is a bracing and exhilarating slap of reality, as a deeply imperfect man becomes the perfect choice to lead his nation in its most desperate hour.
And here's one of Churchill's real addresses from the period, for comparison:
Images: Courtesy Focus Features
Don't miss a thing: head over to my other home, as Social Media Manager at Family Theater Productions; and check out FTP's Faith & Family Media Blog, and our YouTube Channel.