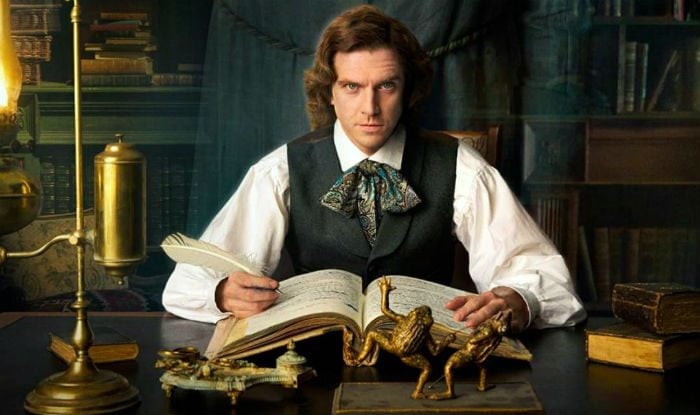 On Nov. 22, "The Man Who Invented Christmas" is released to theaters nationwide, and it's a true Dickensian delight — even if its title is not entirely accurate.
First of all, Victorian-era writer Charles Dickens — the central character of the film and the book of the same title by Les Sandiford that inspired it — did not invent Christmas. That was Christ, by being born, and the Catholic Church, by picking up the thread and carrying it forward.
But it is true that many of our most beloved current Christmas customs actually date from the Victorian era, including the notion of a "Dickens Christmas," which comes straight from the author's holiday ghost story, "A Christmas Carol."
Going Inside the Mind of a Writer
Like 1998's "Shakespeare in Love," which took a rollicking look at the writing of the Bard's most famous play, "Romeo and Juliet," and, recently, the more somber "Goodbye Christopher Robin," which explored the creation of the "Winnie the Pooh" books, "The Man Who Invented Christmas" takes takes a fact-inspired and fiction-augmented look at how "A Christmas Carol" came to be.
"Downton Abbey" star Dan Stevens shines as Dickens, whose high from the success of "Oliver Twist" is fading as fast as his bills are piling up. To make it worse, he's been also hit with writer's block.
It's late in the year in 1843 London, and pressured by his editor, his public and his loving wife's (Morfydd Clark) decorating zeal — and newly announced fifth pregnancy — Dickens rushes to meet a deadline to get a book out for Christmas.
Inspired by his own poverty-ridden childhood and a panoply of events and people around him, Dickens slowly, with frustration, pain and joy, assembles the story and characters that will become his immortal, self-published novella.
As a writer (I just had my first movie screenplay optioned), I enjoyed it most when the characters take life and start haunting Dickens like the ghosts in his book, popping up to comment, argue and bedevil him during the creative process.
(Pro tip: If it happens to you, dear writer, fear not. It's perfectly normal, or at least as normal as anything about the inside of a writer's head can be.)
Most wonderful among these is Christopher Plummer, who starts out as a real-life miser spouting "Humbug!" and becomes the imaginary embodiment of Ebenezer Scrooge — who has strong opinions on Dickens' life and work, and isn't reticent to share them.
According to screenwriter Susan Coyne, this apparently fanciful notion was actually Dickens' own internal experience.
From Time magazine:
What is somewhat surprising is that Dickens did see his characters appear before him as though they were real, fully-formed human beings — as seen in the movie with his creations such as Scrooge (portrayed by Christopher Plummer) and Tiny Tim. "Through my research, I learned that he used to talk about his characters as though they were what he called 'the children of his fancy,'" said Coyne. "Even when he was not working, he'd feel them tugging on his sleeve saying 'time to get back to work.'
Is It a Family Film?
Rated PG, "The Man Who Invented Christmas" is charming, entertaining, heartfelt and suitable for families with older school-age children and up (little ones may have trouble following it, and there are some disturbing scenes of Dickens' fractured family and time as a child laborer).
Parents can then follow up an actual reading of "A Christmas Carol" (the whole book is
here
) — or a viewing of one of the better film adaptations, like t
he 1951 edition
, starring Alistair Sim; or
the 1984 TV version
, with George C. Scott.
But What About the Christ in Christmas?
As for the real reason for the season, Dickens himself was a Christian, but apparently a private and not especially dogmatic one. According to experts, he was fond neither of evangelicals nor Catholics (he was born into the Anglican Church in Britain, after all).
While the book does make passing mention of Scrooge going to church on Christmas Day, it's not an overtly religious story — and neither is "The Man Who Invented Christmas." It does not disparage the Christian heart of the season, but its focus is more on the secular view of the holiday (not shopping — I mean good feelings, fellowship, giving and so on).
If you want a truly Christian Christmas film this year, head out to "The Star" (review and video interviews here).
What Does "Invented Christmas" Mean?
In the England of Dickens' time, the influence of the Puritans had relegated Christmas to a back corner of holiday celebrations, well behind Easter and even Boxing Day (the day after Christmas, a k a Saint Stephens' Day, and the beginning of fox-hunting season).
After "A Christmas Carol," though, the holiday caught on in Britain. Helping this along was Queen Victoria, who popularized such customs as the indoor lighted Christmas tree, a German import (like her husband, Prince Albert). Between Dickens and Victoria, Christmas regained its earlier color and pageantry, along with a strong focus on family and charity.
Finally, since Dickens was a champion of the poor, both in his novels and journalism, the greatest way to honor him — and Christ — would be to give generously to those in need.
And may you have as much joy in it as Scrooge did at the end of "A Christmas Carol":
Scrooge was better than his word. He did it all, and infinitely more; and to Tiny Tim, who did not die, he was a second father. He became as good a friend, as good a master, and as good a man, as the good old city knew, or any other good old city, town, or borough, in the good old world. Some people laughed to see the alteration in him, but he let them laugh, and little heeded them; for he was wise enough to know that nothing ever happened on this globe, for good, at which some people did not have their fill of laughter in the outset; and knowing that such as these would be blind anyway, he thought it quite as well that they should wrinkle up their eyes in grins, as have the malady in less attractive forms. His own heart laughed: and that was quite enough for him.
Here's the trailer, with an introduction (and an admonishment) from Plummer:
Image: Courtesy Bleeker Street Media
Don't miss a thing: head over to my other home, as Social Media Manager at Family Theater Productions; and check out FTP's Faith & Family Media Blog, and our YouTube Channel.