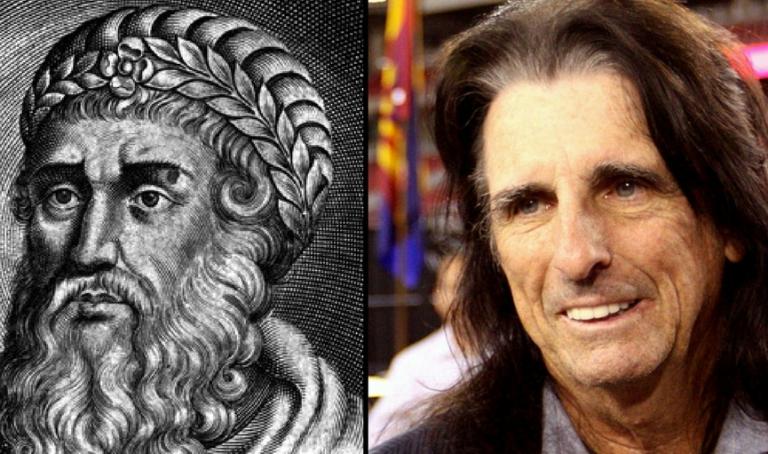 It might seem outrageous that "shock rock" star Alice Cooper has been cast as King Herod in NBC's Easter Sunday, April 1, rock opera/concert "Jesus Christ Superstar Live!"
But, it's not.
Born Vincent Damon Furnier, Cooper was living the wild rock 'n' roll life in the 1970s and '80s, decapitating baby dolls onstage and other gruesome stunts. Although he won Grammys and had his band inducted into the Rock and Roll Hall of Fame, Cooper nearly lost his life to drinking and drug abuse.
But this son of a preacher, who married the daughter of a preacher, turned his life around, with the help of a preacher in his native Phoenix, Arizona.
Said Cooper at CNSNews.com:
So I always refer to myself as the real Prodigal Son, because I went out and the Lord let me do everything, Maybe didn't let me but allowed it, and then just started reeling me back in. "You know, you've seen enough. Let's bring you back to where you belong."

…

When you get out there and realize you've had every car, every house, and all that, you realize that that's not the answer, There's a big nothing out there at the end of that. So, materialism doesn't mean anything. A lot of people say that there's a big God-sized hole in your heart. And when that's filled, you're really satisfied, and that's where I am right now.

…

Well, before you are always self—you're always self-centered. Everything is for you. Your self is God. And we make lousy gods. Humans make lousy gods, I think. We need to let God be God and us be what we are. I think that's what changes: the focus on who you're serving. You're not serving you. You're serving Christ.
Joining Cooper in "Jesus Christ Superstar Live" — a revival of the hit rock opera based on the Gospel accounts of the last week of Jesus' life, with music by Andrew Lloyd Webber and lyrics by Tim Rice — is British theater director David Leveaux, recipient of five Tony Awards.
From The Hollywood Reporter:
"Alice Cooper, whose theatricality is the stuff of legend, is the perfect rock star to play Herod in our live production," said Robert Greenblatt, chairman of NBC Entertainment. "Andrew Lloyd Webber and Tim Rice wrote a showstopping musical number for Herod, and we all look forward to the 'King of Shock Rock' taking on the King of Judea. As the casting for Superstar ramps up, we can feel the excitement building for this brand new concert experience of what has long been considered the original rock musical."
Cooper also has some history with the musical. Also from The Hollywood Reporter:
He recorded "King Herod's Song" at the request of Lloyd Webber and Rice for the 2000 release of a cast album from the 1996 production of Jesus Christ Superstar in the U.K.
We've yet to hear who's going to follow original 1971 Broadway stars Jeff Fenholt (Jesus) and Ben Vereen, and the stars of the 1973 movie, Ted Neeley and Carl Anderson. It'll also be interesting to see who takes over Mary Magdalene from Yvonne Elliman, who played it on stage and screen.
What are your suggestions?
Here's how "Herod's Song" looked in the original movie (with Herod's court looking a lot like disco-era New York):
Images: Wikimedia Commons/Gage Skidmore
Don't miss a thing: head over to my other home, as Social Media Manager at Family Theater Productions; and check out FTP's Faith & Family Media Blog, and our YouTube Channel.