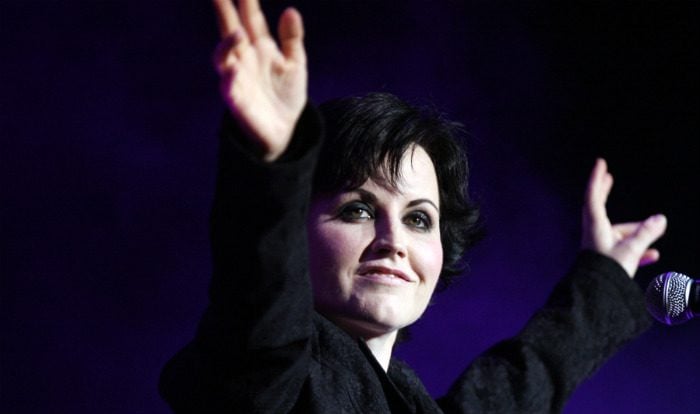 Dolores O'Riordan was born and raised a daughter of the Church, and she will be laid to rest as one.
On Monday, Jan. 15, the brunette lead singer of Ireland's The Cranberries. 46, was found dead in her hotel room in London, where she was staying while recording music. A native of the rural town of Ballybricken in County Limerick in the West of Ireland, her death stunned her native land and the music world.
CNN reports that London's Metropolitan Police are not treating the death of the divorced mother of three as suspicious, but that's all the details available as of this writing. What we do know is that she will likely be buried in her home parish of Ballybricken & Bohermore.
(UPDATE 1/23: Click here for details of the funeral Mass for O'Riordan, held at St. Ailbe's Church in Ballybricken. It began with a recording of "Ave Maria" with O'Riordan and Luciano Pavarotti, video of which is embedded below.
As reported in The Irish Sun, her parish priest, Father James Walton, said:
I only found out this afternoon. Her family is very devastated and upset.

"The suddenness of her death has been a shock. I met Dolores two or three times when she was home visiting family. She was a lovely lady.

Her family are still waiting for more details to come from London about her death.

The plan is for her to be buried here at home. When that will be will depend on when her body is released.
By all reports, O'Riordan was born into a devout Catholic family, with a father who couldn't work because of brain damage from an accident, and a mother who worked nights to support the family. She was named for Our Lady of Dolours, or, as we say here, Our Lady of Sorrows.
According to a piece in the U.K. Daily Mail, she played the church organ and sang Gregorian chant — and her mother had hopes of her becoming a nun.
But, O'Riordan told the Daily Mail:
I was thinking rock star, and when I was 18, something inside me flipped. One day I ran away, and it broke my mother's heart.
But she also said:
We made our peace a couple of weeks after I left, but I never moved back.

You take your parents so much for granted, then later you're sorry for having been such a pain.

I thought I knew it all. It was only when I got to my 30s that I realised I knew a lot less than I thought I did in my 20s.
But when she married former Duran Duran tour manager Don Burton in 1994, despite wearing, as the Tipperary Star noted, "cream knee-high boots, lace tights, a transparent and very risque wedding dress and sporting bleached blonde hair," O'Riordan took her vows at Holy Cross Abbey, a restored Cistercian monastery in Tipperary, Ireland.
Co-celebrant for the wedding was a family friend, Canon (Father) Liam McNamara of St. Michael's Church in Tipperary Town. He told the Limerick Leader:
My heart goes out to the family . . . We all loved her very, very much.
Although O'Riordan and Burton split in 2014, she didn't remarry — and I can't find where she had any subsequent romances.
O'Riordan was also a big fan of Saint Pope John Paul II. She met him twice, in 2001 and 2002, and said of him:
(He) was lovely, very saintly. I was mad about him. I thought he really cared for the poor and he loved to meet the people. I saw him when he came to Limerick, when I was a kid. So it was pretty mind-blowing to take my mum out to meet him.
In 2013, she said that her faith contributed to her music:
The Church influenced a lot of my development as an artist and as a musician. I learned an awful lot of my music through the church and stuff like that. For me It's always been a good thing, a positive thing in my life.
Also in 2013, Pope Francis invited her to sing at the Vatican's Christmas concert. Here she is, performing one of the Cranberries' biggest hits, "Linger":
Years earlier, in 1995, she joined Luciano Pavarotti for a charity concert in Modena, Italy, lending her shimmering, silvery voice to "Ave Maria":
After her death, Irish bishop Brendan Leahy of Limerick said of O'Riordan, to Catholic News Service:
"Of course, she was a superstar and an inspiration to so many people, not least from Limerick," he said. Recalling that she grew up in the neighboring Archdiocese of Cashel and Emly, Bishop Leahy said, "Limerick city, all of Limerick, held her very dear in its heart.

"Her rise to stardom gave a huge amount of belief to young people locally at the time," the bishop said. "She never lost sight of who she was and where she was from."
But like her fellow Irish-Catholic singer Sinead O'Connor (whose relationship with the Faith is far more troubled and volatile), O'Riordan's artistry came along with a large share of suffering.
Only in recent years did she reveal that someone close to her family sexually abused her from the age of 8. As an adult, O'Riordan battled bouts of depression and anorexia. She was diagnosed with bipolar disorder in 2015. There were also physical maladies: a rod put her leg after a 1994 skiing accident; and back pain that canceled a Cranberries reunion tour in 2017.
In between, O'Riordan's emotional issues became so severe that she tried to kill herself in 2013. In November 2014, she was arrested for erratic behavior on a transatlantic flight on Aer Lingus, during which she became agitated and stepped on the foot of an air hostess.
O'Riordan was fined but escaped criminal prosecution, because she was judged to be mentally ill at the time. She also apologized to the air hostess, Carmel Coyne, saying:
Carmel is lovely. I know Carmel a long time from flying over and back transatlantic since I had the little wee babies in the buggies. I really like her. She knows for a fact that it was an accident with my metal shoes.

And there were bad people having too much booze roaring at me. And I backed up and stood on her foot by an accident, like a child in the playground. I'm sorry Carmel.
O'Riordan also spoke out against abortion. Buried deep in a 1995 Rolling Stone portrait of the Cranberries is this quote:
I'm in no position to judge other women, you know? But, I mean, "Idiot — why didn't you not get pregnant?" It's not good for women to go through the procedure and have something living sucked out of your bodies. It belittles women — even though some women say, "Oh, I don't mind to have one." Every time a woman has an abortion, it just crushes her self-esteem, smaller and smaller and smaller.
As reported by the Los Angeles Times, in 2009, following a screening of the abortion-themed documentary "South Dakota: A Woman's Right to Choose" — which featured Cranberries songs in the soundtrack — O'Riordan moderated a townhall-style discussion for nearly 1,000 high-school girls from all over the Los Angeles area, who came to see the film at a theater in Westwood.
O'Riordan let the girls speak their minds, as the newspaper related:
With no boys present, went the theory, girls would be more comfortable opening up.

"Do you think women should have the right to terminate a pregnancy?" O'Riordan asked the girls. In the past, the singer has harshly criticized abortion but said in an interview she prefers not to disclose how she feels. "Don't be shy, totally say what you think. It's your life, it's your future."

The girls, from four Catholic schools and 11 public schools, would need little prodding.

A handful spoke in favor of choice and a few were ambivalent. But the majority, including one who said she was the mother of a toddler, spoke passionately against abortion. One girl, from St. Monica Academy, led a cheer thanking her mother "for having me."

…

In the town-hall-style discussion that followed the teen screening, two of the film's actresses, [Emma] Bates and [Tessa] Thompson, joined O'Riordan. The students, who were urged to ask questions, were more focused on making statements, mostly against abortion.

"If you're not ready to have a baby, then you shouldn't be having sex anyway," said Gianna Halpin of St. Monica Academy.

"Yeah, that sounds like a good idea," O'Riordan said.
O'Riordan is survived by her children with Burton: son Taylor Baxter, 20; and daughters Molly Leigh, 16, and Dakota Rain, 12; she was also stepmother to her ex-husband's son, Donny, from a previous marriage.
In 2017, she told the Irish News:
The best time in my life was the years spent at home with my family. I love being a mum. My kids don't see me as a famous person, or have any kind of expectation; I'm just their mum.
As the Irish say, "Slán abhaile," safe home, Dolores.
Image: Courtesy Wikimedia Commons
Don't miss a thing: head over to my other home, as Social Media Manager at Family Theater Productions; and check out FTP's Faith & Family Media Blog, and our YouTube Channel.