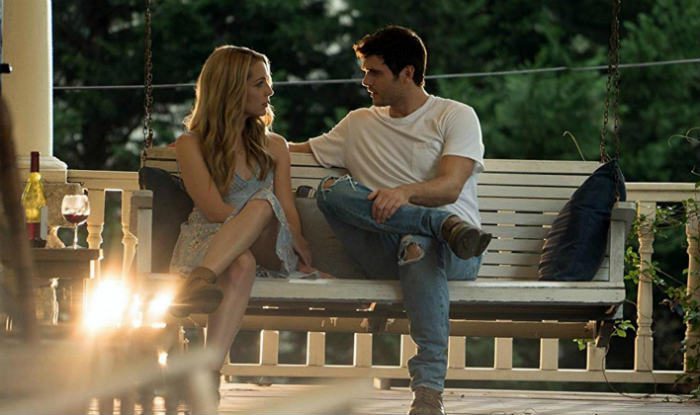 "Forever My Girl" blends country music, romance and faith, and that's just fine with producer Pete Shilaimon.
He grew up in a Chaldean Catholic in Iraq, escaping with his family to Greece at the age of six, and then arriving as refugees to the United States. So, Shilaimon appreciates his First Amendment right to speak openly about his faith — and as a filmmaker, that's what he's doing.
Not all of Shilaimon's films are faith-based, but starting with the Gospel-inspired "Risen" in early 2016, it's one of the genres on his menu. This weekend, he comes out with "Forever My Girl," adapted by writer-director Bethany Ashton Wolf from Heidi McLaughlin's novel of the same name.
It stars Alex Roe as country-music superstar Liam Page, who left his fiancee, Josie (Jessica Rothe), at the altar many years before, in order to successfully pursue fame and fortune. When his high-school best friend is killed, Liam comes back to his hometown of St. Augustine, Louisiana, where he discovers, to his surprise, that his bride was pregnant at the time he abandoned her.
(So, yeah, there was premarital sex involved, but it's not really addressed in the film.)
Now, he's faced with repairing his broken relationships with his pastor father (John Benjamin Hickey), Josie and the daughter (Abby Ryder Fortson) he never knew he had.
At the same time, Shilaimon has an inspirational sports film, "The Miracle Season," with Helen Hunt, coming out on April 13; and he's also involved in "I Can Only Imagine," the story behind the famous MercyMe song, coming out on March 16.
I recently chatted with Shilaimon about "Forever My Girl" and his other projects, and here's some of what he had to say:
How did this story come to you?
I just fell in love with book and we talked internally about turning it into a script, and one thing lead to another, and we turned it into a script. We were very happy with how it turned out. I love that it's a story about forgiveness. I think that's a very important thing. And we turned it into this beautiful little gem of a movie
Hallmark Channel is having great success with warmhearted, family-friendly movies. Has that inspired filmmakers to think beyond just big action and superhero movies, with all their explosions and special effects?
They're pretty exhausting after a while. It's nice to once in a while do a movie about, a family movie, too. And not just a superhero family movie, but a family movie that deals with great subject matters like forgiveness, redemption, the prodigal son … all those great stories. So yeah, it is nice. We have another coming out called "The Miracle Season" that deals with loss.

It deals with loss and how this [women's volleyball' team comes back from losing one of their star players. It's just this beautiful, beautiful story, and it has a beautiful faith-based element to it. We're very proud of that as well.

…

It's just this incredible story about loss and 12 strong women that rise and go on to win the championship with their star player passing away. Not only does the star player pass away, but her mother passes away from cancer, too.

It's a complete, 100% true story of the Iowa City West Trojans. We chased it after we saw it on HBO, and we got the rights to the family and the coach, and we turned around and made it into a movie. We are so proud of it.
Was "Risen" — the story of a Roman consul (Joseph Fiennes) tasked by Pilate with finding Jesus's crucified body and instead encountering the Risen Christ — a turning point for you and production partner Mickey Liddell ("Everwood")?
So, for me, that's very exciting, that we have a lot of people got to see "Risen." It wasn't just Christians and Catholics. I had many friends that were Muslims, Buddhists, and Jewish that went to go see it. They all got something really cool out of the project. So, I want to make more movies like that, for sure.
"Risen" was definitely a turning point. I can't speak for Mickey, but for me, "Risen" was a very powerful, powerful experience for me. I really wanted to work on more films like this, because I do feel like not only are they for the faith base, but they're also for mainstream America, and I really love that we can marry the two.
How do you craft a film that will appeal to the faith-based audience but also to the general audience?
I don't think you go into it [that way] … unless it's "Risen," and even with "Risen" we really took a lot of great risk. But you don't go into a movie like this and say, "I only want to make this for the faith base. and I don't want anyone else to go see it."

In the script stage, you really want to make a movie for everybody, and sometimes they organically have a little bit of that faith base. Whether it be a preacher, a church scene that we have in "The Miracle Season," and again [in "Forever My Girl"], Liam Page's father is a preacher.

They kind of take a life of their own when we're developing. And that's what's so beautiful about developing projects. There are no set rules.
How has doing faith-based films changed your own faith — or has it?
I have a very strong mother who is a very strong Catholic. I think I'm the same person I was  when I was an altar boy. I'm still Catholic. I still believe in the love that our faith has. I don't think it truly changed me.

"Risen" changed me as a filmmaker. We dealt with the Bible, and that was very intense, because we had to get it right and we really could not mess up on "Risen." So, I think "Risen" really challenged me. And if I do another Bible film, it definitely challenged me to dot every "i" and cross every "t."
Here's the trailer for "Forever My Girl":
And "The Miracle Season":
And "I Can Only Imagine":
Image: Courtesy LD Entertainment
Don't miss a thing: head over to my other home, as Social Media Manager at Family Theater Productions; and check out FTP's Faith & Family Media Blog, and our YouTube Channel.