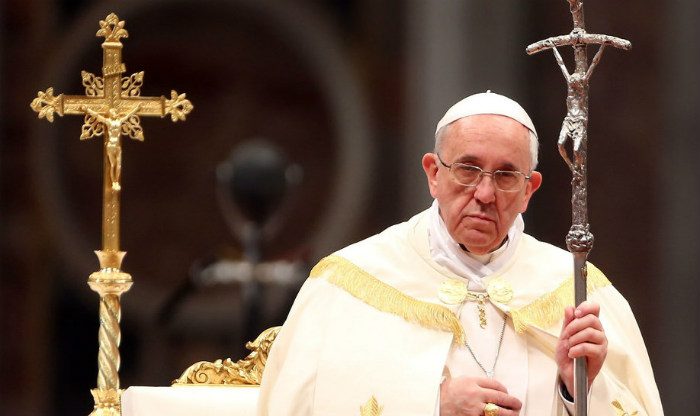 In his message for World Communications Day 2018, released today, Jan. 24, Pope Francis decried the creation and spread of "fake news," saying it uses the "snake-tactics" of the Devil, reminding all in media of the Gospel message, "The truth will set you free" (John 8:32).
But, in reporting on this — on the feast day of St. Francis de Sales, the patron saint of journalists — the Wall Street Journal said:
Pope Francis denounced the spread of "fake news" as the divisive work of the devil and called on journalists to serve as "protectors of news" by practicing accuracy and fairness, which he called essential to promoting world peace.
Sensational as that bit about the "divisive work of the devil" sounds — and some version of this is the headline for this story in several outlets — it's not quite accurate. The pope said those who create "fake news" are employing sly or deceptive tactics similar to those of Satan in the Garden, but he didn't attribute today's disinformation directly to the Devil.
So, what did the pope say? Basically, he calls on all those who create news to keep truth and accuracy as a North Star, and to avoid the use of manipulative rhetoric, half-truths, emotional appeals and sensationalism, and not to let personal biases or agendas cause journalists affect reporting on people or events.
Pope Francis — whose own news coverage has been marked with many questions about accuracy — cited no specific examples of "fake news." Instead, he stated general concerns and remedies, with the ultimate goal of fostering  "informed and mature reflection, leading to constructive dialogue and fruitful results."
Sister Nancy Usselmann, National Director of the Pauline Center for Media Studies — an apostolate of the Daughters of St. Paul, the "media nuns," whose charism is to take a Christian view of social communication, and teach media literacy — had this to say about Pope Francis' message:
In this WCD message, Pope Francis, true to his papal worldview, is centered on the dignity and beauty of the human person and its ability to communicate the truth of human living for the benefit of all. This is a crucial aspect of Media Mindfulness. Human dignity is the lens for which we, as Catholics can engage this digital mediascape that is always changing, always developing. I especially appreciate how he ends his reflection by adapting Francis' Peace Prayer for communicators. Only in love, respect, and truth will there be digital peace and harmony.
You can read the pope's whole statement here, but below are some excerpts (all italics are from the original document).
On the importance of clear communication:
But when we yield to our own pride and selfishness, we can also distort the way we use our ability to communicate. This can be seen from the earliest times, in the biblical stories of Cain and Abel and the Tower of Babel (cf. Gen 4:4-16; 11:1-9). The capacity to twist the truth is symptomatic of our condition, both as individuals and communities. On the other hand, when we are faithful to God's plan, communication becomes an effective expression of our responsible search for truth and our pursuit of goodness.
On what constitutes "fake news":
The term "fake news" has been the object of great discussion and debate. In general, it refers to the spreading of disinformation online or in the traditional media. It has to do with false information based on non-existent or distorted data meant to deceive and manipulate the reader. Spreading fake news can serve to advance specific goals, influence political decisions, and serve economic interests.

The effectiveness of fake news is primarily due to its ability to mimic real news, to seem plausible.
On what is at stake:
Yet preventing and identifying the way disinformation works also calls for a profound and careful process of discernment. We need to unmask what could be called the "snake-tactics" used by those who disguise themselves in order to strike at any time and place. This was the strategy employed by the "crafty serpent" in the Book of Genesis, who, at the dawn of humanity, created the first fake news …

…This biblical episode [of Eve and the serpent in the Garden of Eden] brings to light an essential element for our reflection: there is no such thing as harmless disinformation; on the contrary, trusting in falsehood can have dire consequences. Even a seemingly slight distortion of the truth can have dangerous effects.

What is at stake is our greed. Fake news often goes viral, spreading so fast that it is hard to stop, not because of the sense of sharing that inspires the social media, but because it appeals to the insatiable greed so easily aroused in human beings. The economic and manipulative aims that feed disinformation are rooted in a thirst for power, a desire to possess and enjoy, which ultimately makes us victims of something much more tragic: the deceptive power of evil that moves from one lie to another in order to rob us of our interior freedom.
On peace as the true goal of news:
If responsibility is the answer to the spread of fake news, then a weighty responsibility rests on the shoulders of those whose job is to provide information, namely, journalists, the protectors of news. In today's world, theirs is, in every sense, not just a job; it is a mission. Amid feeding frenzies and the mad rush for a scoop, they must remember that the heart of information is not the speed with which it is reported or its audience impact, but persons. Informing others means forming others; it means being in touch with people's lives. That is why ensuring the accuracy of sources and protecting communication are real means of promoting goodness, generating trust, and opening the way to communion and peace.

I would like, then, to invite everyone to promote a journalism of peace. By that, I do not mean the saccharine kind of journalism that refuses to acknowledge the existence of serious problems or smacks of sentimentalism. On the contrary, I mean a journalism that is truthful and opposed to falsehoods, rhetorical slogans, and sensational headlines. A journalism created by people for people, one that is at the service of all, especially those – and they are the majority in our world – who have no voice. A journalism less concentrated on breaking news than on exploring the underlying causes of conflicts, in order to promote deeper understanding and contribute to their resolution by setting in place virtuous processes. A journalism committed to pointing out alternatives to the escalation of shouting matches and verbal violence.
Pope Francis closes an adaptation of the so-called "Peace Prayer of St. Francis," which he refers to merely as a "Franciscan prayer."
Lord, make us instruments of your peace.
Help us to recognize the evil latent in a communication that does not build communion.
Help us to remove the venom from our judgements.
Help us to speak about others as our brothers and sisters.
You are faithful and trustworthy; may our words be seeds of goodness for the world:
where there is shouting, let us practise listening;
where there is confusion, let us inspire harmony;
where there is ambiguity, let us bring clarity;
where there is exclusion, let us offer solidarity;
where there is sensationalism, let us use sobriety;
where there is superficiality, let us raise real questions;
where there is prejudice, let us awaken trust;
where there is hostility, let us bring respect;
where there is falsehood, let us bring truth.
Amen.
In the interests of accuracy, while the original prayer — which begins with "Lord, make me an instrument of your peace…" — is widely associated with, and even attributed to, St. Francis of Assisi, its earliest known publication was in a French devotional bulletin called La Clochette in 1912.
While published anonymously, it's believed (but not known for a fact) that its author was La Clochette's founding editor, Father Esther Bouquerel.
The prayer was published on the back of a St. Francis holy card around 1918 and became attached to the Italian saint. While Francis probably wouldn't have taken issue with many of the prayer's sentiments, the likelihood that he had any hand in writing it is near, if not at, zero.
And that's how, even with no malice intended, "fake news" can happen.
Click here for Franciscan Media's detailed explanation and examination of the prayer.
Image: Courtesy Flickr/Long Thiên (Public Domain)
Don't miss a thing: head over to my other home, as Social Media Manager at Family Theater Productions; and check out FTP's Faith & Family Media Blog, and our YouTube Channel.