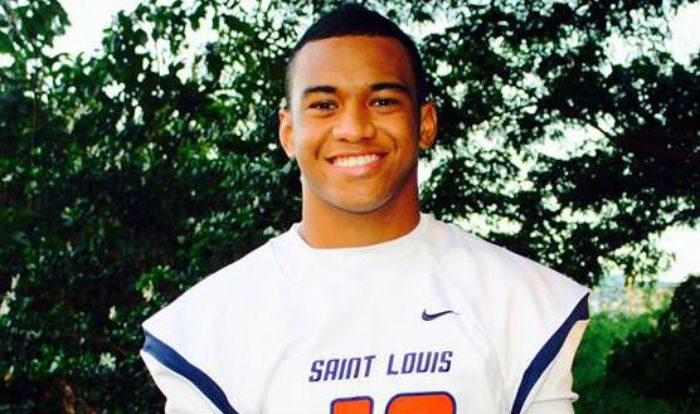 "First and foremost, I'd like to thank my Lord and Savior, Jesus Christ," said victorious University of Alabama quarterback Tua Tagovailoa in his postgame interview with ESPN. "With Him all things are possible. That's what happened tonight.
"… All glory goes to God. I can't describe what He's done for me and my family."
With Alabama scoreless against the Georgia Bulldogs at the half in the national college-football championship on the night of Jan. 8, 2018, the Crimson Tide's Catholic coach Nick Saban decided to throw a Hail Mary of his own. He benched starting quarterback Jalen Hurts and called up left-handed backup QB Tagovailoa.
The Tide fought back to tie up the score, but a missed field goal with seconds to go sent the game into overtime.
Then Tagovailoa launched a 41-yard bomb into the end zone, connecting with fellow freshman Devonta Smith to win it all.
ALABAMA FOR THE WIN pic.twitter.com/3WzedzlQtY

— Home Of Athletes (@HomeOfAthletes) January 9, 2018
Born and raised in Hawaii, Tagovailoa is a vocal Christian who attended St. Louis School, the same Catholic academic and football program that produced Tennessee Titans QB Marcus Mariota (another strong Christian, who led his team into a squeaker playoff win Saturday over the Kansas City Chiefs).
Here's how the school describes itself:
Saint Louis School is the successor of the College of Ahuimanu, formerly in Windward Oahu, founded in 1846 by the Catholic Mission under the direction of the Fathers of the Sacred Hearts of Jesus and Mary. In 1881, the school moved to its second location on Beretania Street adjoining Washington Place, now the Governor's residence. At that time the name "College of St. Louis" was given to the institution in honor of Bishop Louis Maigret's patron saint, Louis IX.
As a budding high-school star, Mariota took fourth-grade Tagovailoa under his wing at a St. Louis football camp.
From OregonLive.com:
"Everybody would kind of look at me different, but the one person who stood out was Marcus," Tagovailoa said in 2014. "He didn't really separate me from everybody. He would teach me. While everyone else said, 'Get out of the way,' Marcus would just pull me aside – and he was one of the best quarterbacks there. Just to get taught by him and him giving me attention I didn't deserve, it was just awesome."
When college time came, Tagovailoa floated a lot of offers from big schools, but in the end, it was the strong faith of Saban and the people of Alabama that sent him to Tuscaloosa.
From Alabama.Rivals.com:
UA head coach Nick Saban said Tagovailoa, a Hawaii native, was the only player he's ever recruited who went to church with him every time he was in Tuscaloosa.

"A lot of people are rooted in the word over here just like back home," Tagovailoa said. "The Southern hospitality is almost the same as the love and the kindness that they show back at home."
Here's Saban on EWTN News Nightly, discussing how much his faith means to him:
Of course, it didn't hurt that Saban is also one of the top coaches in college football, and the Crimson Tide is obviously one of the great teams.
But, still … Tagovailoa's words, from AL.com:
What were the lasting impressions from your trip to Tuscaloosa last month?

There were so many things, but the most important one is when I went to church with one of the coaches. It was amazing to see coaches going to church. I got to see players going to church. It was amazing to see. I was raised going to church every Sunday. The atmosphere over there, it's just amazing over there.
Tagovailoa is not Catholic, but an Evangelical, whose uncle was his pastor back home. He reportedly now attends the Church of the Highlands megachurch in Tuscaloosa.
Like many young Evangelicals, he's not afraid to proclaim his beliefs in public. Catholics tend to be more private about their faith, but we have a lot to learn about the power of witness.
After all, it was Saban's witness that brought Tagovailoa to Alabama in the first place.
So, speak out loud and proud!
Images: Tua Tagovailoa, from his Facebook page; Getty Embeddable Images
Don't miss a thing: head over to my other home, as Social Media Manager at Family Theater Productions; and check out FTP's Faith & Family Media Blog, and our YouTube Channel.